Accel World
From Baka-Tsuki
Note: This Project has been declared as Abandoned!
and was taken down.




Please see Template:Abandoned for further information about this classification.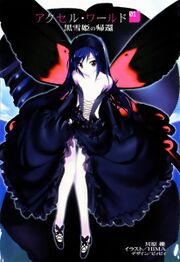 Accel World (アクセル・ワールド, Akuseru Wārudo) is a Japanese light novel series by Reki Kawahara, with illustrations by HIMA.
It won the Grand Prize of the Dengeki Novel Prize in 2008, which led to its publication by Dengeki Bunko since 2009, along with the author's Web novel, Sword Art Online.
The Accel World series is also available in the following languages:
Story Synopsis
In 2046, Haruyuki is a fat kid that just entered middle school for half a year. He has the standard fat kid problems like low self-esteem, getting bullied and what not. His only escape is the virtual world, where his brain's reaction speed is not limited by his real world body size. There he plays squash in the school network, where his monstrous score is noticed by the school beauty Princess Snow Black. She wants to recruit him to a special world, where speed and ability to fight determines whether they get to keep their speed or not.
Translation
Translators are asked to register which chapters they're working on.
Format Standards
Feedback
If you enjoyed the series, why don't you tell us in the forum
Updates
October 6th 2013 - Volume 11 Chapter 2 edit complete.
October 8th 2013 - Volume 8 Chapters 5-11 + Author's Notes complete.
October 12th 2013 - Volume 5 Chapter 9 complete.
October 18th 2013 - Volume 5 Chapter 10 complete.
October 19th 2013 - Volume 5 Chapter 11 + Author's Notes complete. Volume 5 complete.
January 19th 2014 - Volume 6 Chapter 12 complete.
February 13th 2014 - Volume 7 Chapter 2 complete.
All updates can be found on the Accel World Updates page.
Accel World series by Reki Kawahara
English
Japanese
Blu-Ray Side Stories
Bundled with the Blu-Ray releases were two short stories, which will also be translated for your pleasure.
Blu-Ray Side Story 1: 黒の双剣、銀の双翼 (Twin Black Swords, Twin Silver Wings) (Full Text - PDF)
Blu-Ray Side Story 2: 赤炎の軌跡 (Traces Of Prominence)
Chapter 1
Chapter 2
Chapter 3
Chapter 4
Project Staff
Supervisor:
Project Manager:
Translators
ACTIVE
INACTIVE
Editors
ACTIVE
INACTIVE
More Information