Hidan no Aria:Volume1 Chapter5
From Baka-Tsuki
5th Ammo: Holmes
No matter how much I'm stimulated, I can only maintain my Hysteria Mode for a few minutes.
By the time I reached Terminal 2 of Haneda Airport, I had already reverted to normal mode.
Even though I've reverted, I still have to stop her.
If my suspicions are correct.
Aria will soon meet him. Soon she'll meet the--
'Butei Killer'!
I flashed the badge on my Butei License to bypass security, and of course, I didn't go through the metal detector. I went in directly.
Aria.
I'm fine if you go back.
But I will not let you fight with the 'Butei Killer' for any reason. Because the 'Butei Killer' even killed my brother--so, alone, you have no chance of defeating the 'Butei Killer'. You have no chance at all!
My brother was very powerful.
Nobody could match him. He was extremely smart as well. His Hysteria Mode was in a different league from mine.
(Aria--!)
If you run into him again, you won't get off with just a scar on your forehead!
You will be killed.
You will die!

I rushed into the boarding entrance, just as the doors started to close on flight ANA600. The Boeing 737-350 was already preparing to fly towards London's Heathrow Airport.
"--I'm a Butei! Stop this flight!"
I flashed my Butei badge at the flight attendant, who stood there, eyes wide open in shock.
"Ar-are you a passenger? I'm sorry, wh-what's happening?"
"There's no time to explain! You have to stop this flight from taking off!"
The stewardess nodded, afraid, then she quickly ran up the stairs to the 2nd floor.
I was going to go with her to see the pilot, but at that moment, my knees collapsed. This was because my stamina had plummeted since leaving Assault. After sprinting all the way here, I was out of energy. I couldn't move even one step.
But...I should be able to stop the flight, right?
--I had just thought this, when,
*Vroom*
The plane started to shake.
The plane...is moving!
"A-ah...it wasnt approved. The pi-pilot said that, ac-according to the rules, in this phase of the flight, we can only stop if the Airport Control Officer says so..."
said the stewardess, who had just run down the stairs, trembling.
"That bastard...!"
"Pl-please don't fire your gun! Are you really a Butei? When I told him, the pilot shouted 'He wants me to stop the flight? I never received any notice of this!'"
Tha-that idiot...!
What am I going to do?
Should I use my gun to force him to stop?
No. I can't. If what the stewardess says is true, the pilot doesn't trust me. Even if I threaten him, he probably won't stop the plane.
I looked outside, flight ANA600 was already starting to taxi up the runway.
If I force the plane to stop right now, we might crash into another plane on the runway.
Kinji, think of something! We can't use this method anymore!
Since the enemy has taken action first, if I don't think of something to oppose him, we will lose.
--I must change the plan.

The plane slowly gained altitude until it had reached the upper reaches of the sky. The seat-belt light was off as well.
There was nothing I could do but let the stewardess calm down...then I told her to bring me to Aria's seat...no, compartment.
The cabins of this plane were obviously different, compared to normal ones.
The first floor was a spacious bar, and the 2nd floor had one main corridor with compartments on each side.
This--I recently heard about it in the news.
It was nicknamed an 'Air Hotel'. All the seats were converted into compartments. In short, an ultra-luxury passenger flight.
There are no normal seats in this plane, and just like a high class hotel, there are 12 compartments. Each compartment has a bed and a shower, basically a special plane made especially for the rich.
"...Kin-Kinji!?"
Inside a compartment decorated with fresh flowers, was Aria, who was extremely surprised by my sudden appearance from below.
"...as expected of nobility. The one-way ticket for this flight cost...what, 200000 yen?"
I said, looking at the queen sized bed.
At that moment, Aria stood up and stared down at me.
"--Barging into my room uninvited...You're way too rude!"
"You have no right to tell me that."
I'm not sure whether she was thinking back to when she intruded in my house, but she let it go with a 'Hmph', although she was still angry.
"...Why did you follow me?"
"Why does the sun rise? Why does the moon shine?"
"Stop talking nonsense! If you don't tell me, I'll make a hole in you!"
So...she resorts to threatening to shoot me again--Pat! Aria places her hands on the sides of her skirt.
Seeing this, I relaxed a little.
Good. She brought her guns.
"Butei Law article 2. 「You must fulfill the contract in the commission」."
"...?"
"This is what I agreed with you. After I came back, the first mission that we go on, that one mission, I would solve with you--the case of the 'Butei Killer' has not been solved yet, right?"
"What is this...even though you were unable to do anything, even though you couldn't help one bit, you still dare to say this?"
*Roar!* Aria, roaring like a lion cub, bared her canines at me.
"Go back! Thanks to you, it's more clear than ever. After all this, I'm still an [Aria]! There's nobody in the world that could be my partner! So, whether it's the 'Butei Killer' or something else, I will only rely on myself to fight!"
"...I really wish you could've said that to me earlier."
I sat down on the other seat in the compartment, and purposefully looked back at the city.
"...Once we reach London, you're going back. As compensation, I'll buy you an Economy ticket back. You're a stranger to me now! Don't talk to me anymore!"
"I was originally a stranger to you...right?"
"Shut up! You're banned from speaking!"

Flight ANA600, in the midst of the strong winds, flew over Tokyo Bay.
Aria, puffing out her cheeks, folded her arms and legs while sitting on her seat. She continued to stare out the window unhappily.
I--started to realize something.
Who cares if we're going to London or wherever, the destination doesn't matter to me. Since this is the way things are,, all I can do is wait.
"--Passengers, my apologies. Because we have to avoid the turbulence caused by the typhoon, we will reach our destination half an hour later--"
Following the announcement, Flight ANA600 shook slightly.
This shaking isn't really out of the ordinary, yet...
Boom! Boom Boom-!
The sound of thunder roared out from a relatively close thunderhead.
Rumble--!!
A huge thunderbolt rang out...Aria suddenly opened her eyes wide, and covered her head.
"Are you scared?"
"I-I'm not scared. Don't look down on me! Anyways, don't talk to me. It's annoying."
Right after she said that, the noise of thunder shook the cabin again.
"Kyaa!"
Looking at Aria, who yelped in surprise, I couldn't help but laugh.
I never thought that Quadra Aria-sama has something that she's afraid of as well. And, it's something like thunder!
"If you're afraid, then you should go tremble under your blankets."
"Shu-shut up!"
"This is something serious for little kids, right?"
"I-I-idiot!"
Rumble rumble--!!
Another round of earsplitting thunder rang out, rendering Aria unable to sit still. She jumped from her seat, panicked.
And, she really did hide under her blankets.
This scene was exactly how I pictured it, so I...although it was a serious time like this, started laughing uncontrollably. Looks like she really might still be a little kid.
"Aria-. Did you bring your diapers?"
"Idiot Kinji! I-I'll make a hole in you in a moment!"
Ahahahahaha. She really is trembling!
Rumble--!! Rumble--!!
I'm not sure whether her luck was bad, or whether the pilot's skills were bad. This plane seems to be close to thunderclouds.
"~~~~~~~~Ki-Kinji!~~~~~~~~"
A cry coming out from under the blankets, Aria, unable to take it any longer, grabbed onto my sleeve.
"Alright, alright. Don't be scared. I'll switch on the TV for you."
For Aria, who was grabbing on to my sleeve like a child, I reached my other hand out for the remote and turned on the TV, and went through the channels. The newest movies and anime flashed across the screen...
I stopped the channel at what seemed to be a Period Drama aimed at teenagers.
"--This falling sakura on my body, you've seen it before, haven't you--!"
Eh...This, is a period drama about my ancestors...
His name is, Tohyama Kin-sama.
According to Nii-san, this ancestor of mine also had the DNA of Hysteria Mode--He was an exhibitionist, but it seemed that whenever he took off his clothes, his thinking power, as well as his physical strength would increase.
"Alright, just watch this to take your mind off the thunder."
"Uhh, mm"
Looks like the rule that Aria set down about me not being able to speak has already been lifted.
Her hand, still holding on to my sleeve, was trembling. It looked so small, so delicate...
This time, I can acknowledge that these are the hands of a normal girl.
If--only if.
Right now, if she is a normal girl.
Then, in normal mode, as a normal boy,
"Aria."
I would...put my hand on her trembling hand...like this.
"Kin-Kinji...?"
That's right.
As normal students. As friends.
The least I can do, is stop her trembling--
After hesitating for a few seconds, Aria's fingers closed around my hand...when...

Bang! Bang!

--rang out from inside the plane.
This time, the sound wasn't from thunder, but a noise that us Butei High students were very familiar with--
A gunshot!
I charged out of the door, only to see that the narrow corridor was already in chaos.
From the 12 compartments, passengers and stewardesses came pouring out--all these people were shouting in panic.
I looked towards the front of the plane, where the gunshot came from, and noticed that the pilot's cabin had been opened.
"!"
That panicked, short stewardess from just now was standing there.
She was in the middle of dragging the pilot and co-pilot out of the cabin.
Something had happened to the two pilots, as they didn't move a muscle.
Seeing the stewardess dumping two people into the corridor, I hurriedly drew my gun.
"Don't move!"
Hearing my voice, the stewardess looked up and smiled, as if she hadn't heard what I said.
Afterwards, she winked at me, returned to the cabin, and said-
"Attention Please."
-while removing a canister from her chest, and throwing it this way.
The canister, hitting my foot, struck me with terror.
"Kinji!"
Suppressing her terror of the thunder, Aria called out while coming out of the room.
Hiss......!
I could tell from the noise.
This was--a poison gas capsule.
Sarin, soman, tabun, phosgene, Zyklon B. All the poison gases I had learned about during Assault flashed into the forefront of my brain. If this is a strong one, we're finished.
"--Everyone, get back into your rooms! Seal the doors!"
I yelled, while pushing Aria back.
However, when I was about to shut the door--the airplane shook violently.
Pft, the lights inside the airplane blinked off, making the passengers go into a state of panic.

The red emergency lights quickly replaced the darkness inside the plane.
"--Kinji! Are you okay!?"
I turned my head towards Aria, and checked my own breathing.
I can breath. I can see. My limbs aren't paralyzed either. Looks like the enemy pulled one on us, the gas she threw just now was harmless.
"Aria. Just now, that playful tone...that guy was the 'Butei Killer'. As I expected, he's appeared."
"...As you expected...? You knew that the 'Butei Killer' would appear?"
Her camellia eyes opened wide.
I decided to tell her what I had thought up during Hysteria Mode.
"The incident with the 'Butei Killer' was only after the hijacking of the motorcycle and the hijacking of the car--I just found out about this, but the offender also hijacked a cruise ship--and killed a Butei. Also, that was probably a direct battle."
"...what makes you think that?"
"Because the incident with the cruise ship was the only one you didn't know about. You didn't receive an electronic signal then."
"Ah, un."
"That's because the 'Butei Killer' didn't release an electronic signal. Which means that he wasn't controlling the cruise ship from afar. He was on the cruise ship itself."
Also, I was very suspicious as to why my amazingly powerful brother, was unable to escape.
"However, from a motorcycle, to a car, to a cruise ship...these methods of transport slowly became bigger. However, they suddenly became smaller again. First it was my bicycle, then a bus."
"...!"
"Do you understand now, Aria? That guy was targeting you from the start, and you walked right into it. The reason he forced those charges on Kanae-san, was because he was declaring war with you. And, like Nii-san--no, like the Butei he killed on the cruise ship, in the 3rd incident, in other words, now, he will fight you. This, is a hijacking."
Hearing my reasoning, Aria began gritting her teeth in regret.
At that moment--
Dada-dadadada. Dada-. Dada-dada-da-...
The seatbelt lights, as well as the warning tone, began blinking on and off, continuously.
"...Japanese morse code..."
The words that slipped out of Aria's mouth led me to try and decode it, in the middle of the swaying plane.

Come. Come. I-U is heaven.
Come. Come. I am in the bar in the first floor.

"...he's luring us in."
"Alright. I'll make sure to make a hole in him."
Aria hardened her brows, and drew her guns from under her skirt.
"I'll go with you. I don't know whether the me right now can help you, though."
"You don't need to come."
Rumble--!! The thunder rang out again, and Aria's body immediately stiffened.
"And?"
"...Co-come."
We followed the small points of light on the ground, cautiously entering the first floor.
The first floor was decorated as an extremely luxurious bar.
Under the chandelier in the bar,
A girl was sitting cross-legged, next to the counter.
"!?"
We frowned in shock, pointing our guns at the girl.
Because she...was wearing a Butei High uniform.
And also, it was...a fluffy, modified uniform, filled with white frills.
That fluffy skirt, bulging like a petal of a carnation, was the one that I had seen Riko wearing in Odaiba.
"So, you walked into this one as well."
said the stewardess, taking off her mask.
And under it, was the face of--
"--Riko!?"
"Bonsoir."
so said Riko, drinking the blue cocktail in her hand. So, the person who winked at me, was Riko.
I was stunned.
When we parted ways at Odaiba, she--rode that modified Vespa to get here first? And then, she used her Butei badge to get on the plane, where she pretended to be a stewardess--and infiltrated this aircraft?
"A lot of the people who have a high IQ, and good battle skills, inherited them. In Butei High, there are quite a lot of the elite, who have inherited their skills. However...your family is different, Holmes."
"--!"
The last word that Riko spoke, jolted through Aria's body, and she stiffened completely.
Holmes--?
Is that what the 'H' family in Aria's name stands for?
"What kind...of person are you...!"
Looking at Aria's stiffened brow, Riko lightly laughed.
Light shone through the window, and illuminated her face.
"Riko Mine Lupin the 4th--That is Riko's real name."
...Lupin...?
You mean...that Lupin? The one in the Inquesta textbooks, the French thief?
You mean that Riko is, Arsène Lupin's...great grand-child!?
"But...my relatives don't call me 'Riko', my name. All of them don't call me this cute name that my mother bestowed upon me. Instead, the name they call me is too weird..."
"Weird...?"
"The 4th. The 4th. The 4th. 4th-sama. Everybody, even my servants...call me that. It's horrible."
"Wh-what's wrong with that...calling you the 4th isn't wrong."
Hearing Aria's logical reasoning, Riko stared at her furiously.
"Of course it's wrong!! Am I a number!? Am I just a representative of my DNA!? I am Riko! I'm not a number! Why is everybody like this!"
Riko said, suddenly going berserk.
She screamed, but it seemed as if she was screaming to somebody other than us.
"If I don't exceed my great-grandfather, then my life won't be even thought of as mine. Instead, I'll just be 'Lupin's great-grandchild'. Because of this, I joined I-U, and have gained the power that I have now! With this power, I will take what is mine. My own identity."

Aria intently listened to these words, which I didn't understand at all.
"Wait, wait a moment. What are you saying...!? What is Holmes, what is I-U, and is the 'Butei Killer'...really you!?"
"...'Butei Killer'? Yeah, that's me."
Riko's gaze turned back to Aria, and she continued to speak,
"But that's just a game. My real target is Holmes the 4th--Aria. That's you."
Right now, the expression in her eyes was completely different from the Riko I knew.
That was the expression that a predator has, when looking at its prey.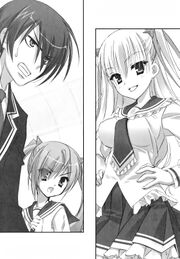 "A century ago, our great-grandfathers fought, and neither side came out on top. Which also means, if I defeat Holmes the 4th, I will have proven that I have exceeded my great-grandfather. Kinji...you fulfilled the role I gave you, right?"
That beast's glare turned towards me.
"Those of the Holmes bloodline must have a partner. The first Holmes, who fought with my great-grandfather, also had an excellent partner. So, to fulfill this condition, I gave you this role."
"Aria and I...all this was your...?"
"That's right."
Riko returned to her normal, lively air, and laughed.
This person...
Has she been pretending to be the idiot, Riko, all this time?
"The person who put the bomb on Kinji's bicycle, and then sent out that extremely recognizable electronic signal, was me."
"...So you knew I was tracking down the signal of the 'Butei Killer'!"
"Of course. It's your fault for going into Connect without hiding your intentions at all. However, because Kinji wasn't a good match with you...I helped out a little during the bus-jacking."
"You were also responsible for the bus-jacking...!?"
"Kinji. A Butei, for whatever reason, cannot give his watch to somebody else, right? If you don't have the accurate time, you might miss the bus, right?"
My watch--So, the watch that Riko broke in the greenhouse, was part of her plan?
She made the excuse of fixing it for me, and then took it and fiddled with it.
That's why I didn't make it onto the 7:58 bus--
"So you're saying...everything's been happening according to your plans...!"
"Yeah. Isn't it? Well, something unexpected happened. After the bus-jacking, Kinji and Aria didn't become partners. That was totally unexpected. And also, Kinji only started taking action when I told you about the death of your brother. I didn't see that coming."
Nii-san.
"...could it be that...you...my brother...!?"
Nii-san.
He was my ideal, the person I most respected.
And my brother...by Riko...!
I understand.
I understand that right now, my body is howling for blood.
This is my weakness.
Once it involves my brother, I cannot calm down!
"Haha. Hey, Aria. Your partner cannot be stopped now, you know? Fight together with him!"
Riko. As expected of Lupin the 4th. All this was part of you plan, right...!
"Kinji. I'll tell you something good. About that, your brother...is my lover right now."
"SHUT UP!"
"Kinji! She's baiting you! Calm down!"
"HOW CAN I CALM DOWN!"
I won't let you disgrace my dead brother anymore!
Just when I was about the pull the trigger of my tightly gripped Beretta.
The plane started swaying again.
"!"

"Oh-my♪"

When I regained consciousness, I noticed--the Beretta in my hand had disappeared, and with a clanking noise, it was sliding around on the ground behind me.
I turned back, but only saw a small gun--a Walther P99 was aimed at me, by a smiling Riko.
"Non, Non. That won't do, Kinji. Right now, you're useless in battle. And anyways, Holmes' partner wasn't meant for battle. He was meant to make observations from a normal person's perspective, drawing out Holmes' power. If you don't work hard at that..."
Riko absentmindedly stated her reasoning--and at that moment, Aria moved.
She was exactly like a lion cub.
With a *Thud!*, she kicked off the ground, and directed her twin guns at Riko.
She probably thought she could win, looking at the opponent's armaments.
In close combat between Butei, who normally wear bulletproof vests, bullets aren't something that can kill immediately. Instead, it becomes a tool for dealing blows.
Which means, the most important thing is firepower.
If under Riko's skirt were 2 Uzis, which are able to hold up to 30 bullets, then she would have a heavy advantage. However, the Walther in her hands, can normally only hold 16 bullets.
As opposed to this, Aria's Colt should hold 7 bullets. If she has one in the chamber, then 8.
Also, she has 2, so the maximum number of bullets would be 16. Exactly the same as the enemy.
However--
"Aria. Don't assume that you're the only one with two guns, OK?"
Riko tossed the shot glass away, and with her empty hand--
she drew another Walther P99 from under her skirt.
"!"
But, there was no stopping Aria now.
Bang Bang Bang Bang! Following the gunshots, Aria started attacking Riko from close range.
"Ku... you bastard!"
"Aha, ahahahahaha!"
Aria and Riko started having an Aru=Kata gunfight.
Butei Law article 9.
「Regardless of the situation, a Butei cannot kill」.
Aria, following this rule, wasn't aiming at Riko's head.
and Riko, as if following a common agreement, was not aiming at Aria's head.
As if it was a normal fight, they continued to exchange bullets.
For Butei's, Aru=Kata gunfights are a matter of avoiding the opponent's line of fire, or disrupting the opponent's aim.
Bang! Bang Bang!
Their bullets didn't meet their targets, and instead buried themselves into the floors and walls.
"--Ha!"
When Aria was out of bullets, she used her legs to suppress Riko's arms.
The two seemed to be embracing each other, but Riko continued to open fire.
Alright! In terms of combat skill, Aria has the upper hand--!
"Kinji!"
Without waiting for Aria's cry, I had already drawn the only thing Nii-san had left behind, a butterfly knife. The blade was glowing red under the emergency lights.
"Riko, it's over!"
When I was focusing on the guns behind Aria's back, and carefully approaching--
"It's coincidental that you're a Quadra as well, Aria."
said Riko, suddenly.
"Riko and Aria are very similar in a lot of places. Bloodline, attractiveness, and...title."
"?"
"I have the same title as you, Aria. Riko the Quadra. However,"
My feet had frozen in place.
In front of my eyes, appeared something that could not be possible, and I instinctively stopped in my tracks.
What...is that!?
"You aren't a true Quadra. Because you haven't yet experienced this kind of power--!"
*shh*...*Shhh*
Riko said, laughing, while one of the 2 strands of her hair started separating from the other--and just like Medusa from the myths, it started moving--
Kich!
That strand of hair grasped a dagger, hidden in Riko's back, and it struck towards Aria.
This first attack was dodged by an astounded Aria--
Kach!
But the other strand of hair had grabbed another dagger, and the following attack sent Aria's blood spraying through the air.
"Uwaah!"
Aria screamed, falling on her back.
She was cut in the side of her head. That deep, camellia blood started to leak out of her wound.
"Aha...Ahaha...great-grandfather. I never thought that in 108 years, there would be such a enormous difference between our two houses. This can't be called a fight. She, was not only unable to find a partner, but is also unable to use her own power! I win! I win! Today, Riko can finally be called Riko! Aha, ahaha, ahahahaha!"
Riko, who had started laughing again for some reason, used her hair to pick Aria up.
That hair appears to be extremely strong. Against all expectation, it was able to pick Aria up easily--and throw it to me, like a rag doll.
"Aria...Aria!"
Aria's face was stained with blood, and she was closing her eyes tightly, but even now, she hadn't loosened her grip on her guns.
This is too abnormal...
She is a monster.
I must escape from here with Aria!
Riko's raucous laughter came at me from behind.
"AHAHAHAHA!--Hey, in this restrictive plane, where do you think you're going to escape?"

It had been a long time since I had last done this...but, I carried Aria princess style--right now, she was pitifully light.
When people are moving, they feel heavier than they actually are.
And right now, Aria was unconscious, unmoving.
I escaped back into the compartment, and lightly laid Aria on the bed.
I used the towel inside the room to wipe away the blood on her face.
"Uu..."
On the moaning Aria's temple, was a deep gash.
This isn't good--the artery is cut.
This artery isn't as serious as the carotid artery, but if the blood isn't stopped, this won't end well!
"Hold on...you're going to be fine!"
I hurriedly yanked the blood-stopping bandage out of the Butei toolkit, and applied it to the wound. However, the blood-stopping bandage only helps by forcing the blood inside using a special medical cream. It can only be used as a temporary measure.
Aria didn't seem to know the seriousness of the situation, and she smiled at me weakly.
"Aria!"
I quickly reached my fingers into the pocket in the Butei toolkit meant for pens. From inside, I drew out a small syringe marked with 'Razzo'.
"I'm going to inject you! You're not allergic, right!?"
"Not...allergic..."
Razzo-a compound of Epinephrine and Morphine. It acts as an adrenaline rush and anesthesia, a drug meant to bring a comrade back to life.
"Razzo must be injected directly into the heart. Do you understand? This is all that's left."
After I warned her, I let Aria lie flat on the bed,
and reached my hand towards the chest of her sailor uniform.
"If...if you dare to mess around...I'll...make...a hole..."
"Alright, promise me that you'll recover enough to make a hole in me!"
I pulled the zip of the uniform down furiously, splitting it down the middle.
"Uu..."
Aria started shivering.
The bra, decorated with poker suits, was right before my eyes.
She had creamy white skin. There was only one piece of cloth left to protect, those cute, feminine breasts.
Kathump. My heart started beating furiously.
Thinking about that in a time like this, you really are a bastard, Kinji.
But, ahh, you bastard. Why is it that everything about her is so cute.
"Aria...!"
I called her name, putting my trembling hand onto her creamy white skin.
I slid my hand over her body, looking for her heartbeat.
Two fingers upwards from here, is her heart. It was extremely close to her bra.
"Ki-Kinji..."
"Don't move."
"I...I'm scared..."
Hearing that trembling voice, I quickly removed the cap of the syringe.
"Aria, can you hear me!? I'm going to inject you now!"
Aria didn't answer.
There was no response at all.
Her heartbeat-
stopped.
ARIA!
"--COME BACK TO ME!!!"

Chi--!

I plunged the needle into her chest.
If I hesitate, it will fail. So all I could do is forcefully inject the drug into Aria's heart, without a second thought.
"--!"
*twitch*, Aria spasmed.
The enormous effect of the drug contorted her face.
But I felt that her appearance now, was more precious to me than at any other moment.
She's alive. She's come back to life. This is real.
"Uu...!"
Aria sucked in a huge mouthful of air, her small mouth wide open, trembling.
How is she...? I looked at her nervously.
The revived Aria's pale skin began to be flushed with blood again, and her breathing continued to grow stronger.
"--Haaa!"
Thump!
She sat up, rigidly, just like in a zombie movie.
"Hu...Huh!?...Th-thi-thi-this! What! M-my br-breasts!"
It appears that the effect of the drug was too strong, and it confused her memory.
"Kin-Kinji! It's you again, isn't it! You...Why do you want to see this kind of chest! Do you want to make fun of me! An-anyways! My chest is small! I don't care! It won't grow! Ever! Even after 10000 years! My chest! And height! It will stay at 1.42m!"
The confused Aria was so embarrassed that her whole body was red, and she was clutching at the chest of her uniform. However, she immediately realized that the syringe was still stuck into her chest.
"Kyaa!"
She let out a scream that was totally unlike a beautiful high school girl like her, and yanked out the syringe.
"Th-that's why, Aria! You were defeated by Riko, so I gave you Razzo--"
"Riko...Riko--!!"
Aria fixed up her uniform, jerkily. She grabbed her guns on the bed, and stood up, a ferocious expression on her face, as she prepared to stagger out of the room.
--This isn't good.
Razzo is a revival drug, but it's also...a heavy stimulant.
It could be that her body was very sensitive to the drug, but she had lost all reason.
She's in no condition to approach Riko for a deciding match--!
"Aria, wait! Even when you were in top condition, you were unable to beat Riko!"
I barred the door with my body, and grabbed Aria's guns.
"I don't care! Let-go-off-me! You piece of trash, go cower at one side!"
Aria, grabbed by me, bared those fang-like canines, and shouted that.
"Be-be quiet, Aria! If Riko hears this, she'll know that we're together in a room, yet unable to even work together!"
"It doesn't matter! I'm an [Aria] anyways! I'll finish Riko by myself! And anyways, you have no right to lecture me!"
Aria's camellia eyes stared towards me, wet from over-stimulation.
We're finished. How am I supposed to stay calm?
"Besides, you hate me, don't you!? You said you did! When we went to Omi! Before we went to look for the cat! I remember very clearly!"
Aah, what must I do to get her to shut up?
I have to find a way to stay quiet somehow. However, my hands, grabbing her guns, are in no position to let go. Because I know, if I dare to take my hands off her guns, she will blow me out the door with one bullet.
--A way to solve this situation--
...It's not impossible...
I have to strike directly at Aria's weakness.
But if I do that, then I--
will without a doubt, enter Hysteria Mode.
I will enter Hysteria Mode, so full of bitter memories, and also the cause of my brother's death.
I will go into that mode which I don't want anyone...especially girls to see. I will become, the one thing that I hate most of all, my other self.
But....but!
Right now, it's the only option!
If this continues, Riko will definitely find us. No, she might be in front of the door already.
If she hears us fighting, she'll definitely feel that it'll be easy to take care of us, and she'll break in.
And this...I'm afraid it will come true.
Not only me, who has lost his gun, but Aria too--we will be killed--!

"I remember very clearly! You said 'I hate you more than you know'! For me, who had already chosen you as my partner, to be 'Hated'--at that time, Although I appeared to be very calm--my heart...was hurting...a lot--"
Aaahhh, Aria.
--Forgive me!

"But that doesn't matter! Since you hate me, then you don't need to care about me! Since you hate--"

While Aria was still screaming, I sealed her lips.
With my own.

"--!!!"
Aria was stunned.
This girl, who was completely inept with anything to do with love, under my furious kiss--
As I thought, was completely rigid.
She not only shut up, it was as if her whole body, from her head to her fingertips, had turned to stone.
Ahh, but this is a double-edged sword.
Aria's lips, so akin to a cherry blossom, were so small, so soft...it was extremely clear to me. Her lips, which burned my lips on contact, were like a wild fire, and the heat engulfed my body in a moment.
--Kathump.
I felt as if I was expanding. Pain shot through my body, as if I were going to be torn in half.
A furious, unstoppable heat shot out from the center of my body.
--It was amazing. Such a furious Hysteria Mode...this was the first time I had experienced such a thing since I was born...!

--Fuaah!

Our lips parted, and we both sucked in air.
Because both of us were frozen, it was an extremely long kiss.
"Aria...forgive me. That...was all I could do."
"...You...yo-you...ahh..."
Aria trembled, and she sat on the bed, unsteady.
"Ki-Ki-Kinji, you idiot...! At this sort of time...wh-wh-what do you think you're doing...! Th-th-that was m-my...first kiss...!"
For a moment, I thought she was going to start shouting again, but it looks like I was wrong.
Her voice was powerless, hoarse.
"Don't worry, it was my first as well."
"You idiot...!I-I'll have you take responsibility...!"
Aria, with tears in her eyes, looked up at me, howled, like a trembling animal.
The me in Hysteria Mode, bent down, and knelt before her.
"Fine, I will take responsibility. However--first, let's finish this."
"...Kinji...! Could it be that, you..."
I think she noticed that my voice was more calm and deep than just now.
Aria seemed to have thought back to the bike-jacking incident, and her eyes opened wide.
I lightly touched my mouth to the side of her head that was untouched, and whispered
"Butei Law article 1. 「Believe in your comrades and help each other」. I, trust Aria implicitly. So, trust me as well, and let me be the bait. Understand? Together, we will bring down the 'Butei Killer'."

"It's time for the Bad Ending. Kufufu. Kufufu."
Riko, who had prepared the key sometime beforehand, unlocked the door.
Afterward, she used that hand-like hair, still holding a dagger, to push open the door, and held up her guns, laughing and saying,
"I thought that you would kill each other off, you know? I was waiting for it. But since it seems that isn't the case, Riko will make her appearance. Ah..."
She must have noticed that I, as if I was another person, was extremely calm.
Riko appeared to be delighted, and she tapped the guns in her hands to the daggers in her hair.
"Aha! What did you do with Aria? I never thought that you'd be able to do it in this sort of situation. Kufufu."
This person...
does she know my trigger to Hysteria Mode?
"Then? where's Aria? She isn't dead, is she?"
Riko's daggers, curled up in her hair, gestured towards the bed.
On the bed were the blankets and cushions I had piled up. It looked like a body from outside.
"I don't know."
I said, my eyes flickering to the bathroom, Riko's gaze followed mine.
"Ah...right now, Kinji is really awesome. It's really moving. I might just go with the flow and kill you as well."
"You might as well do it. Otherwise, you are the one who'll be killed."
Riko frowned and pointed her gun at me.
"--Awesome! I love you, Kinji. Show me the power of Holmes' partner."
As she was about to pull the trigger, I used the emergency oxygen bottles by the bed as a shield, holding them in front of me.
"--!"
If she dares to shoot, they'll explode.
Sending both Riko and I to oblivion.
Riko, understanding the situation perfectly, stayed her hand for a moment.
But that one moment was enough.
I threw the bottles at her, and charged in with all my force.
As long as I can get within her guard, I can use my heightened abilities to defeat her.
Flick! With a noise, I flicked open the butterfly knife in my hand.
"--!"
In the moment that Riko stood there, frowning.
Fuah!
"Ku!?"
The plane seemed to have hit something, and it shook.
This stroke of misfortune was something that even I, in Hysteria Mode, was unable to predict.
I, who had lost balance because of the large shift in gravity--saw Riko smiling in the midst of the tilting room, raising her Walther, aimed at my head.
And.
--!
I saw the bullet exit out of the barrel, flying towards me.
Ah. I won't be able to dodge. I can't dive left or right.
This is an unavoidable attack.
Then I'll--!!

RIIIPP---!

I used my knife--
to split the bullet.
...this movement, surprised even me.
My Hysteria Mode is really amazing, this time.
Splitting the bullet...Truthfully, there was only about a 50% chance of success.
At that moment, the sound of the two halves of the bullet entering the back wall reached my ears.
And when Riko stood there, her eyes wide with shock, I drew the black Colt that I had borrowed from Aria, and pointed it at her.
"Don't move!"
"I'll kill Aria!"
During the time when Riko appeared to have decided that she would be unable to match my draw, and pointed her gun at the shower.
Bang!
Aria, who had been hiding in the hand luggage compartment the whole time, burst out and rushed downwards, raising the silver Colt in her hand--
Bang Bang!!
and cleanly shot the gun out of Riko's hand.
"!!"
Aria, still in the air, threw down her gun, and drew her two wakizashi while descending like a meteor,
"--Kyaa!"
and she cut both strands of Riko's hair, which was in the process of holding up her own daggers.
Clank, Clank.
That tea colored hair fell to the floor, along with the daggers they grasped.
"Uu--!!"
Riko held her hands to her head, and for the first time, uttered a panicked sound.
Shi. Aria fluidly sheathed her blades and smoothly picked up the gun she dropped.
"Mine Riko Lupin the 4th--" "--I am taking you into custody for attempted murder!"
and Riko, against all expectations, laughed and smiled, beaming at Aria and I.
"So, that's how it was. The shower and the bed were both decoys. And the real Aria took advantage of her small size, and hid inside the luggage compartment...Amazing. If the two of you weren't in sync, you would have never been able to pull off a double decoy like this."
"Although it was against my wishes, we were living together, it would be difficult if we didn't have any mutual agreements."
"You two can be proud. This is the first time that Riko has been forced into this kind of situation."
"I'm sorry, this is already checkmate."
"Idiot."
Riko said viciously, all her hair suddenly swept up.
That strange sight slowed my reactions for a moment.
Inside her hair...what is she controlling!?
"Stop it! What are you planning!"
Taking in this scene, I charged over, trying to restrain Riko.
In that moment--
Bang!
The plane swayed again, and started diving--!
Aria, losing her balance, smacked into the wall.
And I did all I could just to stay upright.
"Bye bye, Ki-kun."
The next moment, Riko rushed out of the compartment, just like an escaping rabbit.

I was still puzzling over how the plane always seemed to shake just when Riko needed it. Then I realized that Riko had hid a control device in her hair, and was using it to control the plane from afar.
Flight ANA600 was diving through the typhoon with terrifying speed.
What is she trying to do, lowering the altitude by so much?
I could hear the other passengers running through the corridors and down the stairs, in panic.
And I saw Riko standing at a corner of the bar, her back facing the windows of the plane.

"In this restrictive plane, where are you going to escape, squirrel?"
I raised the Colt, returning the words that Riko had said to me just now.
"Hmph. Kinji. It would be better if you didn't approach me, OK?"
Riko said, laughing.
Stuck to the wall of the cabin, was something like clay--probably explosives--by her side.
"You should know by now, the 'Butei Killer' uses bombs."
Riko, seeing me stop in my tracks, pulled up her skirt and curtsied towards me, her smile full of daggers.
"Hey, Kinji. Are you willing to come to Heaven on Earth--I-U? If it's just you, I can bring you there. In I-U--"
said Riko, her gaze sharp.
"--you brother is there too, you know?"
That bastard, she dares to play with his name even now.
"Don't...provoke me any longer. Do you understand, Riko. If you say one more sentence about my brother, I might just break article 9 in anger. Both of us wouldn't like to see that, would we?"
Butei Law article 9.
「Regardless of the situation, a Butei cannot kill」.
"Ah. That's not very fun. Kinji has to continue being a Butei, after all."
said Riko, winking at me, hugging her arms to herself.
"Then, tell Aria for me--We welcome both of you at any time, OK?"

Bang--!!!

The explosives behind her exploded!
"--!"
A round hole was left in the wall of the plane.
Riko jumped out from it. She wasn't wearing a parachute!
"Ri..."
I was going to yell, Riko! But I couldn't make a sound.
The air inside the plane started to be violently sucked outwards.
At that moment, the inflatable vests, and the emergency oxygen masks tumbled down from the top in an avalanche.
Everything inside the bar was being sucked out by that hole.
Paper, cloth. Cups, bottles, and me.
"--!"
I immediately grabbed hold of a stool that was affixed to the floor. At that moment, the emergency sprinklers and silica gel boards were released. The viscous silica gel boards bumped into each other in the air, and stuck together, forming something akin to a spiderweb, blocking the hole that Riko had made.
Finally safe, I peeked out a nearby window.
In the faint moonlight, far away--
I could see Riko spinning, seemingly dancing in the air.
Thump.
Riko pulled on the bow on her back, and her fabric-heavy clothing became a parachute.
The last thing I saw, was Riko, in just her underwear, waving at me from within the clouds. So, the reason she brought the plane to such a low altitude was so she could escape.
"--!?"
Suddenly, there were two extremely fast points of light, passing by Riko's body, and passing through the cloud layer, speeding towards the plane.
In Hysteria Mode, I was just able to see their trail.
--This.
How is this possible.
--Missiles--!?
Bang------!!
Along with the explosion came the largest shudder yet, reverberating throughout flight ANA600.
This was different from wind shear or lightning, the plane felt like it had been smashed with two gigantic hammers.
"--!"
I clutched onto the windows for dear life, praying, as I looked upon the wing.
Flight ANA600--has been struck by something right out of a nightmare.
Of the 4 engines under the wings, the two inner engines were damaged, but the other two were fine for now.
The two wings off the airplane blew out thick smoke, just like blood, but continued to fly...barely.
I still felt a little shell-shocked by that sudden impact.
But I have to head to the cockpit immediately.
Although we managed to go through that attack, Flight ANA600 is still in the middle of its endless descent.

The pilot and co-pilot were lying on the floor, still unconscious due to the effect of Riko's tranquilizers.
"--you're late!"
Aria yelled at me, turning her head as I entered. She seemed to have taken the IC Keycard from the bodies of the pilot and co-pilot.
A strange device, extremely similar to the guns on the Segways, was on the floor next to my feet. It seems that Aria had pulled it off. Riko had used the remote in her hair to control this device...well now, the remains of this device from afar.
Aria's small body was sitting inside the wide pilot's seat, hands on the disc-like controls.
"Aria--do you know how to fly this?"
"I can fly a Cessna. I've never flown a jet airplane though."
said Aria, in a voice meant to calm others down. She pulled on the controls furiously.
As if responding to her movements, Flight ANA600 finally leveled off.
"However, I'm able to fly left, right, up and down."
"Can you land?"
"No."
"--that so?"
I understand that the plane is back to normal now.
And I can, through the rainstorm, see that that we're approaching the ocean very soon.
Our altitude is around...300m. This is extremely dangerous.
I sat in the other seat, found a radio, and changed the settings from transmitting to receiving.
"--31--Receive. Repeat, this is Haneda Airport Control Tower. Flight ANA600, please use the emergency-communication-frequency 127-631 to answer. Repeat, 127-631. Receive."
Hearing the call, I set the frequency, and changed the settings back to transmit.
"--This is flight 600. The aircraft was just hijacked, but we have regained control. The pilot and co-pilot are out of commission. Right now, there are two Butei piloting the aircraft. I am Tohyama Kinji. The other is Kanzaki H. Aria."
My voice made the person in Haneda Airport Control Tower yelp in surprise.
Alright. The first thing to do is maintain communication with the control tower.
I used my left hand to control the satellite phone I had taken from the belt of the pilot. Satellite phones are very similar to normal phones, however they're normally used on freight ships etc., and it works through bouncing a signal off a satellite, so it's able to connect to anywhere around the world.
When I was dialing, I connected the phone to the radio through bluetooth.
Right now, I'm still in Hysteria Mode. So I'm able to make accurate and well-thought out decisions easily.
"Who are you calling?"
Aria asked, and at that moment, a new voice came from the radio.
"Hello?"
"Muto, it's me. I'm sorry for calling you with a weird number."
"Ki-Kinji!? Where are you!? Your girlfriend's in trouble!"
"She isn't my girlfriend, but Aria is with me right now."
Muto Goki. Logi's ace.
I never thought that that a friend like him would ever be useful.
"Wa...hey! What are you doing...!"
"Gi...gi-gi!?"
Aria started stammering because she was called my girlfriend, and she once again exhibited her talent in blushing.
Seeing as she was about to burst out with complaints, I put my index finger on her lips.
"...!"
Aria's face became more and more red, but she stayed silent.
"Muto. It looks like you've heard about the plane hijacking as well. Was it broadcast?"
"It's been breaking news since this morning. I think the passengers on the plane called from inside. Connect immediately got their hands on a list of names. Because Aria's name was on that list, everybody's been gathering in the classroom."
I clearly explained the situation to Haneda Control Tower and Muto. I told them that we were hijacked, and that the culprit has escaped. Afterward, we were hit by missiles, and we lost two engines.
"...Flight ANA600, don't worry. The Boeing 737-350 is the result of cutting-edge technology, even if it's hit by 2 missiles, it should be able to fly normally, no matter how bad the weather is, that point won't change."
The voice coming from Haneda Control Tower led Aria to breathe a sigh of relief.
"Kinji, concentrate on this first. You said that it's the inner engines that are damaged, right? Tell me the fuel statistics immediately. EICAS--slightly above the center should be a rectangular screen. At the bottom of the 2 rows and 4 columns of instruments, there should be 3 gauges with Fuel written on them. Tell me the number of the one with Total on it."
As expected of a transportation otaku. Muto spoke as if the HUD was right in front of him.
"The number--right now it's 540. However, it's continuing to decrease, it's 535 now."
Muto, hearing my answer, yelped.
"Fuck...there's a huge leak."
"A fuel leak...? Te-tell me how to stop it!"
Aria called out in a panicked voice, after a while--
"There's no way. Simply put, the Boeing 737-350 inner engines have a fuel valve. If that is broken, there's no way to stop it from leaking."
"Ho-how long can we fly for?"
"Without even talking about the remaining fuel, the speed of the leak is too quick. I guess...around 15 minutes."
"...As expected of the product of cutting-edge technology."
I angrily complained to Haneda Control Tower.
"Kinji, I just asked Connect, you were probably circling over Sagami Bay, all this time. Right now, you have to return to Haneda Airport immediately, over Uraga Channel. Seeing as how much time you have left, this is the only solution."
"I was going to do that anyways."
replied Aria to Muto's words.
"...ANA600, how will you fly? Do not deactivate auto-pilot, at any cost."
"The autopilot function has been damaged. I'm the one piloting the aircraft."
Aria's eyes gestured towards the HUD, the light labeled Autopilot was flashing and emitting a continuous beep.
Although I don't really get what she's saying, I'll play along for now.
"That's right, we're hoping that you can tell us how to land."
I asked Haneda,
"...this isn't something that an amateur can learn immediately...however, we're contacting other aircraft in the area. We're trying to find a pilot that's experienced with that model of aircraft."
"We don't have time. I want you to connect the frequencies of all the aircraft in the area. Can you do it?"
"Ah, I...can do it...but what are you going to do?"
"I want them to teach me how to land all at once. You can help too, Muto."
"...together? Kinji, you aren't Prince Shotoku you know...!" (able to listen to his 12 officials at once.)
"The me right now, can do it. Can you start immediately? We don't have any time left."
I knew that Aria was looking at me in amazement.
I turned my head to face Aria, who was just about to say something, and shot a glance at her, telling her to stay silent, and returned my gaze to the front.
Below the cloud layer--Over the black seas, and through the raging storm, I could see the lights of Greater Tokyo.
We were flying straight towards it.

I listened to the 11 voices at once, and immediately grasped the method of landing.
I was reading the altimeter right now.
Our altitude was 1000 feet--around 300 meters.
Although this was an extremely dangerous altitude, for us, who only had 10 minutes of flight time left, we couldn't waste even one drop of fuel, so we had no way of ascending even 1 meter.
As we were flying over Yokosuka--
"Flight ANA600, This is the Jieitai, JSDF."
After hearing a rough voice come from the radio linked to Haneda Control Tower, we both looked down.
Jieitai...?
"We can't allow you to use Haneda Airport. The runway has already been locked down."
"What did you say?"
The person who shouted out was not Aria nor I, but Muto.
"Who is that."
"Muto Goki, Butei! Flight 600 has a fuel leak! They can only fly for 10 minutes! They can't fly to any other replacement airport, they can only land at Haneda!"
"Butei Muto Goki. Yelling is no use. We have received orders from the Defense Minister."
--I looked out the plane uneasily.
And Aria, who looked out the window with me, breathed sharply.
The Japan Air Self-Defense Force's airplanes--the F-15J Eagle--were on either side of ANA600.
"Hey you, from Jieitai. Why am I seeing your buddies out here next to me?"
"...those are observation aircraft. We hope that you follow our instructions, and fly towards Chiba. They will observe you till you've landed safely."
Aria, following his instructions, nudged the controls to the right--preparing to face towards the ocean.
I cut the connection with Haneda, and put my hand over Aria's.
"...don't go over the Sea, Aria. He's tricking us."
"?"
"The Jieitai doesn't think we can land safely. They want to shoot us down when we're safely above the ocean."
"Ho-how can they...! This airplane has civilians on it!?"
"If we crash into Tokyo, then there will be even larger losses. So they have to take the lesser of two evils."
I squeezed Aria's hand, and pushed the controls left--turning the airplane towards Yokohama.
"Kin...Kinji?"
Aria's fingers stiffened, she was obviously ill at ease...as if seeking reassurance, she turned towards me.
"Since they want to kill us, we'll have to take some hostages. Aria, fly over Tokyo."

Flight ANA600 went through Yokohama, and entered Tokyo.
We had enough fuel to last 7 minutes.
"Where do you want to land, Kinji? There are no runways in Tokyo."
"Muto. How long does a runway have to be?"
"If it's a Boeing 737-350 with two engines...around 2450 meters."
"...Do you know the wind speed over there?"
"Wind speed? Reki, what's the wind speed around Academy Island?"
"From what I can sense, in 5 minutes there will be a southeasterly wind, at 41.02 meters."
The voice of Reki, from Snipe, came over the radio.
"Then Muto. If we land with a 41 meters headwind, how long does the runway need to be?"
"...That...around 2050 meters."
"...It will be close."
Hearing my soft words, Muto and Aria fell silent.
"Wh-where are you going to land? Tokyo doesn't have a runway like that."
"Do you remember what the artificial island Butei High is on, looks like? It's 2 kilometers from North to South, and 500 meters from East to West. If we land diagonally, it will be 2060 meters."
"He-hey..."
"Don't worry, Muto. I won't crash into 'Academy Island'"
"...?"
"I'm going to go to 'Empty Island'. The one that's north of Rainbow Bridge, the artificial island just like Academy Island."
"...He-hey. Ho-how did you come up with such a risky strategy? Are you the real Kinji?"
"Haha...who's sitting here right now, Aria?"
"Wh-what?"
"Why don't you answer?"
Hey, the me in Hysteria Mode, is it really the time to start teasing Aria?
I reprimanded myself in my heart. However, Aria started showing off her expertise in blushing.
And those Eichornia eyes opened wide, as if she was about to say something.
But--she seemed to understand that I was taking the initiative this time.
And this proud ojou-sama, swiveled her head to one side with a "Hmph,"...
"Kinji."
she said, in a voice like a child unhappily surrendering to their parents.
"Yeah, it's like you heard, Muto. It's a shame, isn't it."
The nighttime view of Shibuya and Harajuku quickly swept under our plane.
We must be scaring the people in the streets.
"...The artifical island...huh. It's not impossible."
Muto said with a sigh, relaxing Aria's frozen expression.
"But, Kinji. That really is just an empty island. There are no warning lights or landmarks. No matter what plane it is, worst come to worst, they still need lights to attempt a night landing. And, the visibility is extremely low now, because of the rain, and more importantly the wind strength is rising. To attempt a landing in this situation--"
"So, Aria, would you like to give up on landing, and have a lover's suicide with me?"
I cut short Muto's words, and turned towards Aria.
"I-I would rather die than...have a lover's suicide with you."
Aria, noticing the paradox in her words, stuck her tongue out at me.
"Haha. That's something to be happy about, at least. This is the first time I've come to an agreement with Aria, you know?"
"What's that supposed to mean?"
"I--don't want to have a lover's suicide either. I couldn't bear seeing Aria die."
Hearing my words, Aria said "Really~! Why did you have to say that!" and dipped her head, blushing.
"Muto, this is how it's going to be, the aircraft is starting to prepare for landing."
"Wa-wa-wa-wait, Kinji! 'Empty Island' is covered in water! You won't be able to stop with just 2050 meters!"
"I'll think of something. Trust me."
"...as...as you like! But if you dare die, I'll definitely exorcise you!"
Shouted Muto. I wasn't sure if he had gone insane, but he had started shouting in the midst of all his classmates before hanging up.

Flight ANA600 passed close by Shinjuku's high rise buildings, and started banking right.
There was still 3 minutes.
To land on a short runway, we have to reduce speed, so Flight 600 passed over Tokyo Dome at a leisurely speed that made me feel panicked. In the midst of the storm, we went from the Tokyo underground over Ginza.
"Aria. We're flying lower than Tokyo Tower right now. Make sure you don't crash into it."
"Don't underestimate me."
Aria deployed the landing gear, and transferred the controls to me.
Alright, I can see Tokyo Bay.
I should be able to see the artificial island.
--But.
The me in hysteria mode, formed a conclusion immediately.
We've survived until now...
But landing is impossible.
I couldn't see 'Empty Island' anywhere.
Muto was right, Tokyo Bay, inside Shiodome, was completely enveloped in darkness.
Without landing lights or anything else, there was no way I could land. That was all I understood.
This situation, regardless of how skilled the pilot, will not end well.
Then, we should find a place where there aren't many people and crash--while this thought appeared in my head--I'm not sure how Aria sensed it, whether through her sixth sense or something, but she detected my change in mood, and said
"Kinji. It will be fine. You can do it. There's no way you will fail. Since you don't want to be a Butei, if you die as one, you will have lost. And,--I haven't saved mother yet!!"
While Aria was speaking...her words suddenly became like a mantra...
"We can't die yet! We can't die in this kind of place!"
Pat...pat, pat, pat....
A light suddenly appeared on 'Empty Island', right in front of the Rainbow Bridge...!
"Kinji! Can you see, you bastard!"
The line with Muto came back to life, and we could hear the pattering sound of heavy rain through it.
"Muto!?"
"If I let you die, Shira...no, people will cry for your soul! I hijacked the biggest motorboat in Logi! And everybody willingly gave up their Amdo issue flashlights! You're going to have to write disciplinary reports for all of us!"
Following his voice, a connection suddenly interrupted the one between Muto and I, two connections, three...several connections linked with ours.
"Kinji!" "We can see the plane!" "Just a little bit more!" "Come on, you can do it!"
The me in Hysteria Mode, could understand.
These voices.
It's them.
The classmates that we saved during the bus-jacking--!!
They came from Academy Island to Empty Island, and used their flashlights to act as landing lights for us!
--Butei Law article 1. 「Believe in your comrades and help each other」--
I slowly reduced our altitude, going towards the flat surface they had prepared for me!

Bang----!!
Flight ANA600, full of determination, forced a landing onto the overflowing artificial island.
In the midst of the extreme impact, Aria deployed the thrust reversers.
"Stop, stop, stop, stop stop stop stop--!!"
I followed along with her sharp voice, chanting.
"Let's go--!"
I twisted the controls quickly, sending the aircraft into a spin.
In the midst of the rain, a 2050 meter runway won't be enough.
Exactly like Muto said.
However, I can do this.
This was the reason I chose the artificial island.
It's getting closer and closer.
It's the wind turbine,
The pillar of the wind turbine--!!

Bang----!!

One of the wings of the airplane smashed into the pillar, and we started to spin--
Aria and I, inside the cockpit, were like clothes in a washing machine--

...

"Uw...aah. Ouch..."
...the smell of...Gardenia.
Ah, right. This is Aria's scent.
I felt as if my whole body had been beaten, and opened my eyes with all my strength. Looking out the window, I could see Rainbow Bridge.
Flight ANA600--had stopped.
Although we were at the edge of death, but now, we were safe.
But...why can't I move?
I predicted this in advance...but I didn't really think that Aria's body would be wedged on top of mine on the co-pilot's seat.
Aria, who was unconscious, was straddling my waist, her arms around my body, that beautiful face on top of mine.
So, I was embraced by her again.
I looked at her chest helplessly...good. Looks like her shirt didn't go up this time.
I guess that means that I won't be killed by her.
When I had just thought that, I realized that Aria's skirt had completely flipped up.
"...!"
I quickly shut my eyes.
And, not daring to look down, I, making sure that Aria didn't notice...
used my hand, to slowly fix her skirt.
Then, this should be fine.
The top already took one of my nine lives. How could I let the bottom do so as well.
--Right?