Sakurasou no Pet na Kanojo
From Baka-Tsuki
The light-novel series Sakurasou no Pet na Kanojo (さくら荘のペットな彼女, lit. "The Pet Girl of Sakura Dormitory") is written by Hajime Kamoshida, illustrated by Keeji Mizoguchi and published by ASCII Media Works on their imprint Dengeki Bunko. A manga adaptation illustrated by Houki Kusano began serialization in the April 2011 issue of ASCII Media Works' Dengeki G's Magazine. A drama CD was released on June 28, 2012.
An anime TV series adaptation by J.C.Staff consisting of 24 episodes aired between October 2012 and March 2013. It covers the first six volumes.


---

The Sakurasou no Pet na Kanojo series is also available in the following languages:
Note: Translation progress varies for each version.
Story Synopsis
Sakura Dormitory is a dorm of the high school affiliated with Suimei University of the Arts (often shortened as Suiko), which hosts the strangest, trouble-making students. After being kicked out of the normal dorm for keeping a stray cat, Sorata Kanda moves into Sakura Dormitory. As he starts to get used to the life in the dorm, Mashiro Shiina, a world famous artist who cannot even take care of her own daily life, moves in. Sorata is forced to become Mashiro's handler. The story is about their daily life as well as mental growth.
Updates
June 20, 2013 - Volume 4 Chapter 3 Completed
June 25, 2013 - Volume 4 Chapter 4 Completed
June 25, 2013 - Volume 4 Author's Notes Completed
July 08, 2013 - Volume 5 Chapter 1 Completed
July 20, 2013 - Volume 5 Chapter 2 Completed
November 12, 2014 - Volume 5 Chapter 4 Completed
November 23. 2014 - Volume 5 Chapter 3, 5 and Author's Notes Completed
Older updates can be found here.
Formalities
Registration
Translators are asked to register which chapters they're working on.
Format Standards
Every chapter must after editing conform to the general format guidelines.
About British English
Editors and readers would've noticed that I use British English as I live in Australia. However, I have noticed from an anonymous edit that the term 'fortnight' is rare in America so he/she changed it to 2 weeks. So if anyone comes across a term that they don't get because it's British English, then please comment it in the discussion page and I will avoid using the term in the future. Thanks. -Junnynam (talk)
If you enjoyed the series, why don't you tell us in the Feedback Thread?


---
---
---
---
Volume 6
---
Volume 10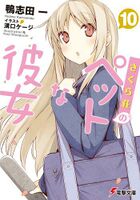 ---
Volume 10.5
Project Staff
Translators
ACTIVE
INACTIVE
Editors
ACTIVE
ProxY(Please email me if there is work to be done.)
INACTIVE
Series Overview