The World God Only Knows (Indonesia)
From Baka-Tsuki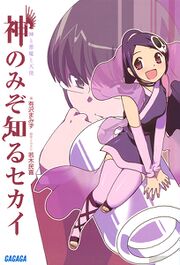 Seri The World God Only Knows juga tersedia dalam bahasa:
Catatan: Persentase translasi setiap bahasa bervariasi.
---
DILARANG KERAS MENJUAL TERJEMAHAN INI DALAM BENTUK APAPUN. INI ADALAH TERJEMAHAN GRATIS OLEH PENERJEMAH DAN PENYUNTING BUKAN UNTUK KEGIATAN KOMERSIAL

The World God Only Knows (神のみぞ知るセカイ) adalah sebuah seri light novel yang ditulis oleh by Mamizu Arisawa dan diillustrasikan oleh Tamiki Wakaki.
Seri ini saat ini telah memiliki 2 jilid.
Sinopsis Cerita
Katsuragi Keima, sering dipanggil otamegane (otaku+megane) oleh teman-temannya adalah penggemar berat galgame (game dating sim jepang), dan sangat ahli menaklukkan hati para karakter game-game yang itu hingga mendapat julukan 'Dewa Penakluk', namun tidak tertarik pada gadis-gadis di dunia nyata. Pada suatu hari karena suatu kesalah pahaman dia menerima kontrak dari neraka untuk menangkap arwah pelarian yang bersembunyi di 'celah' dalam hati gadis-gadis di dunia nyata dengan membuat mereka jatuh cinta padanya. Bersama Elsie, seorang iblis imut yang sekarang tinggal di rumahnya dan mengaku sebagai adiknya, mulailah seri penaklukan gadis-gadis yang terasuki 'arwah pelarian' untuk memenuhi kontraknya..
Peringatan
Sebagian besar terjemahan yang ada adalah terjemahan tangan kedua (dari Jepang ke Inggris, baru ke Indonesia) jadi kemungkinan perbedaan makna dengan teks aslinya akan lebih besar
Terjemahan
Apa anda menginginkan proyek ini diteruskan? Ingin ambil bagian? Atau hanya sekedar tanya jawab? Silahkan vote/diskusikan di sini.
Mereka yang ingin berkontribusi diminta untuk memberitahu pengawas proyek ini terlebih dahulu.
Penerjemah diminta untuk mendaftar chapter yang mereka kerjakan.
Format Standar
Setiap Chapter (setelah diedit) harus memenuhi petunjuk format umum.
Update
07 Februari 2012 Jilid 1 Chapter 3 dan Catatan Heroine selesai
16 Februari 2012 Jilid 1 Catatan Pengarang dan Jilid 2 Catatan Heroine selesai
24 Februari 2012 Jilid 2 Catatan Pengarang selesai
01 April 2012 Jilid 1 Epilog selesai
09 Mei 2012 Jilid 1 Chapter 1 selesai
12 Juni 2012 Jilid 1 Chapter 4 selesai
Update yang lebih lama bisa ditemukan di sini.
Seri The World God Only Knows oleh Mamizu Arisawa
Staf Proyek
Penerjemah
Aktif
A.W.O.L
Mengundurkan Diri
Semua penerjemah yang dapat berbahasa Inggris-Indonesia atau Jepang-Indonesia dipersilahkan.
Penyunting
Semua penyunting yang dapat berbahasa Indonesia dengan baik dan benar dipersilahkan.
Tinjauan Serial
Jilid 1 - 神と悪魔と天使 (Mei 2009) ISBN 978-4-09-451137-6
Jilid 2 - 祈りと呪いとキセキ (Mei 2010) ISBN 978-4-09-451203-8