Kino no Tabi (キノの旅 -the Beautiful World- Kino's Journey) is a Japanese light novel series written by Keiichi Sigsawa, with illustrations by Kōhaku Kuroboshi. The series originally started serialization in volume five of MediaWorks' now-defunct light novel magazine Dengeki hp on March 17, 2000. The first bound volume of the series was published on July 10, 2000 by MediaWorks under their Dengeki Bunko publishing label. As of October 2012, sixteen volumes have been published, and over 6.5 million copies of the novels have been sold in Japan.
Cover of volume 16: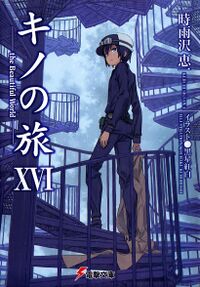 Series Information:
Genre: Adventure, Fantasy, Sci-Fi
Japanese Title: キノの旅 -the Beautiful World-
English Title: Kino's Journey: the Beautiful World
Author: 時雨沢恵一 (Keiichi Sigsawa)
Illustrator: 黒星紅白 (Kōhaku Kuroboshi)
Volumes: 16
Status: Ongoing
Synopsis:
The protagonist, Kino, accompanied by a talking motorcycle named Hermes, travels through a mystical world of many different countries and forests, each unique in its customs and people. Kino only spends three days and two nights in every town, without exception, on the principle that three days is enough time to learn almost everything important about a place, while leaving time to explore new lands.
Project Page:
http://www.baka-tsuki.org/project/index ... no_no_Tabi