Lien du projet :
Baka to Test to Shôkanjû - Français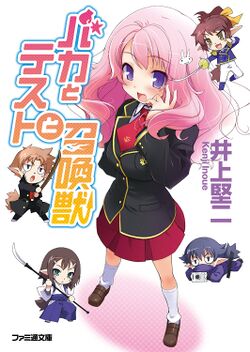 Synopsis :
Le héros, Akihisa Yoshii, fait partie des plus abrutis des idiots de l'Académie Fumitzuki. Dans ce lycée, les notes peuvent dépasser les 100 points. Si vous partez en plein examen, vous avez un zéro.
Mizuki Himeji, une élève brillante et mignonne, avait beaucoup de fièvre pendant l'examen d'entrée. Après avoir eu un zéro en quittant celui-ci, elle a été affectée dans la pire classe, la Classe F.
Presque tout dépendait des notes. Alors que la Classe A possédait comme tableau un écran plasma aussi large qu'un mur, des ordinateurs portables personnels, une climatisation, des réfrigérateurs, des sièges ajustables et d'autres appareils de ce genre...
Chez la Classe F, la pire des classes, les élèves étudiaient avec des tables japonaises, des coussins et un matériel dégradé. Le tout dans une salle pleine de saleté, envahie par la moisissure des tatamis et les toiles d'araignée.
Akihisa, trouvant ça injuste, demande à ses amis de l'aider à changer la situation grâce aux Guerres d'Invocation ! Ensemble, ils élaboreront toutes sortes de stratégies pour vaincre la renommée Classe A, afin d'obtenir leur classe et leur matériel en cas de victoire !
--
N'hésitez pas à poster un message si vous êtes intéressés par le projet.