Baka to Test to Shôkanjû - Français
From Baka-Tsuki
| | |
| --- | --- |
| | This Teaser Project has not yet reached Full Project status requirements. |
Help this project out by joining the translation team! — Learn more about Full Project Approval Requirements
Note: This Project has been classified as Stalled.




Please see Template:STALLED for further information about this classification.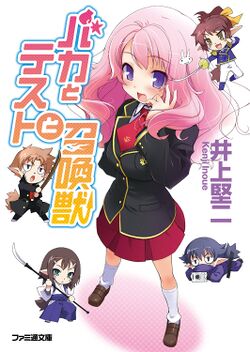 Baka to Test to Shôkanjû (バカとテストと召喚獣, Baka to Tesuto to Shoukanjuu) est une série de light novels écrite par Kenji Inoue (井上 堅二) et illustrée par Yui Haga (葉賀 ユイ). Elle est publiée chez Enterbrain, sous Famitsu Bunko.
Silver Link a réalisé toutes les adaptations animées de la série. Une première saison de 13 épisodes a été diffusée de janvier à mars 2010. Deux OAV, intitulés Baka to Test to Shôkanjû : Matsuri, ont été diffusés en février et mars 2011. Une seconde saison de 13 épisodes a été diffusée de juillet à septembre 2011.

Baka to Test to Shôkanjû existe aussi dans les langues suivantes :

Important : Ceux qui souhaitent traduire ou éditer le projet doivent IMPÉRATIVEMENT lire la partie "Traduction".
Synopsis
Le héros, Akihisa Yoshii, fait partie des plus abrutis des idiots de l'Académie Fumitzuki. Dans ce lycée, les notes peuvent dépasser les 100 points. Si vous partez en plein examen, vous avez un zéro.
Mizuki Himeji, une élève brillante et mignonne, avait beaucoup de fièvre pendant l'examen d'entrée. Après avoir eu un zéro en quittant celui-ci, elle a été affectée à la pire classe, la Classe F.
Presque tout dépendait des notes. Alors que la Classe A possédait comme tableau un écran plasma aussi large qu'un mur, des ordinateurs portables personnels, une climatisation, des réfrigérateurs, des sièges ajustables et d'autres appareils de ce genre...
Chez la Classe F, la pire des classes, les élèves étudiaient avec des tables japonaises, des coussins et un matériel dégradé. Le tout dans une salle pleine de saleté, envahie par la moisissure des tatamis et les toiles d'araignée.
Akihisa, trouvant ça injuste, demande à ses amis de l'aider à changer la situation grâce aux Guerres d'Invocation ! Ensemble, ils élaboreront toutes sortes de stratégies pour vaincre la renommée Classe A, afin d'obtenir leur classe et leur matériel en cas de victoire !
L'auteur, Kenji Inoue
Né à Tokyo, mais a grandi à Sapporo. Aime le design d'Hideyoshi Kinoshita, dessiné par Yui Haga-sensei. Mes parents et mes proches amis n'étaient pas au courant de mon identité quand le premier roman a été publié. Est devenu célèbre au boulot, après que mon responsable se soit plaint de moi un jour, car il est « impossible de comprendre le japonais écrit par Inoue ». Du coup, jusqu'à présent, je n'ai toujours pas osé dire que j'étais un écrivain, même si j'ai gagné un prix. Ce roman a remporté le 8ème Prix Spécial de l'Entame Award, car les jurés ne l'ont pas lu correctement.
Tiré du rabat de couverture du Tome 1.
Règles de Traduction
Cette partie doit être lue par tous les traducteurs et éditeurs du projet.
Les traducteurs doivent s'enregistrer sur le lien ci-dessus.
Forme
Chaque chapitre doit se conformer aux règles ci-dessous après édition :
La traduction est de l'Anglais au Français.
Feedback - Forum
Une remarque ou un remerciement ? Vous voulez participer au projet ? Voir le sujet sur le forum.
Actualités
Date
Description
2015/03/10
Tome 1 Quatrième Question - Traduit
2014/08/02
Tome 1 Troisième Question - Traduit
2013/05/28
Tome 1 Deuxième Question - Traduit
2013/05/03
Tome 1 Première Question - Traduit
2013/05/03
Tome 01 - Chapitre 1 : Disponible

Projet commencé

Pour voir l'intégralité de l'historique, c'est ici.
Baka to Test to Shôkanjû par Kenji Inoue
Tome 1
Tome 2
Tome 3
Tome 3.5
Tome 4
Tome 5
Tome 6
Tome 6.5
Tome 7
Tome 7.5
Tome 8
Tome 9
Tome 9.5
Tome 10
Tome 10.5
Tome 11
Tome 12
Volume 12.5
Cross-Over - Book Girl gravit l'Escalier des Gargouilles et des Idiots
Staff
Le staff est validé par le superviseur ou le manager du projet.
Superviseur : ???
Manager : ???
Traducteurs
Seuls les traducteurs actifs peuvent traduire le projet.
En pause :
Disparus :
Éditeurs / Relecteurs
En Pause :
Retirés :
Parutions
Tome 1 (29 janvier 2007) - ISBN 978-4-7577-3329-9
Tome 2 (28 avril 2007) - ISBN 978-4-7577-3505-7
Tome 3 (30 août 2007) - ISBN 978-4-7577-3682-5
Tome 3.5 (30 janvier 2008) - ISBN 978-4-7577-3979-6
Tome 4 (30 mai 2008) - ISBN 978-4-7577-4236-9
Tome 5 (29 novembre 2008) - ISBN 978-4-7577-4518-6
Tome 6 (30 avril 2009) - ISBN 978-4-7577-4827-9
Tome 6.5 (29 août 2009) - ISBN 978-4-7577-5040-1
Tome 7 (26 décembre 2009) - ISBN 978-4-04-726195-2
Tome 7.5 (27 février 2010) - ISBN 978-4-04-726313-0
Tome 8 (30 août 2010) - ISBN 978-4-04-726727-5
Tome 9 (29 janvier 2011) - ISBN 978-4-04-727031-2
Tome 9.5 (30 juin 2011) - ISBN 978-4-04-727332-0
Tome 10 (26 décembre 2011) - ISBN 978-4-04-727647-5
Tome 10.5 (29 septembre 2012) - ISBN 978-4-04-728351-0
Tome 11 (30 mars 2013) - ISBN 978-4-04-728752-5
Tome 12 (30 novembre 2013) - ISBN 978-4-04-729293-2
Tome 12.5 (30 mars 2015) - ISBN 978-4-04-730298-3
Bungaku Shôjo VS Baka to Test to Shôkanjû (30 octobre 2008) - ISBN 978-4-7577-4484-4