Chronicle Legion (Indonesia)
From Baka-Tsuki
| | |
| --- | --- |
| | This Teaser Project has not yet reached Full Project status requirements. |
Help this project out by joining the translation team! — Learn more about Full Project Approval Requirements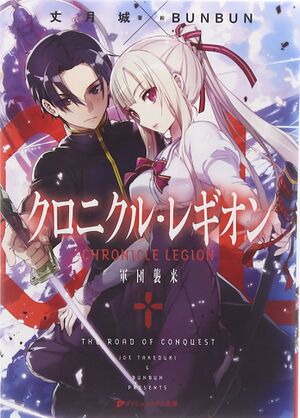 Chronicle Legion (クロニクル・レギオン, Pasukan Bersejarah), dengan judul tambahan The Road of Conquest atau secara bahasa diartikan sebagai (Jalan Penaklukan), adalah sebuah Light Novel yang ditulis oleh Takedzuki Jou dan ilustrasikan oleh BUNBUN.
Diterbitkan oleh Shueisha di bawah label Dash X Bunko, serial ini telah mencapai 5 volume dan masih berlanjut.
Takedzuki Jou (juga dipanggil Joe Takeduki) atau mungkin lebih dikenal sebagai author serial lain seperti Campione! dan Leviathan of the Covenant.

Serial ini juga tersedia dalam bahasa berikut:
Sinopsis[edit]
Sebuah pertemuan antara seorang putri dan pemuda, berubah menuju pertentangan takdir...!!
Dalam abad ke dua puluh terakhir, karena penjajahan yang dipimpin oleh Caesar, pahlawan Romawi kuno yang dihidupkan kembali, Kerajaan Jepang tunduk di bawah kekuasaan Kerajaan Romawi Timur.
Apa yang memungkinkan Caesar menjadi penakluk terhebat adalah kekuatan yang dijuluki sebagai "Legion."
Kelompok misterius yang dikendalikan sebagai senjata utama dalam kekuatan militer utama dunia—Satuan kelompok pasukan raksasa.
Mempunyai ambisi menjadi penguasa Jepang, Putri Kerajaan Jepang, Fujinomiya Shiori, akhirnya mengambil tindakan.
Sang Putri memilih Tachibana Masatsugu sebagai jenderal kepercayaannya, murid SMA biasa dengan segala perhitungan.
Namun, dia sebenarnya adalah pejuang yang lahir dari masa lalu, "legatus legionis" lain yang dihidupkan kembali, seseorang yang kejayaannya tidak lebih hebat dari pahlawan Caesar...!!
Tirai mulai terangkat: Sebuah cerita perang fantasi luar biasa yang berpusat di sekitar para pahlawan yang hidup kembali serta gadis-gadis menawan!!
PV sinopsis yang dibacakan oleh seiyuu Yuuki Aoi.
Terjemahan[edit]
Petunjuk Dasar[edit]
Setiap Chapter (setelah editing) harus menyesuaikan pada petunjuk umum.
Pendaftaran[edit]
Penerjemah diminta untuk mendaftar chapter mana yang mereka akan kerjakan. Dan mohon membaca tata cara pendaftaran dengan seksama pada halaman pendaftaran di atas.
22 Februari 2017 - Volume 1 Chapter 3 - Para Kesatria dan Persenjataan Kuat (1) selesai
14 Desember 2016 - Volume 1 Chapter 2 - Penyerbuan Legion (2) selesai
10 Oktober 2016 - Volume 1 Chapter 1 - Penyerbuan Legion (1) selesai
9 Agustus 2016 - Teaser, Crossover SS Campione!, Volume 1 Peta Dunia & Prolog selesai
Serial Chronicle Legion oleh Takedzuki Jou[edit]
Volume 1 - Penyerbuan Legion[edit]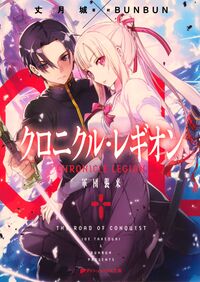 Volume 2 - The Prince and the Lion King[edit]
Volume 3 - Imperial Japan's Loyalists[edit]
Volume 4 - A Gathering of Heroes[edit]
Volume 5 - The Imperial Capital in Turmoil[edit]
Cerita Pendek[edit]
Staff Proyek[edit]
Supervisor:
Pengawas Proyek: Isko
Penerjemah[edit]
Aktif
Tinjauan Serial[edit]
Volume 01 - クロニクル・レギオン - 軍団襲来 (21 November 2014) - ISBN 978-4-08-631005-5
Volume 02 - クロニクル・レギオン2 - 王子と獅子王 (25 March 2015) - ISBN 978-4-08-631032-1
Volume 03 - クロニクル・レギオン3 - 皇国の志士たち (24 July 2015) - ISBN 978-4-08-631057-4
Volume 04 - クロニクル・レギオン4 - 英雄集結 (22 December 2015) - ISBN 978-4-08-631083-3
Volume 05 - クロニクル・レギオン5 - 騒乱の皇都 (22 April 2016) - ISBN 978-4-08-631110-6
Web resmi di Dash X Bunko [1]