CtG—Zero Kara Sodateru Dennou Shoujo (Indonesia)
From Baka-Tsuki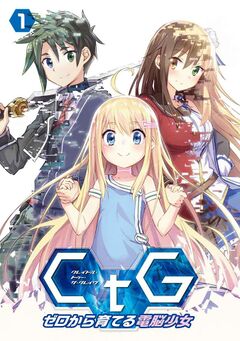 CtG -Zero kara Sodateru Dennou Shoujo- (CtG ─ゼロから育てる電脳少女─) adalah serial Light Novel yang ditulis oleh Gangudou. Ilustrasinya digambar oleh bun150. Serial ini masih berlanjut, dan diterbitkan oleh Kadokawa Shoten dibawah label Kadokawa Sneaker Bunko.
Serial CtG juga bisa kalian baca dalam bahasa:
Sinopsis Cerita
[
edit
]
Dalam VRMMO -CtG- (Cradle to the Glaive), Kasugai Yuu telah <menikahi> Mifa, yaitu seorang gadis yang barusan saja ditemuinya. Setelah itu, putri mereka Haruha dilahrikan dan tumbuh dewasa!? Selanjutnya...
"Aku datang, papa!"
"K-Kugimiya!"
Di dunia nyata, Haruha yang asli, bersama Mifa – Kugimiya Miharu - tiba-tiba muncul! Faktanya, Haruha adalah <manusia baru> yang diciptakan secara rahasia!! Sembari hidup di bawah atap yang sama, Yuu dan Miharu direpotkan dengan membesarkan Haruha, baik di dunia nyata maupun dunia game, dia lah yang menentukan nasib umat manusia!?
CtG -Zero kara Sodateru Dennou Shoujo- oleh Gangudou
[
edit
]
Staf Proyek
[
edit
]
Translator
[
edit
]
Tinjauan Serial
[
edit
]
Volume 1 - CtG ─ゼロから育てる電脳少女─ 1 (September 30, 2014, ISBN 978-4041022009)
Volume 2 - CtG ─ゼロから育てる電脳少女─ 2 (February 01, 2015, ISBN 978-4041022016)