Fuyuu Gakuen no Alice and Shirley (Indonesia)
From Baka-Tsuki
| | |
| --- | --- |
| | This Teaser Project has not yet reached Full Project status requirements. |
Help this project out by joining the translation team! — Learn more about Full Project Approval Requirements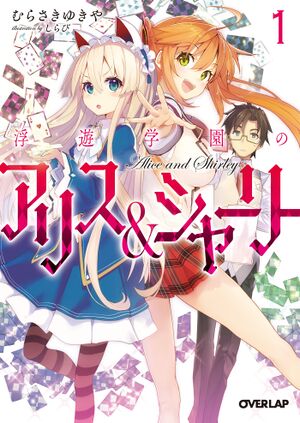 Fuyuu Gakuen no Alice and Shirley (浮遊学園のアリス&シャーリー, Floating Academy's Alice and Shirley) adalah sebuah seri light novel yang ditulis oleh Yukiya Murasaki, diillustrasikan oleh Shirabii dan dipublikasikan oleh Overlap. Jumlah seri saat ini adalah dua volume.
Serial ini juga tersedia dalam bahasa lain seperti berikut:
Sinopsis Cerita
[
edit
]
Suatu hari, orang-orang terbangun untuk menemukan diri mereka dengan kemampuan luar biasa yang disebut Dialecte. Mereka berkumpul di kota akademi "Canaan" yang terisolasi dari masyarakat umum - sebuah kota futuristik mengambang di langit. Masaki adalah seorang siswa SMA yang punya hobi membuat kue-kue namun ia dinilai memiliki kemampuan tak tertandingi "Glow Verbaliser" begitu sekolah berubah. Dia bertemu dengan teman masa kecilnya Shirley bersama dengan tenang dan si misterius Alice. Dua dari mereka adalah yang terkuat "Breaker" pasangan yang mengawasi aturan-pelanggar peraturan sekolah tentang penyalahgunaan ilusi ... tapi mereka bertengkar selama argumen sepele. Selanjutnya, karena Masaki memiliki kekuatan yang disebut peerless, Alice memilih dia sebagai partner barunya. Yang terkuat! Pembawa sial? Mari kita mengangkat tirai pada tingkat maksimum teh dan permen pertempuran sekolah!
Translation
[
edit
]
Translators diminta untuk mendaftar untuk bab yang ingin mereka kerjakan.
Format Standart
[
edit
]
Setiap Bab (setelah diedit) harus sesuai dengan format umum.
Project-Specific Guidelines: Format, Names, and Terminology
Updates
[
edit
]
16 Agustus 2014, Pembuatan Halaman Project Selesai
Fuyuu Gakuen no Alice and Shirley oleh Yukiya Murasaki

[

edit

]
Volume 1
[
edit
]
Volume 2
[
edit
]
Project Staff
[
edit
]
Supervisor:
Project Manager: Isko
Penerjemah
[
edit
]
Editors
[
edit
]
Series Overview
[
edit
]
Fuyuu Gakuen no Alice and Shirley 1 - 浮遊学園のアリス&シャーリー1 (23 May 2013, ISBN 978-4-906866-18-2)
Fuyuu Gakuen no Alice and Shirley 2 - 浮遊学園のアリス&シャーリー2 (25 October 2013, ISBN 978-4-906866-35-9)
Fuyuu Gakuen no Alice and Shirley 3 - 浮遊学園のアリス&シャーリー3 (25 September 2014)
Fuyuu Gakuen no Alice and Shirley 4 - 浮遊学園のアリス&シャーリー4 (25 September 2014)