Hataraku Maou-sama!
From Baka-Tsuki
Note: This Project has been declared as Abandoned!
and was taken down.




Please see Template:Abandoned for further information about this classification.
This project has been put to a halt.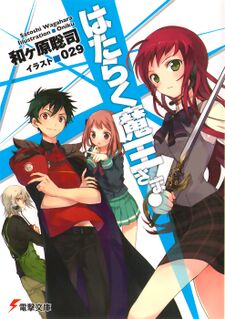 This project has been licensed by Yen Press' imprint Yen On. First volume will be published in April 2015.

"Hataraku Maō-sama!" (はたらく魔王さま!), is a Japanese light novel series written by Satoshi Wagahara, with illustrations by 029. Since February 2011, ASCII Media Works has published ten volumes. (April 2014) A 13 episodes long anime has aired in Japan during Spring 2013, the anime was later licensed and released in the US under the title "The Devil is a Part-Timer!".
Hataraku Maō-sama! series is also available in the following languages:
Story Synopsis
The Demon Lord and one of his generals, Alsiel, escape through a portal to modern Tokyo, Japan after being confronted by the Hero Emilia Justina and her companions. However, due to the lack of magic in the modern contemporary world, both the Demon Lord and Alsiel change into forms representing what they would look like if they were human. In order to survive, the Demon Lord takes a part-time job in a fast food restaurant named MgRonald while Alsiel serves as a houseman. One day, the Demon Lord, who now goes by Sadao Maō, meets a girl who is actually the Hero Emilia, who now goes by Emi Yusa.
Series Information
Genre: Action, Comedy, Fantasy, Romance
Original Title: はたらく魔王さま!
Author: Satoshi Wagahara
Illustrator: 029
Published Volume: 1-17
Series Status: Ongoing
Series Overview
Japanese releases
English releases
The Devil Is a Part-Timer!, Vol. 1 ---(April 21, 2015, ISBN 978-0-316-38312-7)
The Devil Is a Part-Timer!, Vol. 2 ---(August 18, 2015, ISBN 978-0-316-38501-5)
The Devil Is a Part-Timer!, Vol. 3 ---(December 15, 2015, ISBN 978-0-316-38502-2)
The Devil Is a Part-Timer!, Vol. 4 ---(April 19, 2016, ISBN 978-0-316-38503-9)
The Devil Is a Part-Timer!, Vol. 5 ---(August 23, 2016, ISBN 978-0-316-38504-6)
The Devil Is a Part-Timer!, Vol. 6 ---(December 13, 2016, ISBN 978-0-316-38506-0)
The Devil Is a Part-Timer!, Vol. 7 ---(April 18, 2017, ISBN 978-0-316-46936-4)
The Devil Is a Part-Timer!, Vol. 8 ---(August 22, 2017, ISBN 978-0-316-47391-0)
The Devil Is a Part-Timer!, Vol. 9 ---(December 12, 2017, ISBN 978-0-316-47418-4)
The Devil Is a Part-Timer!, Vol. 10 ---(TBA)
The Devil Is a Part-Timer!, Vol. 11 ---(TBA)
The Devil Is a Part-Timer!, Vol. 0 ---(TBA)
The Devil Is a Part-Timer!, Vol. 12 ---(TBA)
The Devil Is a Part-Timer!, Vol. 13 ---(TBA)
The Devil Is a Part-Timer!, Vol. 14 ---(TBA)
The Devil Is a Part-Timer!, Vol. 15 ---(TBA)
The Devil Is a Part-Timer!, Vol. 16 ---(TBA)
The Devil Is a Part-Timer!, Vol. 0-II ---(TBA)