Kare to Hitokui no Nichijou
From Baka-Tsuki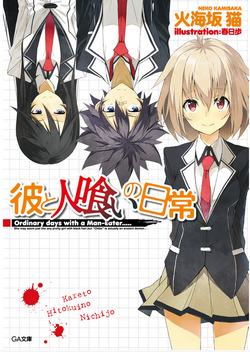 Kare to Hitokui no Nichijou (彼と人喰いの日常, Ordinary Days with a Man-Eater) is a light novel series written by Neko Kamisaka and illustrated by Ayumu Kasuga, the series is complete with 4 volumes.

Kare to Hitokui no Nichijou is also available in the following languages:
(Note: Translation progress varies for each version.)
Story Synopsis
[
edit
]
"Nice to meet you. I am Oogami Kuroe."
A beautiful girl that transferred to this school suddenly, claiming herself as the "fiancee" of a highschool student, Kamisaki Tooya. But her true identity was……
"Once in a month,I have to eat a human. This was the contract made between you and me."
Tooya made a contract with a man-eating monster to save himself when almost being killed. According to the contract, Tooya have to let her eat someone every month.
"Oogami-san,what is your relationship with Tooya-kun!?"
But his childhood friend, Kurumi Rikka doesn't know anything and talked with Oogami.
This is a story about a young man living a "difficult ordinary days" with a monster.
"I will be count on you in the future and forever, master."
Translation
[
edit
]
Those who wish to contribute are asked to first notify a supervisor beforehand.
Translators are asked to register which chapters they're working on
Format Standards
[
edit
]
Every Chapter (after editing) must conform to the general format guidelines.
Updates
[
edit
]
January 16, 2014 - Page created and updated
Kare to Hitokui no Nichijou series by Neko Kamisaka
[
edit
]
Volume 1
[
edit
]
Volume 2
[
edit
]
Volume 3
[
edit
]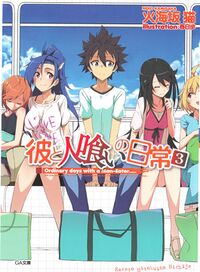 Chapter 3
Chapter 4
Chapter 5
Epilogue
Volume 4
[
edit
]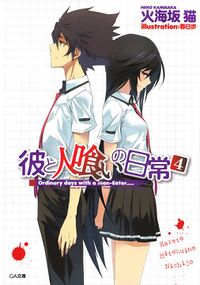 Prologue
Chapter 1
Chapter 2
Chapter 3
Chapter 4
Chapter 5
Epilogue
Project Staff
[
edit
]
Supervisor:
Project Manager:
Translator
[
edit
]
Editors
[
edit
]
Series Overview
[
edit
]
Volume 1 - 彼と人喰いの日常 1 (September 15, 2011, ISBN 978-4797366983)
Volume 2 - 彼と人喰いの日常 2 (January 15, 2012, ISBN 978-4797368666)
Volume 3 - 彼と人喰いの日常 3 (May 15, 2012, ISBN 978-4797369922)
Volume 4 - 彼と人喰いの日常 4 (October 15, 2012, ISBN 978-4797371932)