Kimi to Boku no Saigo no Senjo, Aruiha Sekai ga Hajimaru Seisen ~ (Brazilian Portuguese)
From Baka-Tsuki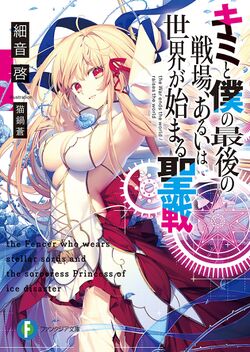 Kimi to Boku no Saigo no Senjo, Aruiha Sekai ga Hajimaru Seisen (キミと僕の最後の戦場、あるいは世界が始まる聖戦3, The Last Battlefield Between You and I, or Perhaps the Beginning of the World's Holy War) abreviada como KimiSen é uma série de Light Novels escrita por Sazane Kei e ilustrada por Ao Nekonabe.

Kimi to Boku no Saigo no Senjo, Aruiha Sekai ga Hajimaru Seisen também está disponível nas seguintes línguas:
(Nota: Progresso da tradução varia para cada versão.)
Sinopse
[
edit
]
O Império dotado de um avançado nível de conhecimento, e a Agência da Casa Imperial de Nebulis temido como o "País das Bruxas". No duradouro campo de batalha entre esses dois países, um garoto e uma garota se conhecem.
O espadachim que se tornou a força final no campo de batalha na idade mais jovem em toda a história do Império ― Iska.
A princesa bruxa de gelo louvada como a mais forte de toda a Agência da Casa Imperial ― Aliceliese.
"Se você me capturar, seu sonho também poderá ser realizado."
"Da mesma forma, se você me derrotar, isso se tornará um passo na unificação do seu mundo."
Os dois arqui-inimigos deveriam se matar. No entanto, o garoto teve seu coração roubado pela beleza e nobreza da garota. E a garota foi atraída pela força e estilo de vida do garoto. Mesmo se andar um ao lado do outro não fosse permitido e o único caminho diante deles fosse derrotar um ao outro.
Tradução
[
edit
]
Aqueles que desejam contribuir devem notificar antecipadamente um supervisor.
Tradutores devem registrar em quais capítulos estão trabalhando (veja o Guia para consultar as regras de uso).
Padrões de Formato
[
edit
]
Cada Capítulo (depois de editado) deve estar de acordo com os pontos destacados nas linhas abaixo
Atualizações
[
edit
]
Volume 1 Prólogo - Completo
Página criada no BakaTsuki
Kimi to Boku no Saigo no Senjo, Aruiha Sekai ga Hajimaru Seisen por Sazane Kei

[

edit

]
Volume 1
[
edit
]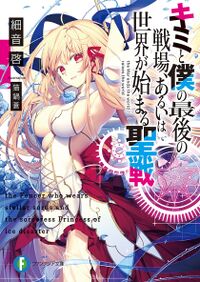 Ilustrações
Capítulo 1
Capítulo 2
Capítulo 3
Capítulo 4
Capítulo 5
Capítulo 6
Volume 2
[
edit
]
Ilustrações
Capítulo 1
Intervalo
Capítulo 2
Capítulo 3
Capítulo 4
Capítulo 5
Capítulo 6
Epílogo 1
Epílogo 2
Volume 3
[
edit
]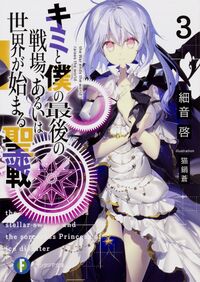 Equipe de Projeto
[
edit
]
Tradutores
[
edit
]
Editores
[
edit
]
Visão Geral da Série
[
edit
]
Kimi to Boku no Saigo no Senjou, Aruiwa Sekai ga Hajimaru Seisen - Volume 1 (20 de Maio de 2017 ISBN 978-4040723075)
Kimi to Boku no Saigo no Senjou, Aruiwa Sekai ga Hajimaru Seisen - Volume 2 (20 de Julho de 2017 ISBN 978-4040723082)
Kimi to Boku no Saigo no Senjou, Aruiwa Sekai ga Hajimaru Seisen - Volume 3 (20 de Dezembro de 2017 ISBN 978-4040725185)