Seikai no Senki
From Baka-Tsuki
| | |
| --- | --- |
| | This Teaser Project has not yet reached Full Project status requirements. |
Help this project out by joining the translation team! — Learn more about Full Project Approval Requirements
"Banner of the Stars" or "Seikai no Senki" (星界の戦旗) is a series of novels expanding the sci-fi saga which has been started with "Crest of the Stars" or "Seikai no Monshou" (星界の紋章). As of 2013 there are three Monshou books and five Senki novels, and many more books.
Story Synopsis
Three years have passed since the events of Crest of the Stars. The once Four Nations Alliance has become a Triple Alliance, with one being neutral. The war in the galaxy had come to a stalemate in these years. Now the opponents have rebuild enough and the galactic war is about to begin anew.
In the midst of all of this, Lafiel had become captain on the brand new assault ship Basroil and Jinto had joined her after finishing his training to become a supply officer. The Abh Empire makes a daring attack by cutting the United Mankind, one of the enemy nations, into pieces. The Basroil joins a fleet with the mission of protecting the strategic Aptic Gate from a force 15 times larger than their own.
After the successful strike, the Abh Empire begins to conquer the surrounding areas and retake territories previously lost in the initial attack by the United Mankind. Lafiel had been assigned as temporary territorial governor of Lobnas II, a prison planet.
In the midst of an evacuation a revolt breaks out trapping Jinto. With an enemy fleet approaching, Lafiel is forced to abandon Jinto.
After being rescued by Lafiel, both make a short visit to Jinto's recaptured home which was on the verge of revolting.
Returned from their extended leave, Lafiel becomes captain of the Flicaubh, a new type of ship class.
Another three years have passed. The Abh Empire cuts the United Mankind again, but this time also cuts it off from all its allies.
In this situation the neutral Hania Federation makes an unexpected offer to join the Abh Empire. After careful considerations, the Empress Ramaj decides to take the offer, and gamble with the very existence of the Abh Empire.
The Four Nations Alliance immediately sprung the trap. Empress Ramaj scrambled for the defense while initiating the evacuation of the capital. She together with ex-Emperors, the Imperial Guards and defense forces held the line to the last man. Lafiel barely escaped with her life while protecting the dearest memory of her people. Like many she lost her home, and nearly all of her family Lafiel has to face her new duty a the crown princess of the Empire. An Empire that is shattered and still left (7 or 6) pieces.
Translation
Help Needed
We are in dire need of translators and editors. If you are at all interested in working with this series, please feel free to join us in our effort.
There is also a Seikai no Senki thread where all matters of Seikai no Senki can be discussed.
Those who wish to contribute are asked to first notify a supervisor beforehand.
Translators are asked to register which chapters they're working on (see the Guideline page for usage rules).
Format Standards
Every Chapter (after editing) must conform to the agreed points highlighted in the below guidelines

Chapters 0, 1, 2, 3, 4, 5, and 6 of SnS volume IV are translations of the Chinese text. Chapters 7, 8 , 9, & 10 of SnS IV have been translated with the assistance of translating programs used on the Japanese text, with the Chinese text as a reference. The japanese version for chapters 5 and 6 can be accessed through the revision history pages prior to 24th March 2011 and 4th April 2011. There is a possibility that even more chapters may be translated using unconventional means from sources other than the original. So if you have access to the originals and you spot an error, please feel free to make the corrections yourself - this is a wiki which means it's meant for anyone to fix things (and if you screw up, we can revert back your changes if all deem necessary). We can see the corrections you make, so just go ahead instead of hiding or waiting for permission.
Updates
July 11, 2015 - SnS V start of release; general overhaul
August 27, 2011 - start of overhaul and separation between japanese and chinese version
April 04, 2011 - SnS IV Ch 6 fully translated, all chapters translated!
March 26, 2011 - SnS IV Ch 5 fully translated
March 24, 2011 - SnS IV Ch 4 fully translated
March 23, 2011 - SnS IV Ch 3 fully translated
August 16, 2010 - listed new Danshou novels
December 17, 2009 - SnS IV - Ch 3 partial translation added
November 15, 2009 - Cots 1-3 Tokyopop dictionary by Jinto 125 - link added
November 15, 2009 - SnS IV Ch 1-4 summary by natsumemaya - link added
August 12, 2009 - SnS IV - Ch 8 part 1 added; part 2 awaiting review
February 25, 2009 - SnS Encyclopedia added
February 10, 2009 - SnS IV - Ch 9&10 added
February 10, 2009 - SnS IV - Ch 5-7 added
February 5, 2009 - SnS IV - Ch 1&2 added
February 5, 2009 - Project page created
Translator's Encyclopedia
Volume 1 - The Form of Bonds / 星界の戦旗 I ・絆のかたち
Prologue
Aptic Star System - アプティック星系
Assault ship 'Basroil' - 突撃艦〈バースロイル〉
Vobeirune Naval Base - ヴォベイルネー鎮守府
First Taste of Battle - 初 陣
Remembrance Dinner - 弔いの晩餐
The Eve of the Decisive Battle - 決戦前夜
Defensive Battle - 防衛戦
The Shapes of Bonds - 絆のかたち
The Battle for the Aptic Gate Begins - アプティック門沖会戦
Surrender Ceremony - 降伏の儀式
Toward a new Battlefield - 新たな戦場へ
Epilogue
Appendix Plane-space Military Force Map - 付録 平面宇宙の勢力図
Author's Notes
Volume 2 - That Which to Protect / 星界の戦旗 II ・守るべきもの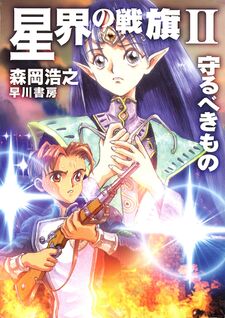 Prologue (~15%)
Chapter 1
Chapter 2
Chapter 3
Chapter 4
Chapter 5
Chapter 6
Chapter 7
Chapter 8
Chapter 9
Chapter 10
Chapter 11
Epilogue
Appendix
Author's Notes
Volume 3 - A Family Dinner / 星界の戦旗 III ・家族の食卓
Prologue
Chapter 1
Chapter 2
Chapter 3
Chapter 4
Chapter 5
Chapter 6
Chapter 7
Chapter 8
Chapter 9
Chapter 10
Epilogue
Author's Notes
Volume 4 - Cacophonous Space-Time / 星界の戦旗 IV ・軋む時空 (Full Text)
Volume 4 - (translated from chinese version)
Volume 5 - The Fateful Inquiry / 星界の戦旗Ⅴ 宿命の調べ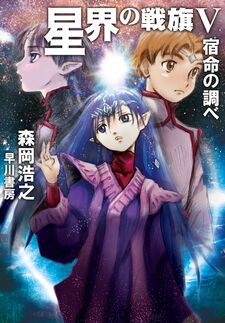 Final volume of the first arc.
Short Story Novel I - 星界の断章 I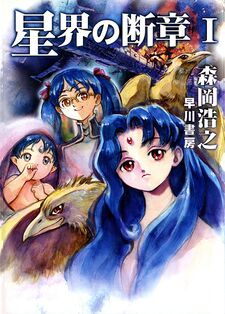 Banquet - 饗宴
Collection - 蒐集
Suckling - 哺啜
Reign - 君臨
Sacrament - 秘蹟
Nocturne - 夜想
Tremble - 戦慄
Birth - 誕生
Tyrant - 暴君
Contact - 接触
Original Sin - 原罪
Short Story Novel II - 星界の断章 II
Annexation - 併呑
Envy - 嫉妬
Reporting for Duty - 着任
Childhood Friend - 童友
Moving - 転居
Conspiracy - 謀計
Ball Sports - 球技
Severance - 訣別
Child's Play - 童戯
Blessing - 祝福
Change - 変転
Strict Adherence - 墨守
Short Story Novel III - 星界の断章 III
野営

"Camping with Penej(Spoor)" - 星界の断章 "野営~ぺネージュの場合"

"(Take) Flight" - 星界の断章 "出奔"
"Intervention" - 星界の断章 "介入"
"Enticement" - 誘引
"Eagre/Tidal Bore" - 星界の断章 "海嘯"
"Meetings and Partings" - 離合
"The Visit" - 来遊
Short Story Novels unsorted - 星界の戦旗 / 星界の断章
"Old-enemy" - 星界の戦旗 "宿敵"
"Incentives" - 星界の断章 "誘因"
"Crossroad" - 星界の断章 "岐路"
Project Staff
Supervisor:
Project Manager:
Translators
ACTIVE
Editors
Past Contributors
Series Overview
星界の戦旗 I ・絆のかたち (December 11, 1996, ISBN 978-4-15-030573-4)
星界の戦旗 II ・守るべきもの (August 19, 1998, ISBN 978-4-15-030603-8)
星界の戦旗 III ・家族の食卓 (March 23, 2001, ISBN 978-4-15-030660-1)
星界の戦旗 IV ・軋む時空 (December 21, 2004, ISBN 978-4-15-030774-5)
星界の戦旗 V ・宿命の調べ (March 21, 2013, ISBN 978-4-15-031106-3)
星界の戦旗 "宿敵" (award winning story as part of PS2 game 2005/4/21;BEST HIT セレクション 星界の戦旗;2007/3/15 ASIN: B000MJRJD0)
星界の断章 I (July 8, 2005, ISBN 978-4-15-030802-5)
星界の断章 II (March 8, 2007, ISBN 978-4-15-030880-3)
星界の断章 III (March 20, 2014, ISBN 978-4150311537)
星界の断章 "出奔" (as part of 星界の断章オーディオドラマCDブック Audio Drama collection Box; March 23, 2011, ISBN 4844361902)
星界の断章 "誘因" (featured in 月と星の宴 / Feast of the Moon and Stars; August 18, 2007, 040010127410)
星界の断章"野営~ドゥサーニュの場合" (as part of EMOTION the Best 星界の紋章 DVD-BOX; May 28, 2010, ASIN: B0031JP4SA)
星界の断章"野営~ぺネージュの場合" (as part of EMOTION the Best 星界の戦旗 DVD-BOX; June 25, 2010, ASIN: B0031JP4T4)
星界の断章"野営~ノールの場合" (as part of EMOTION the Best 星界の戦旗II・III DVD-BOX; July 23, 2010, ASIN: B0031JP4TE)
星界の断章 "介入" (SF magazine 2013 Issue 5 feature story; March 25, 2013, ASIN: B00BSDQ23C)
星界の断章 "海嘯" (SF magazine 2013 Issue 10 feature story; August 25, 2013, ASIN: B00ENMGQSQ)
星界の断章 "岐路" (SF magazine 2014 Issue 1 feature story; November 25, 2013, ASIN: B00GMPEUSA)