Anniversary no Kuni no Alice
From Baka-Tsuki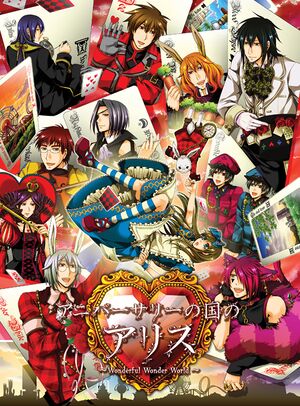 Synopsis
Alice Liddell is an insecure girl who is overshadowed by her sister's beauty and grace. During one of their outings, Alice's sister goes to get a deck of cards for a game while Alice falls asleep. When a white rabbit comes and encourages her to chase him, Alice assumes she is dreaming and tries to go back to napping until the rabbit turns into a man with white rabbit ears and carries her off. Peter White (the white rabbit) throws Alice into a hole that appears in her yard and jumps in after her. When they land in a strange, open area, Peter starts confessing his undying love for her. He tells her to drink some 'medicine' but when she refuses, he simply pours the liquid into his mouth and then kisses her, forcing her to drink it. It is later revealed that this liquid is some kind of way to prevent her from going home. Alice learns that she is in Wonderland and the only way she might be able to return to her world is to interact and spend time with the strange people in Wonderland, which slowly refills the medicine vial. However, Wonderland is going through violent times - everyone is reckless and uncaring as to who lives or dies, and with a civil war going on everyone in the strange world finds it hard to trust each other with an instinct to kill. Translation
Updates
14 February 2013
2 August 2012
Translation
Translators are asked to register for scripts they want to work on.
Format Standards
Announcements
Feedback
You can comment the project in the forum.
Project Staff
Translators
Amuletcross
NuitNoire
Atikal
ask-the-mock-turtle
Proofreaders
Editors
MIA
Scripts
FAQ
Where are all the scripts?
On DropBox. If you haven't done so already, send me your e-mail address via PM on the forums or on my talk page so I can add you.