Chrome Shelled Regios
From Baka-Tsuki
Project Status: STALLED

This project has not been updated in the past 6 months.
Help revive this project by joining the translation team! — Learn more about Baka-Tsuki activity status.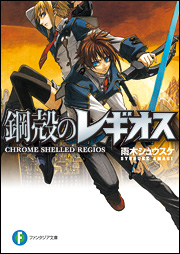 Chrome Shelled Regios (鋼殻のレギオス Kōkaku no Regiosu) is a Japanese light novel series by Shūsuke Amagi, with illustrations by Miyū. The series is completed with 25 volumes and two spin-off trilogies Legend of Regios and Regios Crusade which are chronologically before the main series.
The Chrome Shelled Regios series is also available in the following languages:
Story Synopsis
Regios are moving cities, sheltering humanity on the barren and polluted Earth that is populated by Filth Monsters. Tired of fighting monsters and for a reason not yet revealed, Layfon left his home city to arrive at Zuellni, a city which specializes in academics and was inhabited only by students. Full of the expectation of living a normal life, he was tested on the first day of his arrival. Caught up in a fight that was rapidly getting out of hand, Layfon settled the commotion without anyone's help. Spotted by the Student President for his martial prowess, Layfon was forced to enter the 17th platoon.
Once again, Layfon was forced back into the world of Filth Monsters and defending the city he lived in. But the secrets of this world had yet to surface...
Chrome Shelled Regios @ Wikipedia
Translation
Those who wish to contribute are asked to first notify a supervisor beforehand via the forum.
Translators please register for chapters they want to work on
Format Standards
Every Chapter (after editing) must conform to the general format guidelines.
Chronological Order
There is a story timeline for those who are interested to read the short stories of the short story collections of the series in the correct chronological order.
Updates
All volumes of the series have been completed except for Volumes 23 and 25. Also, "Legend of Regios" and "Regios Crusade" remain untranslated.
Older updates can be found on the Chrome Shelled Regios Updates page.
Chrome Shelled Regios series by Shūsuke Amagi
You can find the PDF, EPUB, and MOBI version of the volumes here.
Volume 23 - Like a Storm

Storm Bringer
Fire Up Spirits (The Dispute Arc, or the Helpless Day)
Fire Up Spirits (The Conclusion Arc, or the Insatiable Futile Challenge)
The Conference of the Brain Behind Closed Doors
To Be Continued at the Battlefield
Afterword
Volume 25 - And Then After That (Final Volume)

Early Diamond
Barbeque Pop
Bus-jack Time
Wear My Rose?
Persons
High Booster
Afterword
Legend of Regios series by Shūsuke Amagi
Volume 01 - Riggzario Baptism

Novel Illustrations
5 Years After (~20%)
Alchemist
Goodbye
Night of Memory
In the Hole
Epilogue
Author's Notes
Volume 02 - Ignasis' Awakening

Novel Illustrations
The Awakening
Days and Nights of Thought
Man With No Instincts
The Story of the Alchemist
The Bloody Trail Across the Mountain of Death
Life and Fire
Epilogue
Author's Notes
Volume 03 - The Appearance of the Regios

Novel Illustrations
As If Entering the Boiler
Ascetic's Path
Appearing from the Filth
Two Snakes
Within the Chaos
Man Made Legend
Epilogue
Author's Notes
Regios Crusade series by Shūsuke Amagi
Volume 01 - The Sleepless Grave
Volume 02 - The Boundless Mirage
Volume 03 - The Endless Aurora
Project Staff
Translators
ACTIVE
RETIRED
MIA
Editors
ACTIVE
Series Overview