Hyouka
From Baka-Tsuki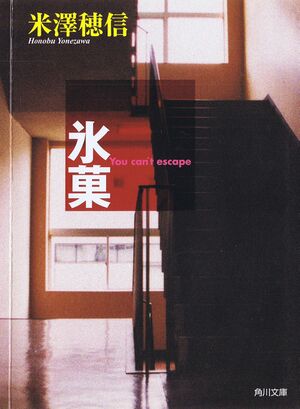 Hyouka (氷菓) is a light novel written by Honobu Yonezawa and serialized in Kadokawa Shoten. Currently, the series has 5 volumes. The anime aired from April 22, 2012 to September 16, 2012 with 22 episodes in total. there is an ongoing manga written by the original author and illustrated by Task Ohna.

Hyouka series is also available in the following languages:
Story Synopsis
Oreki Houtarou is a self-proclaimed "energy-saver"(reserved battery mode) - that is, he will not actively waste energy doing things that aren't necessary. Though he had no interest whatsoever in joining any clubs upon entering Kamiyama High School, he was commanded by his older sister Tomoka to enter the school's Classics Club, which was in danger of getting abolished as all previous members have graduated. Together with his old friends Fukube Satoshi and Ibara Mayaka, as well as the elegantly ladylike and curiously inquisitive Chitanda Eru, the newly reformed Classics Club find themselves involved in all sorts of mystery-solving escapades. Houtarou soon finds out that the Classics Club, as Tomoka has promised, is actually "quite interesting".
And so begins the "Classics Club Series".
Adapted into an anime series by Kyoto Animation in 2012 under the title "Hyouka".
Translation
Those who wish to contribute are asked to first notify a supervisor beforehand. Visit the forums here for help.
Translators are asked to register which chapters they're working on
Format Standards
Every Chapter (after editing) must confirm to the general format guidelines.
Updates
January 18st, 2015 - Volume 4 Story 2 completed.
March 8th, 2015 - Volume 4 Story 3 completed.
March 14th, 2015 - Volume 3 Chapter 5-3 completed.
March 15th, 2015 - Volume 3 Chapter 5-4 completed.
March 15th, 2015 - Volume 3 Chapter 6 completed.
May 25th, 2015 - Volume 4 Story 4 completed.
The Hyouka (Classics Club) series (〈古典部〉シリーズ) by Honobu Yonezawa
You can find the EPUB and MOBI version of the Volumes in the forums here.
Volume 1 - Hyouka 氷菓 - You can't escape / The niece of time (Full Text - PDF)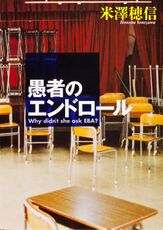 Volume 2 - The Credit Roll of the Fool 愚者のエンドロール - Why didn't she ask EBA? (Full Text - PDF)
Volume 3 - The Kudryavka Sequence クドリャフカの順番 - Welcome to KANYA FESTA! (Full Text)
2 - The Cases That Keep Piling Up

3 - The "Juumoji" Incident

5 - The Kudryavka Sequence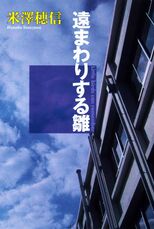 Volume 4 - The Doll that Took a Detour 遠まわりする雛 - Little birds can remember
Volume 5 - The Approximation of the Distance of Two ふたりの距離の概算 - It walks by past
Project Staff
Supervisor:
Project Manager:
Translators
Editors
Series Overview