Baccano
From Baka-Tsuki
Project Status: HALTED

This project has not been updated in the past 12 months.
Help revive this project by joining the translation team! — Learn more about Baka-Tsuki activity status.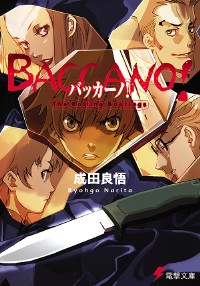 The Baccano series is also available in the following languages:
Baccano is a project undertaken by Janice and several other members from this LiveJournal and the Gun's & Roses fan community, and only hosted here by Baka-Tsuki. If you're a fan of Baccano and/or love the translations, be sure to drop by and thank them accordingly!
Story Synopsis
Baccano is a light novel written by Ryogo Narita with illustrations by Katsumi Enami. "Baccano", which author Narita translates as "stupid commotion", is Italian for "ruckus". Each of the stories in the series involves several unrelated plots intersecting and crossing each other as events spiral farther and farther out of control - Immortal alchemists, mafia operated speakeasies, and many other elements of pulp fiction mashed together, creating a world straight out of the movies.
Updates
March 22nd, 2008

Baccano! translation page first hosted on Baka-Tsuki
March 23rd, 2008

Volume 1 of Baccano! temporarily locked from edits.
April 7th, 2008

Translation for Volume 4 added.
December 24th, 2009

Volume 1 and 4 COMPLETE
Volume 6 in progress
January 10, 2010

Volume 12 in progress (not hosted on BT)
June 05, 2010

Volume 6 chapter 1 complete
June 27, 2010

Please give a warm welcome to our newest translator SMZ, she'll be working on Volume 9.
1931: The Grand Punk Railroad - Local Episode
Prologue I Thieves in Disguise
Prologue II Delinquents
Prologue III Terrorists
Prologue IV Serial Killer
Prologue V Pre-Ride
Local Episode ~A man who doesn't cry~
Translator's Notes and References
[Completely translated by Untuned Strings here]
1931: The Grand Punk Railroad - Express Episode
Reminiscence ~The Gray Magician~
Reminiscence ~About the Young Conductor~
Terminal: Aftermath
Prologue VI Alchemist
Prologue VII The Woman in Work Wear
Prologue VIII The Rail Tracer
Express Episode ~The man who doesn't die~
[Completely translated by Untuned Strings here]
Words of Firo Prochainezo, Martillo Family

Words of Genoard's private bartender and chef

Words of Fred, a doctor living in New York

Words of 'Vino' the assassin

Words of Ronny Suchiato, 'Chiamatore' of Martillo Family