Dungeon ni Deai wo Motomeru no wa Machigatteiru Darou ka
From Baka-Tsuki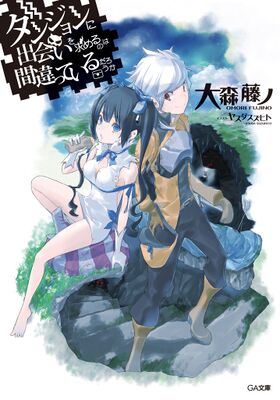 Dungeon ni Deai wo Motomeru no wa Machigatteiru Darou ka, shortened as DanMachi(ダンまち), is a Japanese light novel series written by Fujino Omori and illustrated by Suzuhito Yasuda. The first volume of the novel was published on Jan 15, 2013. Since then, 4 volumes have been published by SOFTBANK Creative under their GA Bunko label.
A manga adaptation by Kunieda (Art) and Omori, Fujino (Story) began its serialization on Aug 2, 2013 in the seinen manga magazine, Young Gangan, published by Square Enix.
Story Synopsis
[
edit
]
The huge labyrinth city, Orario, is the gateway to the huge underground maze commonly known as the "Dungeon". Its strange name causes excitement, a place to gain honour, and maybe even a romance with a pretty girl. A place where people hold their breath, hoping to gain all they wish for, a place where a solitary young man meets a little "god".
"Alright, Bell-kun, follow me! It's time for the "Familiar" initiation rite to happen!"
"Yes! I'm going to get stronger!"
The fated meeting of a boy who wants to become an adventurer, and the failed god who doesn't even have a single follower.
This boy's journey as written by the goddess, "Family's Legend" (Familiar's Myth)
Series Information
[
edit
]
Genre: Action, Adventure, Comedy, Fantasy, Romance, Harem.
Original Title: ダンジョンに出会いを求めるのは間違っているだろうか
English Title: Is it wrong that I want to meet you in a dungeon / Can't I Expect A Chance Encounter In The Dungeon?
Author: Fujino Omori
Illustrator: Suzuhito Yasuda
Published Volumes: 1-3
Series Status: Ongoing
Translation
[
edit
]
Format Standards
[
edit
]
Every chapter (after editing) must conform to the general format guidelines.
Translators are asked to register the chapters they want to work on.
Feedback Thread
[
edit
]
If you enjoyed the translation, or want to give constructive criticism, why don't you tell us at the forum.
Updates
[
edit
]
18th February, 2014 - Volume 1 Chapter 1 completed.
18th August, 2013 - Teaser project started, Volume 1 Prologue completed.
The Dungeon ni Deai wo Motomeru no wa Machigatteiru Darou ka series by Fujino Omori

[

edit

]
Volume 1
[
edit
]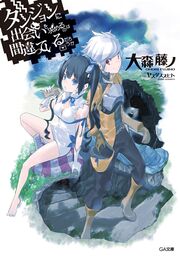 Chapter 2
Chapter 3
Chapter 4
Chapter 5
Chapter 6
Volume 2
[
edit
]
Chapter 1
Chapter 2
Chapter 2.5
Chapter 3
Project Staff
[
edit
]
Project Administrator:
Project Supervisor:
Translators
[
edit
]
Active
Inactive
Editors
[
edit
]
Active
Series Overview
[
edit
]