Dungeon ni Deai wo Motomeru no wa Machigatteiru Darou ka
From Baka-Tsuki
| | |
| --- | --- |
| | This Teaser Project has not yet reached Full Project status requirements. |
Help this project out by joining the translation team! — Learn more about Full Project Approval Requirements
This project has been put to a halt.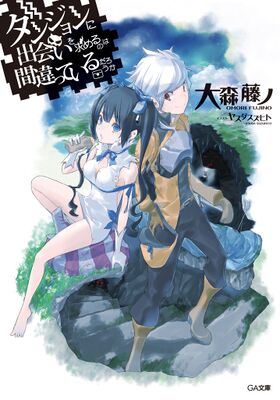 Dungeon ni Deai wo Motomeru no wa Machigatteiru Darou ka, shortened as DanMachi(ダンまち), is a Japanese light novel series written by Fujino Omori and illustrated by Suzuhito Yasuda. The first volume of the novel was published on Jan 15, 2013. Since then, 4 volumes have been published by SOFTBANK Creative under their GA Bunko label.
A manga adaptation by Kunieda (Art) and Omori, Fujino (Story) began its serialization on Aug 2, 2013 in the seinen manga magazine, Young Gangan, published by Square Enix.
On April 19, 2014, Yen Press has announced that they have licensed this title and will be publishing it under the name Is It Wrong to Try to Pick Up Girls in a Dungeon?
NOTICE: Yen Press has acquired licenses for this series. -- SupervisorSimon
Story Synopsis
The huge labyrinth city, Orario, is the gateway to the huge underground maze commonly known as the "Dungeon". Its strange name causes excitement, a place to gain honour, and maybe even a romance with a pretty girl. A place where people hold their breath, hoping to gain all they wish for, a place where a solitary young man meets a little "god".
"Alright, Bell-kun, follow me! It's time for the "Familia" initiation rite to happen!"
"Yes! I'm going to get stronger!"
The fated meeting of a boy who wants to become an adventurer, and the failed god who doesn't even have a single follower.
This boy's journey as written by the goddess, "Family's Legend" (Familia's Myth)
Series Information
Genre: Action, Adventure, Comedy, Fantasy, Romance, Harem.
Original Title: ダンジョンに出会いを求めるのは間違っているだろうか
English Title: Is it wrong that I want to meet you in a dungeon / Can't I Expect A Chance Encounter In The Dungeon? / Is It Wrong to Try to Pick Up Girls in a Dungeon?
Author: Fujino Omori
Illustrator: Suzuhito Yasuda
Published Volumes: 1-4
Series Status: Suspended
Translation
Format Standards
Every chapter (after editing) must conform to the general format guidelines.
Translators are asked to register the chapters they want to work on.
Feedback Thread
If you enjoyed the translation, or want to give constructive criticism, why don't you tell us at the forum.
Updates
23rd April, 2014 - Volume 1 Chapter 6 completed.
21st April, 2014 - Volume 1 Chapter 5 completed.
25th March, 2014 - Volume 1 Chapter 4 completed.
16th March, 2014 - Volume 1 Chapter 3 completed.
15th March, 2014 - Volume 1 Chapter 2 completed.
18th February, 2014 - Volume 1 Chapter 1 completed.
18th August, 2013 - Teaser project started, Volume 1 Prologue completed.
The Dungeon ni Deai wo Motomeru no wa Machigatteiru Darou ka series by Fujino Omori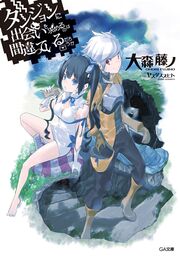 Volume 2
Volume 3
Volume 4
Project Staff
Project Administrator:
Project Manager:
Translators
Active
Inactive
Editors
Active
Series Overview