Fate/Apocrypha
From Baka-Tsuki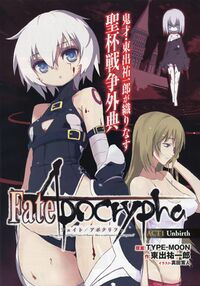 Fate/Apocrypha (フェイト/アポクリファ) is an upcoming light novel from Type-Moon's popular Fate/stay night franchise, written by Yuichiro Higashide and illustrated by Ototsugu Konoe. The first chapter was published on December 15, 2011, in the seventh volume of Type-Moon Ace magazine. The full novel was announced on December 2012.
The Fate/Apocrypha series is available in the following languages:
Story Synopsis
Fate/Apocrypha is a story based around a Holy Grail War separate from that of the five Fuyuki Wars, presented in Fate/stay night and Fate/Zero. It was originally a canceled project for an online game with various details and character designs collected in Fate/complete material IV Extra material. It was revived in light novel format in Volume 7 of Kadokawa Shoten's Type-Moon Ace publication. Yuichiro Higashide, the creator of Jack the Ripper's character design, wrote Act 1: Unbirth for the magazine. It focuses on Jack the Ripper and her Master, Rikudou Reika. Fourteen Servants will participate within this war, split into two factions, seven red Servants versus seven black Servants. The story would also be centered around the Heroic Spirit Joan of Arc.
Translation
Since there isn't any new chapter for now, I can't say 'Those who wish to contribute are asked to first notify a supervisor beforehand via the forum.'
Format Standards
Supervisor Notice
Please do note that the following chapter is done by Canonrap at http://canonrap.wordpress.com/. Do thank him for the translations. The first volume is slated to be released on 29th December 2012--Teh Ping (talk) 06:41, 15 December 2012 (CST)
Updates
December 30 2011- Fate/Apocrypha Act 1 completed.
Fate/Apocrypha by Higashide Yuichiro
Project Staff
Project Administrator: -
Project Supervisor: Teh Ping
Translators
ACTIVE
Editors