Kenkoku no Jungfrau
From Baka-Tsuki
Project Status: STALLED

This project has not been updated in the past 6 months.
Help revive this project by joining the translation team! — Learn more about Baka-Tsuki activity status.
| | |
| --- | --- |
| | This Teaser Project has not yet reached Full Project status requirements. |
Help this project out by joining the translation team! — Learn more about Full Project Approval Requirements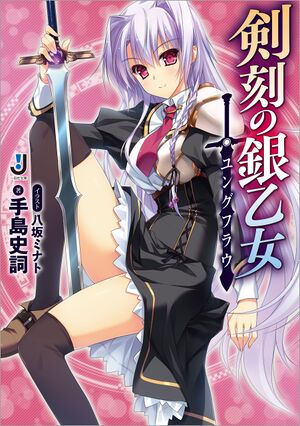 Kenkoku no Jungfrau (剣刻の銀乙女) is a Japanese light novel written by the author Teshima Fuminori and illustrated by artist Yasaka Minato.
Story Synopsis
[
edit
]
They were the times of antiquity.
Many kings, many countries, and many faiths were mixed together, and then they conflicted; an age where nothing was controlled.
And finally, an existence known as a demon revealed itself to this world. Then the many kings went to battle.
Even possessing any kind of sword, or casting any kind of magic, or using any kind of knowledge, could not harm the body of the demon.
It was during that time of chaos, a single sage appeared and said this, "There exists a sword that can kill the demon. I want a person who has excellent techniques. Isn't there anyone who would come with me?" There were 12 people.
The 12 kings sent one of their most excellent knights from each of their kingdoms.
The 12 knight and the single sage confronted the demon, and then splendidly defeated it.
After that, making the sage their king, the 12 kingdoms became one.
The 12 knights were referred as 'The Knights of the Round Table' and became the model for all knights.
And so, time has reached the present.

Translation
[
edit
]
Format Standards
[
edit
]
Every Chapter (after editing) must conform to the general format guidelines.
Please use British English while making edits in this project.
Translators are asked to register for chapters they want to work on. (See the Guideline page for usage rules).
Feedback
[
edit
]
If you enjoyed the teasers, why don't you tell us in the Feedback Thread.
Project Status
[
edit
]
Project Status: Teaser
Updates
[
edit
]
13th September 2013 - Teaser project started, Volume 1 Prologue completed.
10th October 2013 - Volume 1 Chapter 1 completed.
The Kenkoku no Jungfrau series by Teshima Fuminori

[

edit

]
Volume 1
[
edit
]
Project Staff
[
edit
]
Project Administrator:
Project Manager:

TheCatWalk
Translators
[
edit
]
Active
Editors
[
edit
]
Series Overview
[
edit
]