Kino no Tabi
Aus Baka-Tsuki
---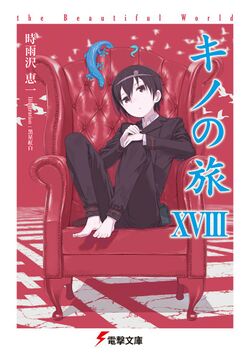 Kino no Tabi (キノの旅 -the Beautiful World- Kino's Journey) is a Japanese light novel series written by Keiichi Sigsawa, with illustrations by Kōhaku Kuroboshi. The series originally started serialization in volume five of MediaWorks' now-defunct light novel magazine Dengeki hp on March 17, 2000. The first bound volume of the series was published on July 10, 2000 by MediaWorks under their Dengeki Bunko publishing label. As of October 2014, eighteen volumes have been published, and over 8 million copies of the novels have been sold in Japan. In celebration of Dengeki Bunko's 20th Anniversary, volumes I to XVI were re-released with new cover artwork alongside the seventeenth volume.
Series Information
Genre: Adventure, Fantasy, Sci-Fi
Japanese Title: キノの旅 -the Beautiful World-
English Title: Kino's Journey: the Beautiful World
Author: 時雨沢恵一 (Keiichi Sigsawa)
Illustrator: 黒星紅白 (Kōhaku Kuroboshi)
Volumes: 18
Status: Ongoing
Story Synopsis
The protagonist, Kino, accompanied by a talking motorcycle named Hermes, travels through a mystical world of many different countries and forests, each unique in its customs and people.
Awards
このライトノベルがすごい! 2006 Best Female Character, 1st place (Kino)
このライトノベルがすごい! 2006 Best Novel Series, 2nd place
このライトノベルがすごい! 2007 Best Novel Series, 5th place
このライトノベルがすごい! 2008 Best Novel Series, 6th place
このライトノベルがすごい! 2009 Best Novel Series, 12th place
このライトノベルがすごい! 2010 Best Novel Series, 22nd place
このライトノベルがすごい! 2011 Best Novel Series, 21st place
このライトノベルがすごい! 2012 Best Novel Series, 20th place
このライトノベルがすごい! 2013 Best Novel Series, 18th place

More Information
Kino's Journey - Wikipedia
Kino no Tabi - Official Website (Japanese)
Translation
Those who wish to contribute are asked to first notify a supervisor beforehand.
Translators are asked to register which chapters they're working on
(It seems people don't understand what the above means. When we ask you to REGISTER, what we mean is, add your name on the REGISTRATION PAGE next to the chapter you will translate, so that we can know who translated it. That's it. So if there are people out there that would like to help translate these wonderful books, please don't hesitate, translate any chapters you like, in any order you like! Thank you to all who help with this project!)
Warning
According to Section B of the Baka-Tsuki TLG Translation Common Agreement,

Under no circumstances would you(b2)... 2. submit translated works(a) copied directly from an unauthorized source such as, but not limited to, online, written sources etc. . If you(b2) submit works(a) that have been authorized by their rights holder, permission, in the form of written/electronic/printed must be available upon request.
Format Standards
Every Chapter (after editing) must conform to the general format guidelines.
Downloads
For alternative PDF downloads, kindly check out the Kino no Tabi Downloads page.
Alternative Translations
You can also find translations of Kino no Tabi from the following non-Baka-Tsuki sites:
Feedback
If you enjoyed the series, why don't you tell us in the forum
Updates
Older updates can be found on the Kino no Tabi Updates page.
March 16, 2014 - Volume 14 Chapter 2 completed
March 23, 2014 - Volume 14 Chapter 3 and Volume 17 Chapter 2 completed
March 30, 2014 - Volume 17 Chapter 3 completed
April 2, 2014 - Added illustrations for Volumes 13-15
April 13, 2014 - Volume 14 Chapter 4 completed
April 20, 2014 - Volume 17 Chapter 4 completed
May 4, 2014 - Volume 14 Chapter 5 and Volume 17 Chapter 5 completed
May 25, 2014 - Volume 14 Chapter 6, Volume 17 Prologue, and Volume 17 Chapter 6 completed
June 8, 2014 - Volume 17 Chapter 7 completed
June 28, 2014 - New covers added
June 29, 2014 - Volume 14 Chapter 7 completed
August 3, 2014 - Volume 17 Chapter 8 completed
August 26, 2014 - Volume 14 Chapter 8 completed and Volume 17 Chapter 9 completed
October 15, 2014 - Volume 18 chapter list added
December 7, 2014 - Volume 13 Chapter 5 & Author's Notes 1, Volume 14 Chapter 9, and Volume 17 Chapter 10 completed
December 15, 2014 - Volume 15 Frontispiece 1 completed
The Kino no Tabi series by Keiichi Sigsawa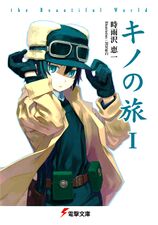 (LICENSED)

Prologue: In the Forest・b -Lost in the Forest・b-
Land of Visible Pain -I See You.-
Land of Majority Rule -Ourselfish-
Three Men on the Rails -On the Rails-
Colosseum -Avengers-
Land of Adults -Natural Rights-
A Peaceful Land -Mother's Love-
Epilogue: In the Forest・a -Lost in the Forest・a-
Author's Notes: Afterword -Preface-
---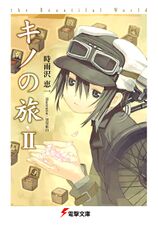 ---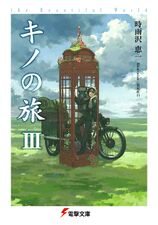 ---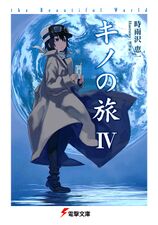 ---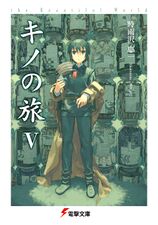 ---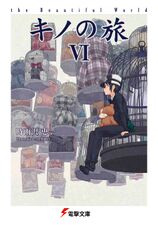 ---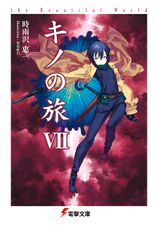 ---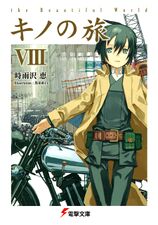 Prologue and Epilogue translated by Untuned-Strings here
---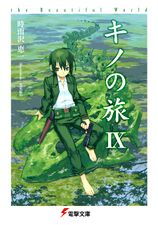 ---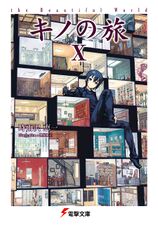 ---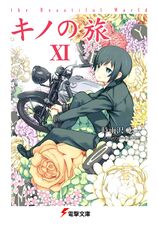 ---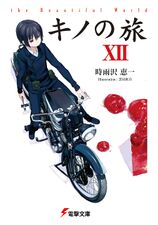 Volume 12
[Completely translated by Untuned-Strings here]
---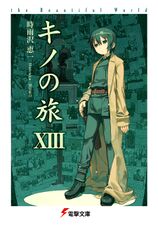 Volume 13
---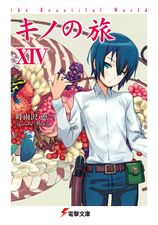 Volume 14
---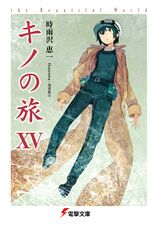 Volume 15
---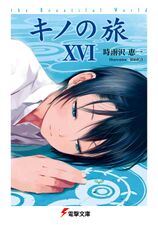 Volume 16
---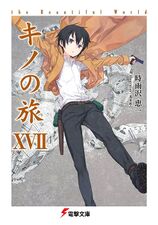 Volume 17
---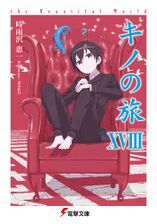 Volume 18
Project Staff
Supervisor:
Project Manager:
Translators
ACTIVE
INACTIVE
Editors
All editors that speak English proficiently are welcomed.
Series Overview