Mahou Sensou
From Baka-Tsuki
| | |
| --- | --- |
| | This Teaser Project has not yet reached Full Project status requirements. |
Help this project out by joining the translation team! — Learn more about Full Project Approval Requirements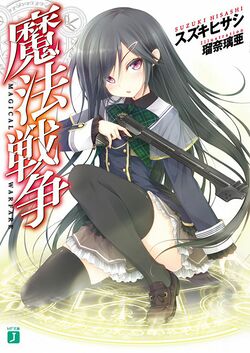 Mahou Sensou (魔法戦争, Magical Warfare) is a Japanese light novel series written by Hisashi Suzuki and illustrated by Luna-Lia. Published by Media Factory under their MF Bunko J label, the series currently has seven volumes. An anime adaptation has been announced and started airing in January 2014
Story Synopsis
[
edit
]
In this modern magic action story, Takeshi Nanase is an ordinary high school boy who has a somewhat dark past. Due to certain circumstances, he formed a "fake" couple with his childhood friend Kurumi Isoshima, but otherwise, he lives a normal life. However, one day, he comes across a girl named Mui Aiba, in a uniform he has never seen before, collapsed on the school campus. This encounters changes Takeshi's destiny completely. Mui tells Takeshi that she is a magician, and she apologizes, for she turned Takeshi into a magician, too. What Takeshi once knew as one world is actually two—the world where magicians live and the world where humans live.
Source: ANN
Translation
[
edit
]
Format Standards
[
edit
]
Every Chapter (after editing) must conform to the general format guidelines.
Translators are asked to register the chapters they want to work on.
Feedback
[
edit
]
If you enjoyed the translation, why don't you tell us in the Teaser Feedback Thread.
Updates
[
edit
]
6 November 2013 - Project page created.
The Mahou Sensou series by Hisashi Suzuki

[

edit

]
Volume 1
[
edit
]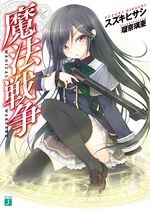 Volume 2
[
edit
]
Project Staff
[
edit
]
Project Administrator:
Project Manager:
Translators
[
edit
]
Editors
[
edit
]
Series Overview
[
edit
]