Shinmai Maou no Keiyakusha
From Baka-Tsuki
Shinmai Maou no Tesutamento (新妹魔王の契約者) series is written by Tetsuto Uesu and illustrated by Nekosuke Ookuma. It is being published by Kadokawa under their Sneaker Bunko label. The series currently has 8 volumes released. An anime adaptation aired between January 8, 2015 to March 26, 2015, covering the first three volumes of the light novel. A second season is set for October 2015.
Shinmai Maou no Keiyakusha is also available in the following languages:
Story Synopsis
"Hey, you said you wanted a little sister, right?" First year highschool student, Toujo Basara, was suddenly asked this question by his father, and he fell into a state of panic. On top of that, the eccentric father told him that he will be getting remarried. He then departed overseas after bringing Basara two beautiful step-sisters. But Mio and Maria's true forms are actually a newbie Demon Lord and a succubus!? Basara was almost forced into a master and servant contract with Mio, but a "reversed" contract was formed by mistake, and Basara is now the master!? Moreover, Basara is being hit by ecchi situations one after another due to the contract, but Mio's life is being pursued by other demon tribes and hero tribes!! The most powerful contractor's desire action drama begins!
Series Information
Genre: Action, Ecchi, Fantasy, Romance, Shounen
Original Title: 新妹魔王の契約者(テスタメント)
Author: Tetsuto Uesu
Illustrator: Nekosuke Ookuma
Published Volumes: 8
Series Status: Ongoing
Translation
Format Standards
Every chapter (after editing) must conform to the general format guidelines.
Translators are asked to Register the chapters they want to work on.
Feedback Thread
If you enjoyed the translation, why don't you tell us at the Feedback Thread.
Updates
3rd July 2015 - Volume 3 Chapter 2 completed
11th May 2015 - Volume 3 Chapter 1 completed
26th November 2014 - Volume 2 Epilogue completed.
31th October 2014 - Volume 2 Chapter 4 completed.
14th June 2014 - Volume 2 Chapter 3 completed.
2nd March 2014 - Volume 2 Chapter 2 completed.
16th February 2014 - Volume 2 Chapter 1 completed.
10th February 2014 - Volume 2 Prologue completed.
4th February 2014 - Volume 1 Epilogue completed.
11th January 2014 - Volume 1 Chapter 4 completed.
2nd January 2014 - Volume 1 Chapter 3 completed.
20th October 2013 - Volume 1 Chapter 2 completed.
2nd October 2013 - Volume 1 Chapter 1 completed.
12th September 2013 - Teaser project started, Volume 1 Prologue completed.
Shinmai Maou no Keiyakusha by Tetsuto Uesu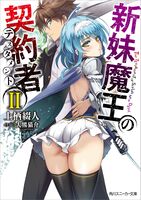 Volume 3
Volume 4
Volume 5
Volume 6
Volume 7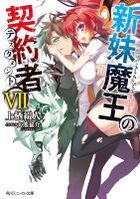 Volume 8
Side Stories
Shinmai Maou no Keiyakusha EX
Project Staff
Supervisor:
Project Manager:
Translators
Active

Inactive
PROzess (Translated Volumes 1 & 2 on forum)
Editors
Active
Inactive
Series Overview