Shinrei Tantei Yakumo
From Baka-Tsuki
(Difference between revisions)
m

m

Line 3:
Line 3:

==Story Synopsis==

==Story Synopsis==

-

<!--

+

==Translation==

==Translation==

'''Every Chapter (after editing) must be conform with the agreed points highlighted in the general project guidelines'''

'''Every Chapter (after editing) must be conform with the agreed points highlighted in the general project guidelines'''

*[[Format_guideline|General Format/Style Guideline]]

*[[Format_guideline|General Format/Style Guideline]]

+

* Also see [[Shinrei Tantei Yakumo/Guidelines]] for guidelines specific to this translation.

+
+

===[[Shinrei Tantei Yakumo Registration|Registration]]===

+

Translators are asked to [[Shinrei Tantei Yakumo Registration|register]] which chapters they're working on (see the [[Format_guideline#Translators|Guideline]] page for usage rules).

+
+

===Feedback===

+

'''If you enjoyed the teasers, why don't you tell us in the [http://www.baka-tsuki.org/forums/viewtopic.php?f=23&t=4230 Feedback Thread]'''

+
-

==[[Shinrei Tantei Yakumo:Registration Page|Registration]]==

-

Translators are asked to [[Shinrei Tantei Yakumo:Registration Page|register]] which chapters they're working on (see the [[Format_guideline#Translators|Guideline]] page for usage rules).

-

-->

== Updates ==

== Updates ==

*23th November 2010

*23th November 2010

Line 31:
Line 36:

==The ''Shinrei Tantei Yakumo'' series by Manabu Kaminaga==

==The ''Shinrei Tantei Yakumo'' series by Manabu Kaminaga==

-

===[[Shinrei Tantei Yakumo Registration|Registration]]===

-

Translators are asked to [[Shinrei Tantei Yakumo Registration|register]] which chapters they're working on (see the [[Format_guideline#Translators|Guideline]] page for usage rules).

-
-

Also see [[Shinrei Tantei Yakumo/Guidelines]] for guidelines specific to this translation.

===Volume 1 - Red Eye That Knows (Akai hitomi wa shitteiru (赤い瞳は知っている))===

===Volume 1 - Red Eye That Knows (Akai hitomi wa shitteiru (赤い瞳は知っている))===

Line 55:
Line 56:

*Extra

*Extra

-

'''If you enjoyed the teasers, why don't you tell us in the [http://www.baka-tsuki.org/forums/viewtopic.php?f=23&t=4230 Feedback Thread]'''

===Volume 3 - Before the Darkness There is Light (Yami no saki ni aru hikari (闇の先にある光))===

===Volume 3 - Before the Darkness There is Light (Yami no saki ni aru hikari (闇の先にある光))===
---
Revision as of 02:11, 8 March 2011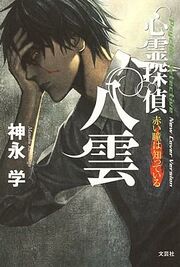 Shinrei Tantei Yakumo (心霊探偵 八雲|Psychic Detective Yakumo) is a light novel series written by author Manabu Kaminaga with illustrations done by Katoh Akatsuki in Nihon Bungeisha publication and later in the Kadokawa Bunko publication with cover arts done by Yasushi Suzuki. Currently are 8 volumes published.
Story Synopsis
Translation
Every Chapter (after editing) must be conform with the agreed points highlighted in the general project guidelines
Translators are asked to register which chapters they're working on (see the Guideline page for usage rules).
Feedback
If you enjoyed the teasers, why don't you tell us in the Feedback Thread
Updates
23th November 2010

Shinrei Tantei Yakumo teaser project page created.
2nd March 2011

Added 20% of the prologue (translated by yamikumo46 on LJ)
4th March 2011

Added remaining 80% of prologue (translated by yamikumo46 on LJ)
Added chapter 1 of volume 1 (translated by yamikumo46 on LJ)
6th March 2011

Added chapter 2 of volume 1 (translated by yamikumo46 on LJ)
7th March 2011

Added prologue of volume 2 (translated by yamikumo46 on LJ)
Added last chapter - chapter 3 - of volume 1 (translated by yamikumo46 on LJ)
The Shinrei Tantei Yakumo series by Manabu Kaminaga
Volume 1 - Red Eye That Knows (Akai hitomi wa shitteiru (赤い瞳は知っている))
Attached File - Lost article
Volume 2 - Things That Connect the Spirit (Tamashii wo tsunagu mono (魂をつなぐもの))
Part 1 - Possessed
Part 2 - Exorcism
Part 3 - Resurrection
Epilogue
Extra
Volume 3 - Before the Darkness There is Light (Yami no saki ni aru hikari (闇の先にある光))
Volume 4 - Thoughts that must be protected (Mamoru beki omoi (守るべき想い))
Volume 5 - Connected thoughts (Tsunagaru Omoi (つながる想い))
Volume 6 - At the end of disappointment (Shitsui no hate ni (失意の果てに))
Additional Secret Files bonds (Kaiden SECRET FILES kizuna (外伝 SECRET FILES 絆))
Volume 7 - The spirit's whereabouts (Tamashii no yukue (魂の行方))
Volume 8 - Lost spirits (Ushinawareta Tamashii (失われた魂))
Project Staff
Project Administrator:
Project Supervisor:
Translators
ACTIVE
Editors
ACTIVE
Project Status
Project Status: Teaser