Shinrei Tantei Yakumo
From Baka-Tsuki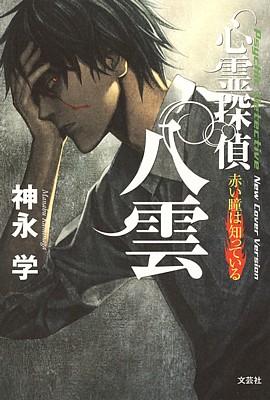 Shinrei Tantei Yakumo (心霊探偵 八雲|Psychic Detective Yakumo) is a light novel series written by author Manabu Kaminaga with illustrations done by Katoh Akatsuki in Nihon Bungeisha publication and later in the Kadokawa Bunko publication with cover arts done by Yasushi Suzuki. Currently there are 9 volumes published, as well as 3 volumes containing side stories.
Story Synopsis
...Three friends from university, drunken, decided for a test of courage in the abandoned "haunted" building behind their university. They didn't wish for it, but they encountered a ghost??? Or?...
For the sake of a friend possessed by a ghost, a young college student Ozawa Haruka visits her university's Movie Research Club. Haruka finds inside a young man - Saitou Yakumo, who is believed to have psychic powers. The two of them begin to investigate the weird occurrences that are happening around Haruka's friends together, as Haruka is convinced that Yakumo is just a fake psychic. Will they be able to find the culpit who murdered the person possessing Haruka's friend before he kills all of the friends who visited the abandoned building and Haruka as well? All in all, Haruka finds out that this young man is the real deal! Yakumo's red left eye can see what others cannot - the spirits of the dead. With this power and mostly Yakumo's great people perception they're solving this confusing, un-earthly case.
This case is just the start of the string of incidents happening around them. And Haruka is unlucky enough to get involved and then she always brings new cases to Yakumo, just to his annoyance!
Translation
Every Chapter (after editing) must be conform with the agreed points highlighted in the general project guidelines
Translators are asked to register which chapters they're working on (see the Guideline page for usage rules).
Feedback
If you enjoyed the project, why don't you tell us in the Feedback Thread
Updates
9th July, 2014 - Laute completed Secret Files bonds - Extra File.
11th July, 2014 - Laute completed Secret Files bonds - Afterword. Volume Secret Files bonds completed.
14th August, 2014 - Laute completed Another Files - the tree of deceit - File 1.
21st August, 2014 - Laute completed Volume 9 - File 1.
27nt August, 2014 - Laute completed Another Files - the tree of deceit - File 2.
Past updates can be found on the old updates page.
The Shinrei Tantei Yakumo series by Manabu Kaminaga
| | |
| --- | --- |
| | Volume 2 - That Which Connects Souls |
| | |
| --- | --- |
| | Volume 3 - The Light Beyond the Darkness |
| | |
| --- | --- |
| | Volume 4 - Feelings to Protect |
| | |
| --- | --- |
| | Volume 5 - Connected Feelings |
| | |
| --- | --- |
| Volume 6 - To the Limits of Despair - Prequel | |
| | |
| --- | --- |
| | Volume 6 - To the Limits of Despair - Sequel |
| | |
| --- | --- |
| | Volume 7 - The Location of the Spirit |
| | |
| --- | --- |
| | Volume 8 - The Vanished Spirit |
Volume 9 - The Spirit of Salvation

(TL in process at Laute)


Novel Illustrations
File 02 - Frenzy
File 03 - Salvation
Epilogue
Extra File
Afterword
The Shinrei Tantei Yakumo - Another Files side stories series by Manabu Kaminaga
ANOTHER FILES - the tree of deceit

(TL in process at Laute)


Novel Illustrations
File 03 - The Tree of Deceit
Epilogue
Afterword



ANOTHER FILES - the coffin of prayers




Novel Illustrations
Afterword



Project Staff
Translators
ACTIVE
INACTIVE
Editors
ACTIVE
Series Overview
Nihon Bungeisha Edition
Kadokawa Bunko Edition
Kadokawa Shoten Special Volume Edition