Tokyo Ravens
From Baka-Tsuki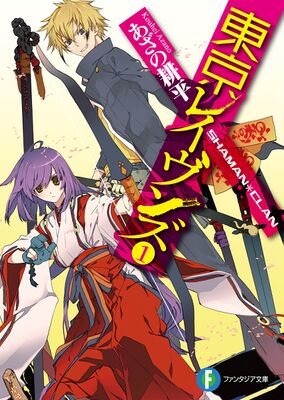 Tokyo Ravens (東京レイヴンズ) is a Japanese light novel written by Kōhei Azano and illustrated by Sumihei. It was adapted into a manga series in 2010. A 24 episode anime adaptation was aired in Japan from October 8, 2013 until March 26, 2014, covering volumes 1 till 9, except some short stories from volumes 4 and 5.

Tokyo Ravens is also available in the following languages:
Story Synopsis
Tsuchimikado Harutora was born into a prestigious Onmyouji family, but he cannot see "spirit energy". Therefore, he's been enjoying a peaceful daily life with his friends at an ordinary high school. One day, his childhood friend Tsuchimikado Natsume, heir to the main family, suddenly appears. Will this cause his destiny to spring into motion!?

- From MangaUpdates and edited
Series Information
Genre: Action, Romance, Comedy, Supernatural
Original Title: 東京レイヴンズ
Author: Kōhei Azano
Illustrator: Sumihei
Published Volumes: 1-12, EX 1-2
Series Status: Ongoing
Character Introductions
Attention! Possible spoilers.
Translation
Format Standards
Every chapter (after editing) must conform to the general format guidelines.
Translators are asked to Register the chapters they want to work on.
Feedback Thread
If you enjoyed the translation, why don't you tell us at the Feedback Thread.
Updates
Translation Status
25 September, 2014 - Side Story: 'The Lost Girl with a Cat' Completed
19 September, 2014 - Volume 11 Chapter 5 Completed (Volume 11 Completed)
23 August, 2014 - Volume 11 Chapter 4 Completed
18 July, 2014 - EX2 'Christmas Eve Rendezvous' Completed
Older updates can be found on the Tokyo Ravens Updates page.
Tokyo Ravens by Kōhei Azano
| | |
| --- | --- |
| Volume 4 - GIRL RETURN & days in nest I (Full Text) | |
| | |
| --- | --- |
| Volume 5 - days in nest II & GIRL AGAIN (Full Text) | |



Volume 13 - COUNT>DOWN




To Be Released: 20th March, 2015.





Side Stories



Volume EX1 party in nest




Chapter 1
Chapter 2
Chapter 3
Chapter 4
Chapter 5
Afterword





Volume EX2 seasons in nest




Prologue
Chapter 2 - Battle of Bean
Chapter 5 - Teachers' Mission
Intermission
Encounter - Triangle
Epilogue
Afterword
Special Appendix 2 - Secret Talk About Anime Work (Prequel)
Special Appendix 3 - Secret Talk About Anime Work (Sequel)



Project Staff
Translators
Active
Inactive
Editors
This list represents the users I (lygophile) would like to thank for their substantial editing of the project. Thanks to all editors, including those not listed.
Various anonymous IP addresses
Series Overview