Tsukumodo Antique Shop
From Baka-Tsuki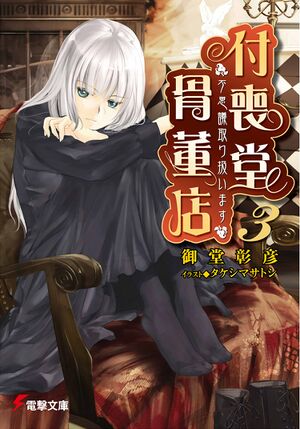 Tsukumodo Antique Shop: We Handle "Mysteriosities" (付喪堂骨董店―"不思議"取り扱います Tsukumodou Kottouten - "Fushigi" Toriatsukaimasu) is a light novel series written by Akihiko Odou and illustrated by Takeshima Satoshi. The series is finished with 7 volumes.
---
The Tsukumodo Antique Shop series is also available in the following languages:
(Note: Translation progress varies for each version.)
[edit]
Story Synopsis
The story centers around the so-called "Relics"—mysterious items with special powers that range from obviously lethal to deceptively harmless—and the damage they bring about. Again and again, Tokiya Kurusu and Saki Maino, both of which work at the Tsukumodo Antique Shop (FAKE), get into difficulties that involve Relics, and have to find a way out. Why do they seem to be haunted by such incidents and what kind of fate is awaiting them...?
Very well, let us talk about the never-smiling girl and the death-seeing boy, and the strange incidents they become entangled in.
[edit]
Updates
November 25th: Volume 2 finished
November 17th: Volume 2 Chapter 3 finished
September 27th: Volume 2 Chapter 2 finished
July 09, 2012: Volume 2 Chapter 1 finished
May 18, 2012: Volume 1 finished
May 13, 2012: Volume 1 Chapter 3 finished
May 4, 2012: Volume 1 Chapter 2 finished
March 4, 2012: Volume 1 Chapter 1 finished
February 11, 2012: Page created and Volume 1 Prologue finished
[edit] The Tsukumodo Antique Shop series by Akihiko Odou
You can find the EPUB and MOBI version of the Volumes in the forums here.
[edit]
Volume 3
[edit]
Volume 4
[edit]
Volume 5
[edit]
Volume 6
[edit]
Volume 7
[edit]
Translation
Translators are asked to register which chapters they're working on (see the Guideline page for usage rules).
[edit]
Format Standards
Every Chapter (after editing) must conform to the agreed points highlighted in the below guidelines
[edit]
Project Staff
[edit]
Translators
ACTIVE
[edit]
Editors
INACTIVE
ACTIVE
[edit]
Series Overview