Welcome to the N.H.K!
From Baka-Tsuki
Note: This Project has been declared as Abandoned!
and was taken down.




Please see Template:Abandoned for further information about this classification.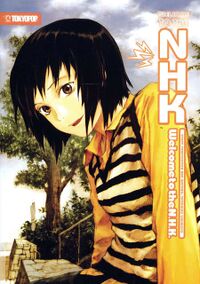 The Welcome to the N.H.K! is available in the following languages:
Story Synopsis
Twenty-two-year-old Satou, a college dropout and aficionado of anime porn, knows a little secret or at least he thinks he does! Believe it or not, he has stumbled upon an incredible conspiracy created by the Japanese Broadcasting Company, N.H.K. But despite fighting the good fight, Satou has become an unemployed hikikomori a shut-in who has withdrawn from the world.
One day, he meets Misaki, a mysterious young girl who invites him to join her special project. Slowly, Satou comes out of his reclusive shell, and his hilarious journey begins, filled with mistaken identity, Lolita complexes and an ultimate quest to create the greatest hentai game ever!
Translation
Since Welcome to the N.H.K! was already published in English, this project is only active in languages other than English. All interested are very much welcome to participate.
Every chapter (after editing) must conform to the agreed points highlighted in Format/Styles Guideline.
Welcome to N.H.K! by Takimoto Tatsuhiko
Novel Illustrations
Preface
Chapter 1. Birth of a Soldier

Chapter 2. Jihad

Chapter 3. The Meeting

Part One
Part Two
The Hikikomori Song Lyrics and Music by Satou Tatsuhiro

Chapter 4. Road to the Creator
Chapter 5. A Humbert Humbert for the Twenty-First Century

Part One
Part Two
Part Three

Chapter 6. Fond Memories, Followed by an Oath

Part One
Part Two
Contract for Escape from Hikikomori Life and Support Therein

Chapter 7. The Revolving Rock

Part One
Sex
Drugs
Violence
Part Two
Part Three

Chapter 8. Infiltration

Part One
Part Two
Part Three

Chapter 9. Days of the End

Part One
Part Two
Contract Regarding Mutual Support for Worthless and Lonely People

Chapter 10. Dive

Part One
Part Two
Part Three

Final Chapter. Welcome to the N.H.K!
Contract for Membership in the N.H.K.
First Afterword
Second Afterword
Information
Welcome to the N.H.K! / N・H・Kにようこそ! (January 28, 2002 ISBN 978-4048733397)(Japanese Language Edition) (Updated Edition ISBN: 978-4043747023)
Welcome to the N.H.K! (October 9, 2007 ISBN 978-1427802569)(English Language Edition By Tokyopop)
Written by Takimoto Tatsuhiko, art by Abe Yoshitoshi.