Durarara!!
From Baka-Tsuki
Note: This Project has been classified as Stalled.




Please see Template:STALLED for further information about this classification.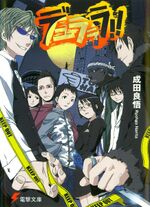 Durarara!! (デュラララ!!) is a light novel series written by Narita Ryohgo, also well-known for his Baccano! series. The illustrations are done by Yasuda Suzuhito.
Story Synopsis
[
edit
]
Many unusual people gather here in Ikebukuro, Tokyo--- a youth who yearns for an un-mundane life, a hoodlum, a stalker denpa-girl, a young man who deals in information 'for fun', a black-market doctor, a high-schooler obsessed with magic, as well as a 'headless rider' (dullahan) riding a bike painted black.
These unusual people begin a series of abnormal stories that never fail to create headaches. But, although their personalities are all twisted— they still talk about love.
Romanising the title, デュラララ!!
[
edit
]
Translation
[
edit
]
Those who wish to contribute are asked to first notify a supervisor beforehand. Translators are asked to register which chapters they're working on (see the Guideline page for usage rules).
Format Standards
[
edit
]
Updates
[
edit
]
6 May 2010

Seems like there's another translation group taking up Durarara!! (WHERE, DAMN IT?!) so I'm out. While I don't necessarily agree with some of the Japanese --> Chinese translations (they're translating from Chinese btw), I really don't have the time or energy to continue this project. So kudos to them.

2 November 2009

Durarara!! volume 1 chapter 1 complete

27 October 2009

Durarara!! project initiated.
The Durarara!! series by Narita Ryohgo

[

edit

]
Volume 1: Durarara!!
[
edit
]
[Completely translated by differentclouds here]
Volume 2: Durarara!!x2
[
edit
]
[Currently being translated by differentclouds here]
Volume 3: Durarara!!x3
[
edit
]
[Currently being translated by Popsiclete here]
Volume 4: Durarara!!x4
[
edit
]
[Completely translated by anni_fiesta here]
Volume 5: Durarara!!x5
[
edit
]
[Completely translated by anni_fiesta here]
Volume 6: Durarara!!x6
[
edit
]
[Completely translated by anni_fiesta here]
Volume 7: Durarara!!x7
[
edit
]
[Completely translated by pseudonym125 here] [Currently being translated by anni_fiesta here] [Currently being translated by Houjicha here]
Volume 8: Durarara!!x8
[
edit
]
[Completely translated by Cleopuffer here]
Volume 9: Durarara!!x9
[
edit
]
[Completely translated by anni_fiesta here]
Volume 10: Durarara!!x10
[
edit
]
[Completely translated by Popsiclete here]
Volume 11: Durarara!!x11
[
edit
]
[Currently being translated by Mizaya here]
Volume 12: Durarara!!x12
[
edit
]
[Currently being translated by Mizaya here]
Volume 13: Durarara!!x13
[
edit
]
[Completely translated by Popsiclete here] [Currently being translated by Mizaya here]
Project Staff
[
edit
]
Supervisor:
Project Manager:
Translators
[
edit
]
ACTIVE
Editors
[
edit
]
ACTIVE
Series Overview
[
edit
]