Gundam Unicorn
From Baka-Tsuki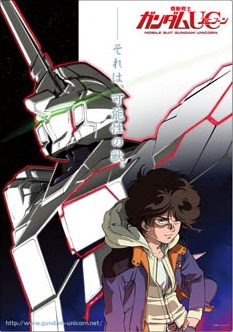 Mobile Suit Gundam Unicorn (機動戦士ガンダムUC(ユニコーン), Kidō Senshi Gandamu Yunikōn?) is a novel written by Japanese author Harutoshi Fukui and serialized in Kadokawa Shoten. There are 10 volumes in this series, and a 6 episode OVA is currently under way.
Story Synopsis
The series begins in U.C. 0001, at the very beginning of human space colonization, when a space colony called Laplace is destroyed during a ceremony hosted by the Federation's Prime Minister ushering in the Universal Century dating system. The main story takes place in UC 0096.
The story revolves around Banagher Links, a seemingly normal boy living and going to school in the space colonies. His life changes one day when he meets a girl named Audrey Burne, as the encounter brings him into contact with a new Gundam and its connections to an item called "Laplace's Box."
Introduction
O this is the beast who does not exist.
They didn't know that, and in any case
--with its stance, its arched neck and easy grace,
the light of its limpid gaze --they could not resist
but loved it though, indeed, it was not. Yet since
they always gave it room, the pure beast persisted.
And in that loving space, clear and unfenced,
reared it's head freely and hardly needed...
to exist. They fed it not with grain nor chaff
but fortified and nourished it solely with
the notion that it might yet come to pass,
so that, at length, it grew a single shaft
upon it's brow and to a virgin came--
and dwelled in her and in her silvered glass.

Rainer Maria Rilke 'Die Sonette an Orpheus', Part 2 4th poem. Translation courtesy of Robert Hunter.
Translation
Translators Needed
If you would like to help translate this series, please post in the forums here, and we will help you get started. Thank you.
Those who wish to contribute must first notify a supervisor beforehand. Translators must register which chapters they're working on.
Format Standards
Updates
31 January 2012 - Volume 1 Prologue Completed.
13 February 2012 - Volume 1 Chapter 1 Completed.
10 March 2012 - Volume 1 Chapter 2 Completed.
Kidou Senshi Gundam Unicorn by Fukui Harutoshi
0096/Sect 1: Day of the Unicorn
Project Staff
Project Administrator:
Project Supervisor: Teh Ping
Translators
ACTIVE
Editors
Series Overview