Silver Cross and Draculea
Jump to navigation
Jump to search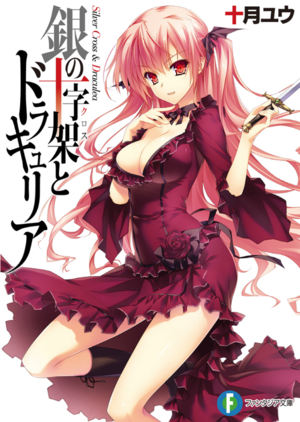 Silver Cross and Draculea is a light novel series written by Totsuki Yuu (十月ユウ), illustrated by Yasaka Minato (八坂 ミナト), and published under Fujimi Fantasia Bunko. The series has concluded with 5 volumes.
The Silver Cross and Draculea series is also available in the following language(s):
Story Synopsis
"Impossible... Why are you not following my orders!? Clearly I sucked your blood, why!?"
On the very first day of high school, the youth subscribing to the philosophy of "absolutely ordinary everyday life," Kujou Hisui, encountered disaster head on: he was attacked by Rushella Dahm Draculea, the vampire who had lost her memory. Rushella was greatly intrigued to find her vampire powers ineffective against Hisui. Not only did she make Hisui's home her own, she even enrolled in his school to stick to him--
Hisui had no choice but to help Rushella regain her memory. But before one crisis could be resolved, many more had risen. With tempting advances from the mysterious Sudou Mei, and kidnapped by the girl from the Supernatural Investigations Section in search of Rushella, Hisui's ordinary life has been replaced by its complete opposite, drama--
Romantic comedy and supernatural action in a school setting!
Translation
Format Standards
Every chapter (after editing) must conform to the general format guidelines.
Translators are asked to register which chapters they're working on.
Feedback
If you enjoyed the series, why don't you tell us in the Feedback Thread?
Updates
Series is now completed
August 18, 2014 - Volume 5 Chapter 5 + 6 + Final Chapter + Afterword complete
July 14, 2014 - Volume 5 Chapter 4 complete
June 24, 2014 - Volume 5 Chapter 3 complete
June 23, 2014 - Volume 5 Chapter 2 complete
February 26, 2014 - Volume 5 Chapter 1 complete
February 4, 2014 - Volume 5 Prologue complete
Older updates can be found here.
The Silver Cross and Draculea series by Totsuki Yuu
For PDF versions of completed volumes, please visit the forums.
For MOBI format please go HERE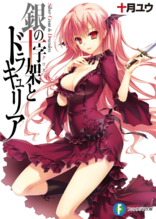 Project Staff
Supervisor: N/A
Project Manager: N/A
Translators
To see who worked on what, please consult the Registration Page.
Editors
Series Overview
銀の十字架とドラキュリア (富士見ファンタジア文庫) [文庫] - July 20, 2012 - ISBN 978-482913785-7
銀の十字架とドラキュリアII (富士見ファンタジア文庫) [文庫] - November 20, 2012 - ISBN 978-482913824-3
銀の十字架とドラキュリアIII (富士見ファンタジア文庫) [文庫] - March 19, 2013 - ISBN 978-482913872-4
銀の十字架とドラキュリアIV (富士見ファンタジア文庫) [文庫] - July 20, 2013 - ISBN 978-482913916-5
銀の十字架とドラキュリアV (富士見ファンタジア文庫) [文庫] - November 20, 2013 - ISBN 978-404712955-9