The Unexplored Summon Blood Sign
Jump to navigation
Jump to search
The Unexplored Summon://Blood-Sign (未踏召喚://ブラッドサイン) is a light novel series written by Kamachi Kazuma (鎌池 和馬) and illustrated by Igawa Kazuki (依河 和希). Kamachi Kazuma is also known for several other light novel series, most notably the Toaru Majutsu no Index series.

The Unexplored Summon Blood Sign series is also available in the following languages:

(Note: Translation progress varies for each version)
Story Synopsis
[
edit
]
Summoning ceremonies can freely call forth even "those which lurk in the depths beyond the gods". One boy has top-level abilities even among the cutting-edge summoners who can use those ceremonies.
He is Alice (with) Rabbit aka Shiroyama Kyousuke.
But this strongest boy summoner has a single fatal weakness.
Certain "cursed words" spoken by girls: "Help me."
When Kyousuke hears those words from Meinokawa Higan, a girl brought to the verge of death, he throws himself into a city where three great summoner forces clash!
Recent Updates
[
edit
]
June 24th, 2019 - Volume 10 Completed
November 27th, 2018 - Volume 9 Completed
March 11th, 2018 - Volume 8 Completed
June 25th, 2017 - Volume 7 Completed
March 4th, 2017 - Volume 6 Completed
December 25th, 2016 - Volume 5 Completed
December 4th, 2016 - Volume 4 Completed
September 3rd, 2016‎ - Volume 3 Completed
July 24th, 2016‎ - Volume 2 Completed
June 11, 2016 - Volume 1 Completed
September 29th, 2014 - Blood Sign teaser project begun
Unexplored Summon://Blood-Sign by Kamachi Kazuma

[

edit

]
Unexplored Summon://Blood-Sign (Full Text - ePUB)

[

edit

]
Unexplored Summon://Blood-Sign 2 (Full Text - ePUB)

[

edit

]
Unexplored Summon://Blood-Sign 3 (Full Text - ePUB)

[

edit

]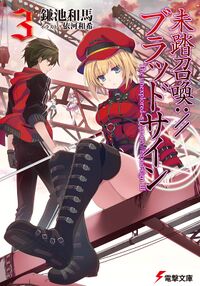 Unexplored Summon://Blood-Sign 4 (Full Text - ePUB)

[

edit

]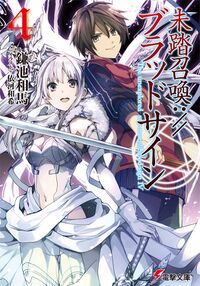 Unexplored Summon://Blood-Sign 5 (Full Text - ePUB)

[

edit

]
Unexplored Summon://Blood-Sign 6 (Full Text - ePUB)

[

edit

]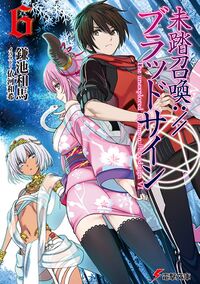 Unexplored Summon://Blood-Sign 7 (Full Text - ePUB)

[

edit

]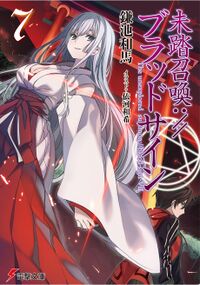 Unexplored Summon://Blood-Sign 8 (Full Text)

[

edit

]
Unexplored Summon://Blood-Sign 9 (Full Text)

[

edit

]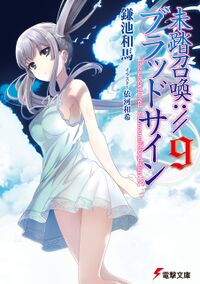 Unexplored Summon://Blood-Sign 10 (Full Text)

[

edit

]
Crossovers
[
edit
]
Project Staff
[
edit
]
Supervisor:
Project Manager:
Translators
[
edit
]
ACTIVE
Editors
[
edit
]
ACTIVE
Series Overview
[
edit
]
未踏召喚://ブラッドサイン (10 September 2014, ISBN 978-4-04-866861-3)
未踏召喚://ブラッドサイン(2) (10 January 2015, ISBN 978-4-04-869164-2)
未踏召喚://ブラッドサイン(3) (8 August 2015, ISBN 978-4-04-865310-7)
未踏召喚://ブラッドサイン(4) (9 January 2016, ISBN 978-4-04-865660-3)
未踏召喚://ブラッドサイン(5) (10 June 2016, ISBN 978-4-04-892116-9)
未踏召喚://ブラッドサイン(6) (10 December 2016, ISBN 978-4-04-892550-1)
未踏召喚://ブラッドサイン(7) (9 June 2017, ISBN 978-4-04-892951-6)
未踏召喚://ブラッドサイン(8) (10 February 2018)
未踏召喚://ブラッドサイン(9) (10 November 2018)
未踏召喚://ブラッドサイン(10) (8 June 2019)