Hikaru ga Chikyuu ni Itakoro......
Jump to navigation
Jump to search
Only available to registered users. Register hereDo you follow this series? Rate it!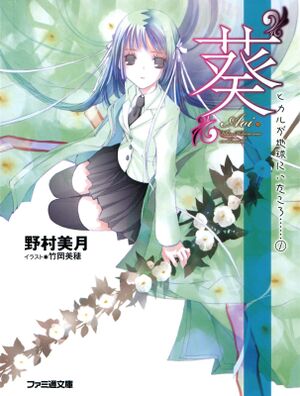 Hikaru ga Chikyuu ni Itakoro...... (ヒカルが地球にいたころ......, When Hikaru was on the earth...... ) is a light novel series written by Mizuki Nomura, the author who also wrote the Book Girl series. The illustrations are done by Miho Takeoka. The series has been completed with 10 volumes.
The "Hikaru ga Chikyuu ni Itakoro......" light novel series is also available in the following languages:
Story Synopsis
The story starts with the death of Hikaru Mikado. That guy was a natural charmer, a "harem king", but had no real male friends. After he died, he became a ghost, a soul, but Koremitsu Akagi can see him. Koremitsu though, isn't really like Hikaru. His red hair and his evil-looking eyes make him look like a delinquent, even though he is very kind inside. Hikaru asks him a favour: he wants him to fulfill a promise, which he can't fulfill anymore. The promise was to give his girlfriend and fiancée, Aoi Saotome, 7 gifts for her seventeenth birthday. Koremitsu accepts, and has to work hard to help fulfill Hikaru's promise with Aoi.
However, Hikaru's request of Koremitsu's help doesn't end there!? Actually, there are more girls he made promises with, as expected of a harem king. And thus, Koremitsu continues to be haunted by Hikaru......
Updates
Teh Ping will be updating the series here blog. Please feedback here if you are able and willing to translate/edit this series. 'As of January 6, 2016, the entire series is completed at Hellping.'
January 06, 2016 - Volume 10 completed
December 02, 2015 - Volume 9 completed
September 01, 2015 - Volume 8 completed
July 26, 2015 - Volume 7 completed
Januray 13, 2015 - Volume 6 completed
December 03, 2014 - Volume 5 & Drama CD completed
October 16, 2014 - Volume 4 completed
May 30, 2014 - Volume 3 completed
February 15, 2014 - Volume 2 completed
August 20, 2013 - Volume 1 completed
Translation
Those who wish to contribute are asked to first notify a supervisor beforehand.
Translators are asked to register which chapters they're working on
Feedback
If you want to discuss this series, do so in the Feedback thread on the forum
The 'Hikaru ga Chikyuu ni Itakoro......' series by Mizuki Nomura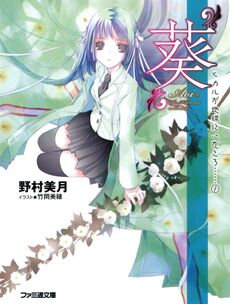 Extras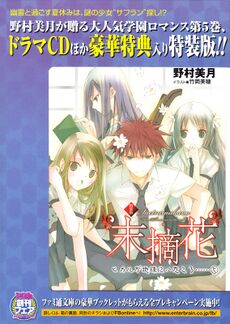 Project Staff
Supervisor:
Project Manager:
Translators
Editors
Series Overview
"葵" ヒカルが地球にいたころ……(1) (May 30, 2011, ISBN 978-4-04-727281-1)
"夕顔" ヒカルが地球にいたころ……(2) (August 29, 2011, ISBN 978-4-04-727469-3)
"若紫" ヒカルが地球にいたころ……(3) (December 26, 2011, ISBN 978-4-04-727719-9)
"朧月夜" ヒカルが地球にいたころ……(4) (April 28, 2012, ISBN 978-4-04-727988-9)
"末摘花" ヒカルが地球にいたころ……(5) (August 30, 2012, ISBN 978-4-04-728297-1)
"朝顔" ヒカルが地球にいたころ……(6) (December 27, 2012, ISBN 978-4-04-728600-9)
"空蝉" ヒカルが地球にいたころ……(7) (April 30, 2013, ISBN 978-4-04-728856-0)
"花散里" ヒカルが地球にいたころ……(8) (August 30, 2013, ISBN 978-4-04-729091-4)
"六条" ヒカルが地球にいたころ……(9) (December 30, 2013, ISBN 978-4-04-729319-9)
"藤壺" ヒカルが地球にいたころ……(10) (April 28, 2014, ISBN 978-4-04-729599-5)