CubexCursedxCurious
Jump to navigation
Jump to search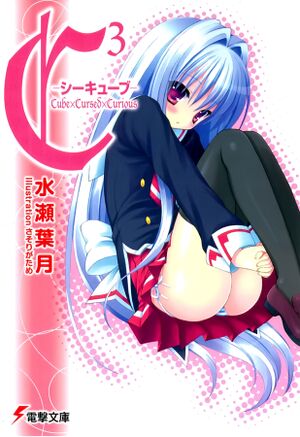 Welcome to the C3 (シーキューブ) Cube x Cursed x Curious Light Novel Translation Project.
C3 - Cube x Cursed x Curious is a Japanese light novel series published by ASCII Media Works under the Dengeki Bunko label. Written by Minase Hazuki and illustrated by Sasorigatame, the series is complete with 17 volumes.
A 12-episode anime adaptation produced by Silver Link aired from October 1, 2011 to December 17, 2011, covering Volumes 1-3.
The C3 series is also available in the following language(s):
Story Synopsis
One day, Yachi Haruaki received a mysterious object sent by his father from abroad—an unbelievably heavy black box. Haruaki smelled trouble, but left the box alone for now, trying to convince himself that it was none of his business. That night, he woke up to a noise. Peering into the kitchen, he found a completely naked girl—eating rice crackers she had scavenged from a cupboard.
Translation
Those who wish to contribute are asked to first notify a supervisor beforehand.
Translators are asked to register which chapters they're working on
Format Standards
Every Chapter (after editing) must conform to the general format guidelines.
Feedback
To express appreciation or other feedback, please post in the forum.
Updates
2015-02-28 - Volume 17 Epilogue + Afterword completed
2015-02-26 - Volume 17 Chapter 6 completed
2015-02-23 - Volume 17 Chapter 5 completed
2015-02-19 - Volume 17 Chapter 4 completed
2015-02-13 - Volume 17 Interlude D completed
2015-02-10 - Volume 17 Interlude B completed
2015-02-09 - Volume 17 Interlude A completed
Updates Archive.
To download completed volumes in PDF, EPUB or MOBI formats, please visit the forums.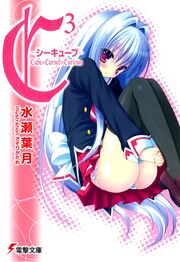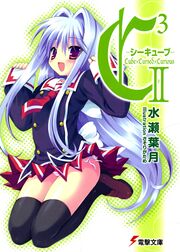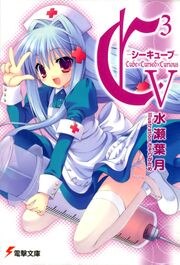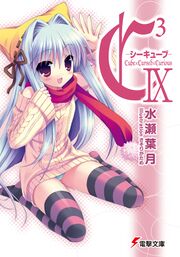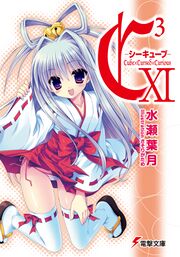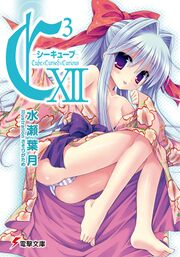 Volume 16 - Closing Episode, First Part (Full Text)
Volume 17 - Closing Episode, Last Part (Full Text)
Project Staff
Translators
ACTIVE
INACTIVE
Editors
ACTIVE
INACTIVE
Series Overview
Volume 01 - "C3 CubexCursedxCurious" / 第一巻: C3 シーキューブ (September 10, 2007, ISBN 978-4-8402-3975-2)
Volume 02 - "C3 CubexCursedxCurious II" / 第二巻: C3 シーキューブ-II (January 10, 2008, ISBN 978-4-8402-4143-4)
Volume 03 - "C3 CubexCursedxCurious III" / 第三巻: C3 シーキューブ-III (April 4, 2008, ISBN 978-4-04-867023-4)
Volume 04 - "C3 CubexCursedxCurious IV" / 第四巻: C3 シーキューブ-IV (August 10, 2008, ISBN 978-4-04-867178-1)
Volume 05 - "C3 CubexCursedxCurious V" / 第五巻: C3 シーキューブ-V (December 5, 2008, ISBN 978-4-04-867422-5)
Volume 06 - "C3 CubexCursedxCurious VI" / 第六巻: C3 シーキューブ-VI (March 10, 2009, ISBN 978-4-04-867597-0)
Volume 07 - "C3 CubexCursedxCurious VII" / 第七巻: C3 シーキューブ-VII (July 10, 2009, ISBN 978-4-04-867899-5)
Volume 08 - "C3 CubexCursedxCurious VIII" / 第八巻: C3 シーキューブ-VIII (November 10, 2009, ISBN 978-4-04-868143-8)
Volume 09 - "C3 CubexCursedxCurious IX" / 第九巻: C3 シーキューブ-IX (March, 2010, ISBN 978-4-04-868397-5)
Volume 10 - "C3 CubexCursedxCurious X" / 第十巻: C3 シーキューブ-X (September 10, 2010, ISBN 978-4-04-868879-6)
Volume 11 - "C3 CubexCursedxCurious XI" / 第十一巻: C3 シーキューブ-XI (April 8, 2011, ISBN 978-4-04-870421-2)
Volume 12 - "C3 CubexCursedxCurious XII" / 第十二巻: C3 シーキューブ-XII (October 8, 2011, ISBN 978-4-04-870957-6)
Volume 13 - "C3 CubexCursedxCurious XIII" / 第十三巻: C3 シーキューブ-XIII (December 10, 2011, ISBN 978-4-04-886246-2)
Volume 14 - "C3 CubexCursedxCurious XIV" / 第十四巻: C3 シーキューブ-XIV (July 10, 2012, ISBN 978-4-04-886707-8)
Volume 15 - "C3 CubexCursedxCurious XV" / 第十五巻: C3 シーキューブ-XV (October 10, 2012, ISBN 978-4-04-886982-9)
Volume 16 - "C3 CubexCursedxCurious XVI" / 第十六巻: C3 シーキューブ-XVI episode CLOSE/the first part (March 9, 2013, ISBN 978-4-04-891433-8)
Volume 17 - "C3 CubexCursedxCurious XVII" / 第十七巻: C3 シーキューブ-XVII episode CLOSE/the last part (June 7, 2013, ISBN 978-4-04-891677-6)