CubexCursedxCurious PL
Jump to navigation
Jump to search
Project Status: STALLED

This project has not been updated in the past 6 months.
Help revive this project by joining the translation team! — Learn more about Baka-Tsuki activity status.
Tylko dla zarejestrowanych. zarejestruj sięJak oceniasz tą Serie?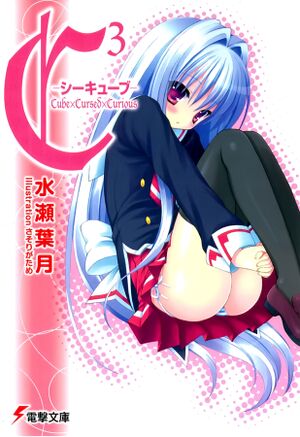 C3 - Cube x Cursed x Curious to japońska seria Light Novel napisana przez Minase Hazuki i zilustrowana przez Sasorigatame, seria jest skończone i posiada 17 tomów.
Inne tłumaczenia
[
edit
]
C3 jest także dostępne w następujących językach:
Tłumaczenie
[
edit
]
Tłumacze są proszeni aby się zarejestrować jakie rozdziały chcą przetłumaczyć
Standardy Formatowania
[
edit
]
Każdy rozdział musi spełniać ogólne wytyczne.
Ostatnie aktualizacje
[
edit
]
29 lipca 2017 - dodano 3 części z 6 rozdziału 1 tomu 1
29 czerwca 2017 - dodano prolog tomu 1
18 luty 2017 - utworzenie projektu
Starsze aktualizacje można znaleźć tutaj - Archiwa

Koniec
Tłumacze
[
edit
]
NIE AKTYWNI
Dotychczas wydano
[
edit
]
Volume 01 - "C3 CubexCursedxCurious" / 第一巻: C3 シーキューブ (September 10, 2007, ISBN 978-4-8402-3975-2)
Volume 02 - "C3 CubexCursedxCurious II" / 第二巻: C3 シーキューブ-II (January 10, 2008, ISBN 978-4-8402-4143-4)
Volume 03 - "C3 CubexCursedxCurious III" / 第三巻: C3 シーキューブ-III (April 4, 2008, ISBN 978-4-04-867023-4)
Volume 04 - "C3 CubexCursedxCurious IV" / 第四巻: C3 シーキューブ-IV (August 10, 2008, ISBN 978-4-04-867178-1)
Volume 05 - "C3 CubexCursedxCurious V" / 第五巻: C3 シーキューブ-V (December 5, 2008, ISBN 978-4-04-867422-5)
Volume 06 - "C3 CubexCursedxCurious VI" / 第六巻: C3 シーキューブ-VI (March 10, 2009, ISBN 978-4-04-867597-0)
Volume 07 - "C3 CubexCursedxCurious VII" / 第七巻: C3 シーキューブ-VII (July 10, 2009, ISBN 978-4-04-867899-5)
Volume 08 - "C3 CubexCursedxCurious VIII" / 第八巻: C3 シーキューブ-VIII (November 10, 2009, ISBN 978-4-04-868143-8)
Volume 09 - "C3 CubexCursedxCurious IX" / 第九巻: C3 シーキューブ-IX (March, 2010, ISBN 978-4-04-868397-5)
Volume 10 - "C3 CubexCursedxCurious X" / 第十巻: C3 シーキューブ-X (September 10, 2010, ISBN 978-4-04-868879-6)
Volume 11 - "C3 CubexCursedxCurious XI" / 第十一巻: C3 シーキューブ-XI (April 8, 2011, ISBN 978-4-04-870421-2)
Volume 12 - "C3 CubexCursedxCurious XII" / 第十二巻: C3 シーキューブ-XII (October 8, 2011, ISBN 978-4-04-870957-6)
Volume 13 - "C3 CubexCursedxCurious XIII" / 第十三巻: C3 シーキューブ-XIII (December 10, 2011, ISBN 978-4-04-886246-2)
Volume 14 - "C3 CubexCursedxCurious XIV" / 第十四巻: C3 シーキューブ-XIV (July 10, 2012, ISBN 978-4-04-886707-8)
Volume 15 - "C3 CubexCursedxCurious XV" / 第十五巻: C3 シーキューブ-XV (October 10, 2012, ISBN 978-4-04-886982-9)
Volume 16 - "C3 CubexCursedxCurious XVI" / 第十六巻: C3 シーキューブ-XVI episode CLOSE/the first part (March 9, 2013, ISBN 978-4-04-891433-8)
Volume 17 - "C3 CubexCursedxCurious XVII" / 第十七巻: C3 シーキューブ-XVII episode CLOSE/the last part (June 7, 2013, ISBN 978-4-04-891677-6)