Amaryllis in the Ice Country
Jump to navigation
Jump to search
Only available to registered users. Register hereDo you follow this series? Rate it!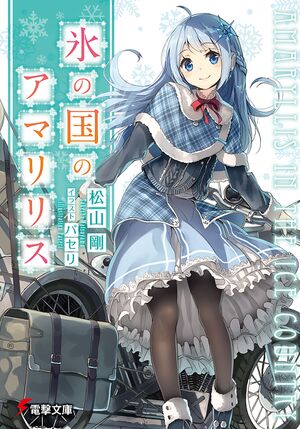 Amaryllis in the Ice Country (氷の国のアマリリス) is a single volume light novel written by Takeshi Matsuyama and illustrated by Paseri. It's part of the "Flower" series, along with Iris on Rainy Days and Freesia of the Snow Wings.
The Amaryllis in the Ice Country light novel is also available in the following languages:
(Note: Translation progress varies for each version.)
Story Synopsis
[
edit
]
In the distant future, the world was in ice
Humans live in the cryo facilities in the underground, waiting for the distant Spring,
The robots managing the facilities
Built a 'village' there, and lived there.
They dream that one day, they would live together with 'Humans'

Master
This, is the story of the Ice Country
Translation
[
edit
]
Translators are asked to register for chapters they want to work on.
Feedback
[
edit
]
The series is currently hosted and translated HERE. Future updates will also be posted here on Baka-Tsuki.
Updates
[
edit
]
July 18, 2017 - Volume completed
Amaryllis in the Ice Country by Takeshi Matsuyama

[

edit

]
Project Staff
[
edit
]
Supervisor: N/A
Project Manager: Teh Ping
Translators
[
edit
]
Editors
[
edit
]
All editors who speak English proficiently are welcome.
Series Overview
[
edit
]
氷の国のアマリリス / Amaryllis in the Ice Country (April 10, 2013, ISBN 978-4048915786)