Tomoyo After
Jump to navigation
Jump to search
Project Status: HALTED

This project has not been updated in the past 12 months.
Help revive this project by joining the translation team! — Learn more about Baka-Tsuki activity status.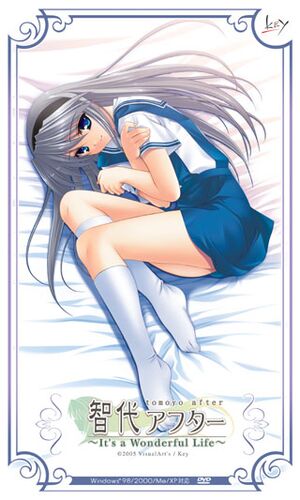 Warning
This visual novel is rated Mature and is considered for Adults (18+) only.
If you are below the age of consent in your respected country, you are advised to stop immediately and leave this project page.
By continuing to read or be involved in this project, you are agreeing to the terms of our Disclaimer.
Please note: That Baka-Tsuki hosts only the Translated text, and as such, no images or game files are hosted here.
Updates
Project dropped. Doki Fansubs takes over the project. --karmainall 22:59, 28 April 2011 (EDT)
Partial patch had a minor bug. click here to download the fixed patch or here --karmainall 20:25, 19 March 2011 (EDT)
December 6th, 2010 -SEEN0715 translated.
December 2nd, 2010 - SEEN0716 and 0717 translated.
August 10th, 2010 - Project Admin has dropped the project.
June 23rd, 2010 - SEEN0628 completely translated.(H-scene translated)
June 14th, 2010 - SEEN0815 translated.
May 10th, 2010 - SEEN0727 QCed.
April 20th, 2010 - SEEN0728 QCed.
April 5th, 2010 - SEEN0729 Qced.
April 1st, 2010 - SEEN0713 re-translated.
March 30th, 2010 - SEEN0744 and SEEN0801 QCed.
March 21st, 2010 - .xls overview file updated. SEEN0803 and SEEN0804 QCed.
March 20th, 2010 - SEEN0711, SEEN0712 Translated. SEEN0806 QCed.
March 19th, 2010 - SEEN0744 Translated.
March 18th, 2010 - SEEN0702 QCed.
March 17th, 2010 - SEEN0708 QCed.
History
August 10th, 2010 - Project Admin has dropped the project.
March 14, 2010 - Project resumes after period of stall
March 6, 2009 - Tomoyo After project handed to New Project Administrator: RadicalR
July 18, 2008 - The Tomoyo After translation project becomes an open wiki project.
June 4, 2008 - Project announced.
Announcements
Translators Needed
The Tomoyo After translation project is now an open wiki project. If anyone has some free time and wishes to contribute to this project, please register your username in the Registration page before translating any script files listed in the table at the bottom of the page.
Where you can purchase Tomoyo After
Though this is not an indication that the patch is in any way, shape, or form, near completion or readiness to release to the public, you may find this information useful.
HimeyaShop and PaletWeb are two (but not the only) online stores that ship overseas from Japan, and offer Tomoyo After* and Tomoyo After PS2.
Tomoyo After for PC had been released as a first press limited edition only. There is no regular edition.
Summary
Tomoyo After: It's a Wonderful Life is an adult only (18+) visual novel adventure developed by Key/VisualArts, released in 2005. More information is available at the Wikipedia entry located here.
If you wish to contact us, either do so via the main Talk pages, or visit us on IRC at irc.ppirc.net @ #ndt.
Project Staff
Special thanks goes to the following people/groups:
Haeleth

Developed (RLdev), the RealLive tool used for disassembling and rebuilding SEEN script files.)
Translators are asked to register which chapters they're working on (see the Guideline page for usage rules).
Script Chart