The Unexplored Summon Blood Sign ~Brazilian Portuguese~
Jump to navigation
Jump to search
| | |
| --- | --- |
| | This Teaser Project has not yet reached Full Project status requirements. |
Help this project out by joining the translation team! — Learn more about Full Project Approval Requirements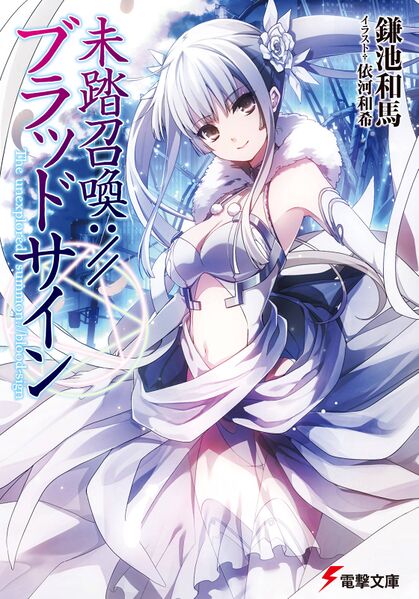 The Unexplored Summon://Blood-Sign (未踏召喚://ブラッドサイン) é uma serie de Light Novel escrito por Kamachi Kazuma (鎌池 和馬) e ilustrado por Igawa Kazuki (依河 和希). Kamachi Kazuma é tambem conhecido por varias outras series de Light Novel, mais conhecido pela série Toaru Majutsu no Index.
The Unexplored Summon Blood Sign também está disponível nas seguintes línguas:
Sinopse
[
edit
]
A história em Mitou Shoukan Concentra-se em um "ambiente escolar ortodoxo" e uma disputa entre invocadores experientes em uma era moderna.
Atualizações
[
edit
]
The Unexplored Summon://Blood-Sign escrita por Kamachi Kazuma

[

edit

]
Volume 1
[
edit
]
Opening X-02: Um Começo Tenso
Stage 01
Stage 02
Secret Stage 01
Stage 03
Secret Stage 02
Stage 04
Ending X-01
Ending X-02
Notas Finais
Capítulo 5
Epílogo:
Posfácio
|}
Equipe do projeto
[
edit
]
Administrador do Projeto:
Supervisor do Projeto:
Tradutores
[
edit
]
Ativos
Editores
[
edit
]
Ativos
Revisores
[
edit
]
Ativos
Visão Geral da Série
[
edit
]
未踏召喚://ブラッドサイン (10 de Setembro de 2014, ISBN 978-4-04-866861-3)
未踏召喚://ブラッドサイン(2) (10 de Janeiro de 2015, ISBN 978-4-04-869164-2)
未踏召喚://ブラッドサイン(3) (8 de Agosto de 2015, ISBN 978-4-04-865310-7)