The Unexplored Summon Blood Sign:Volume7 Tutorial
Jump to navigation
Jump to search
Battle Tutorial
[
edit
]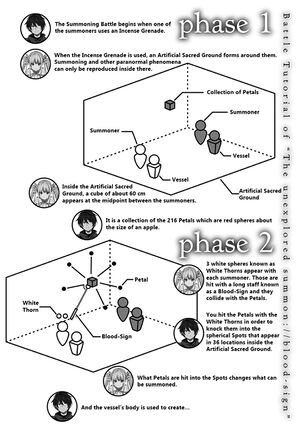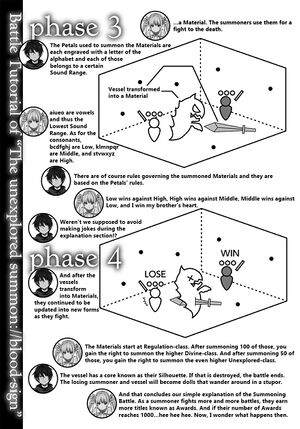 Phase 1
Upper Cube: Collection of Petals
Left Dark Figure: Summoner
Right Dark Figure: Vessel
Left White Figure: Summoner
Right White Figure: Vessel
Overall Box: Artificial Sacred Ground
K: The Summoning Battle begins when one of the summoners uses an Incense Grenade.
Q: When the Incense Grenade is used, an Artificial Sacred Ground forms around them. Summoning and other paranormal phenomena can only be reproduced inside there.
Q: Inside the Artificial Sacred Ground, a cube of about 60 cm appears at the midpoint between the summoners.
K: It is a collection of the 216 Petals which are red spheres about the size of an apple.
Phase 2
Dark Ball: Petal
White Ball: White Thorn
White Stick: Blood-Sign
Q: 3 white spheres known as White Thorns appear with each summoner. Those are hit with a long staff known as a Blood-Sign and they collide with the Petals.
K: You hit the Petals with the White Thorns in order to knock them into the spherical Spots that appear in 36 locations inside the Artificial Sacred Ground.
Q: What Petals are hit into the Spots changes what can be summoned.
K: And the vessel's body is used to create…
Phase 3
White Monster and Dark Sword: Vessel transformed into a Material
Q: …a Material. The summoners use them for a fight to the death.
K: The Petals used to summon the Materials are each engraved with a letter of the alphabet and each of those belongs to a certain Sound Range.
Q: aiueo are vowels and thus the Lowest Sound Range. As for the consonants, bcdfghj are Low, klmnpqr are Middle, and stvwxyz are High.
K: There are of course rules governing the summoned Materials and they are based on the Petals' rules.
Q: Low wins against High, High wins against Middle, Middle wins against Low, and I win my brother's heart.
K: Weren't we supposed to avoid making jokes during the explanation section!?
Phase 4
K: And after the vessels transform into Materials, they continued to be updated into new forms as they fight.
Q: The Materials start at Regulation-class. After summoning 100 of those, you gain the right to summon the higher Divine-class. And after summoning 50 of those, you gain the right to summon the even higher Unexplored-class.
K: The vessel has a core known as their Silhouette. If that is destroyed, the battle ends. The losing summoner and vessel will become dolls that wander around in a stupor.
Q: And that concludes our simple explanation of the Summoning Battle. As a summoner fights more and more battles, they earn more titles known as Awards. And if their number of Awards reaches 1000…hee hee hee. Now, I wonder what happens then.