「Omae Gotoki ga Maou ni Kateru to Omou na」 to Yuusha Party wo Tsuihou Sareta no de, Outo de Kimama ni Kurashitai
From Baka-Tsuki
Note: This Project has been declared as Abandoned!
and was taken down.




Please see Template:Abandoned for further information about this classification.
Seven Seas now holds the copyright for the English version of this novel, and in accordance with international copyright law this project has been discontinued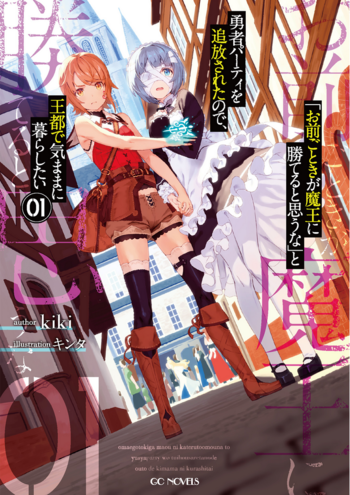 I Was Told That I Wouldn't Be Able To Defeat The Demon Lord And Kicked Out Of The Hero's Party, So Now I Just Want An Ordinary Life In The Capital

OmaeGotoki is a light novel series written by kiki(キキ) and illustrated by Kinta(キンタ), published under the GC Novels label. The original web novel is complete at 160 chapters across ten parts, while the light novel adaptation currently covers the first four 'episodes' across three novels. The light novel was licensed by Seven Seas Entertainment on February 21st 2020 for English distribution.
Synopsis
[
edit
]
Flum Apricot never even wanted to leave her village. She would've been content to live out her entire life there in peace. But unfortunately, after being prophesied by the God of Creation Origin to join the Hero's party and defeat the Demon Lord, she's known nothing but misery. How is someone with stats of zero like her supposed to be of any use? Her only ability is 'Reversal', and not even she knows what that's supposed to mean. The party's sage, Jean Inteige, is also convinced that she has no right to be there, and he knows just how to get rid of her. Through the depths of despair, when the curse finally 'reverses' itself, what will be left of Flum? And what kind of life will she make for herself?
A yuri/dark fantasy novel sure to entertain fans of either genre.
Series Overview
[
edit
]
Japanese
Volume 1 - "I Was Told That I Wouldn't Be Able To Defeat The Demon Lord And Kicked Out Of The Hero's Party, So Now I Just Want An Ordinary Life In The Capital" / 第一巻:「お前ごときが魔王に勝てると思うな」と勇者パーティを追放されたので、王都で気ままに暮らしたい1 (July 30, 2018, ISBN 978-4896378016)
Volume 2 - "I Was Told That I Wouldn't Be Able To Defeat The Demon Lord And Kicked Out Of The Hero's Party, So Now I Just Want An Ordinary Life In The Capital" / 第二巻:「お前ごときが魔王に勝てると思うな」と勇者パーティを追放されたので、王都で気ままに暮らしたい2 (December 21, 2018, ISBN 978-4896378474)
Volume 3 - "I Was Told That I Wouldn't Be Able To Defeat The Demon Lord And Kicked Out Of The Hero's Party, So Now I Just Want An Ordinary Life In The Capital" / 第三巻:「お前ごときが魔王に勝てると思うな」と勇者パーティを追放されたので、王都で気ままに暮らしたい3 (July 31, 2019, ISBN 978-4896379075)
Original web novel here
English
Volume 1 - ROLL OVER AND DIE: I Will Fight for an Ordinary Life with My Love and Cursed Sword! (October 27, 2020)