Adachi to Shimamura
From Baka-Tsuki
| | |
| --- | --- |
| | This Teaser Project has not yet reached Full Project status requirements. |
Help this project out by joining the translation team! — Learn more about Full Project Approval Requirements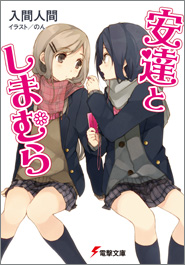 Adachi to Shimamura (安達としまむら) is a light novel series by Iruma Hitoma (入間人間) that centres around the friendship between two high-school girls, Adachi and Shimamura. The story outlines their everyday events, and contains mild yuri themes. It began as a series in Vol. 28 of 電撃文庫MAGAZINE (Dengeki Bunko Magazine) in March 2013. Since then, seven volumes have been published by ASCII Media Works with Non (のん) as the illustrator.
Synopsis
[
edit
]
The second floor of the gym - this was where we always met. It was class time but of course, there weren't any classes going on up here.
This was where Shimamura and I became friends. We hung out here – talking about TV shows and cooking, playing some ping pong...This is where we fostered our friendship.
Leaning my head against the wall, I let out a small sigh.
What could this feeling be? Yesterday, I'd dreamt of me and Shimamura kissing.
Not that I'm like that. I'm sure Shimamura isn't either. It's not even something worth repeating myself about, but really, it's not like that.
It's just that when she hears the word "friend", I want her to think of me first. That's all.
(Translation of Vol. 1 synopsis from the author's website)
Series Overview
[
edit
]
Genre: Slice-of-life, school life, yuri
Original Title: 安達としまむら
Author: 入間人間 (Iruma Hitoma)
Series Status: Ongoing
ISBN
Volume 1: ISBN 978-4048914215

Volume 2: ISBN 978-4048919609

Volume 3: ISBN 978-4048667777

Volume 4: ISBN 978-4048651158

Volume 5: ISBN 978-4048655057

Volume 6: ISBN 978-4048659468

Volume 7: ISBN 978-4048925174

Translation
[
edit
]
Format Standards
[
edit
]
Every chapter (after editing) must conform to the general format guidelines.
Registration
[
edit
]
Translators are asked to register for chapters they want to work on.
Feedback
[
edit
]
If you enjoyed the translation, please take some time to share your thoughts in the feedback thread.
Updates
[
edit
]
January 28, 2015 : Project Creation
Adachi to Shimamura
[
edit
]
Volume 1
[
edit
]
Project Staff
[
edit
]
- To the best of my knowledge, I (Vceopc) am currently the only person working on this project. I'd be happy to have anyone else help out though.
Supervisor:
Project Manager:
Translators
[
edit
]
Editors
[
edit
]