Amagi Brilliant Park
Jump to navigation
Jump to search
Note: This Project has been declared as Abandoned!
and was taken down.




Please see Template:Abandoned for further information about this classification.
The Amagi Brilliant Park series is also available in the following languages: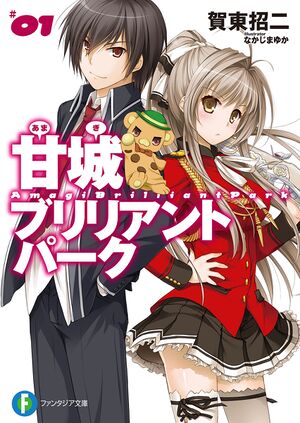 Amagi Brilliant Park (甘城ブリリアントパーク) is a fantasy novel written by Gatou Shouji and illustrated by Nakajima Yuka. The series has 8 volumes published so far and a spin-off with 3 volumes named Amagi Brilliant Park: Mapple Summoner.
Story Synopsis
[
edit
]
Kanie Seiya is a good looking, perfectionist boy who is forced by the mysterious Sento Isuzu to visit an amusement park named Amagi Brilliant Park, which is in serious financial trouble and about to be closed forever. The park is actually staffed by refugees from a magical realm called Maple Land, and the park is a facility for harvesting magical energy from visitors while they're having fun. As such, the park is the only way the refugees can maintain their existence in the human realm.
To save the park from closing, Seiya is hired by the owner, Latifa Fleuranza, to use his skills in entertainment to become its new manager. However, to not lose the land to a real estate agency, they have only three months left to attract 250,000 visitors, a feat that seems impossible given the park's current situation.
Series Information
[
edit
]
Genre: Comedy, Fantasy, Romance, Shounen, Slice of Life
Original Title: 甘城ブリリアントパーク
Author: Gatou Shouji
Ilustrator: Nakajima Yuka (なかじまゆか)
Published Volume: 7 Volumes
Series Status: Ongoing
Translations
[
edit
]
Updates
[
edit
]
13 Apr 2016 - Project dropped by Nanodesu (DMCA)
24 Jan 2016 - Volume 3 Chapter 2
06 Dec 2015 - Volume 3 Chapter 1
03 Oct 2015 - Volume 3 Prologue
19 Sep 2015 - Volume 2 Chapter 2, Monthly Reports
28 Jun 2015 - Volume 2 Chapter 1
28 May 2015 - Volume 2 Prologue
15 May 2015 - Volume 1 Chapter 4
08 Apr 2015 - Volume 1 Chapter 3
04 Mar 2015 - Volume 1 Chapter 2
08 Feb 2015 – Volume 1 Chapter 1
The Amagi Brilliant Park series by Gatou Shouji

[

edit

]
 

Volume 1

[

edit

]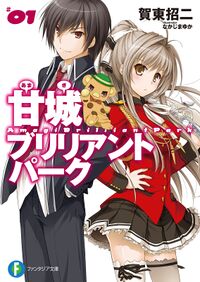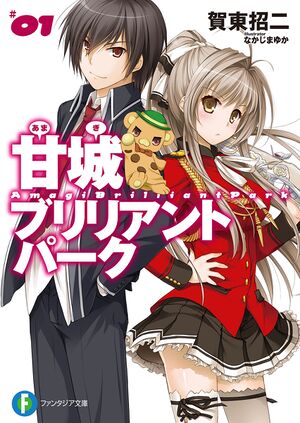 Prologue
Chapter 1 - The Worst Possible Dating Spot

Intermission - Suzuran Shopping District, North of Amagi Station

Chapter 2 - The Mascots' Customer Service Sucks!

Intermission - At a family restaurant by the streets of Fuchuu

Chapter 3 - The Building That Had Been Abandoned For Decades

Intermission - Suzuran Shopping District, North of Amagi Station

Chapter 4 - A Video on Customer Violence Was Uploaded!
Epilogue
 

Volume 2

[

edit

]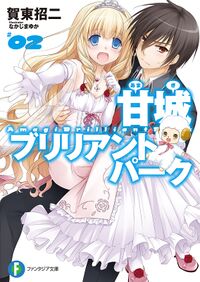 Prologue
Chapter 1 - We're Lacking in Manpower!

Intermission 1 - First Staff Dormitory, Winchester
Intermission 2 - Second Staff Dormitory, BT

Chapter 2 - We're Lacking in Funds!
Chapter 3 - Monthly Reports
 

Volume 3

[

edit

]
Prologue
Chapter 1 - Chuujou Shiina Calls it Quits!
Chapter 2 - The Magic App
Chapter 3 - Attendance Issues!
Chapter 4 - The Country of Magic
 

Volume 4

[

edit

]
Prologue
Chapter 1 - Special Case is the Vine Attire
Chapter 2 - Shoot It!
Chapter 3 - Family Affair
Chapter 4 - Big Five
 

Volume 5

[

edit

]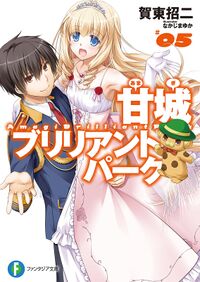 Volume 6

[

edit

]
 

Volume 7

[

edit

]
 

Volume 8

[

edit

]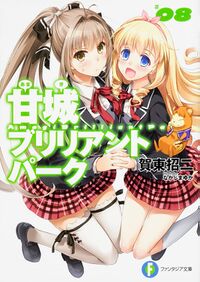 The Amagi Brilliant Park: Mapple Summoner series by Gatou Shouji (Spin-off)

[

edit

]
 

Volume 1

[

edit

]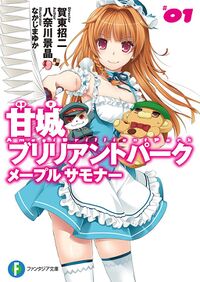 Volume 2

[

edit

]
 

Volume 3

[

edit

]
Project Staff
[
edit
]
Project Administrator:
Project Supervisor:
Translators
[
edit
]
Editors
[
edit
]
Series Overview
[
edit
]
甘城ブリリアントパーク 1 - February 20, 2013 ISBN 978-4-0407-1019-8
甘城ブリリアントパーク 2 - August 25, 2013 ISBN 978-4-0407-1077-8
甘城ブリリアントパーク 3 - January 18, 2014 ISBN 978-4-0407-0004-5
甘城ブリリアントパーク 4 - June 20, 2014 ISBN 978-4-0407-0207-0
甘城ブリリアントパーク 5 - October 18, 2014 ISBN 978-4-0407-0208-7
甘城ブリリアントパーク 6 - April 18, 2015 ISBN 978-4-0407-0209-4
甘城ブリリアントパーク 7 - October 20, 2015 ISBN 978-4-04-070701-3
甘城ブリリアントパーク 8 - April 20, 2016 ISBN 978-4040707020
甘城ブリリアントパーク メープルサモナー 1 - October 18, 2014 ISBN 978-4-04-070287-2
甘城ブリリアントパーク メープルサモナー 2 - November 20, 2014 ISBN 978-4-04-070288-9
甘城ブリリアントパーク メープルサモナー 3 - February 20, 2015 ISBN 978-4-04-070289-6