Ark
Jump to navigation
Jump to search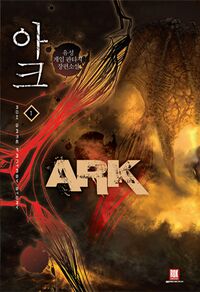 Ark is a Korean Light Novel by Yoo Seong (유성). This series is completed with 24 volumes published. It also has a sequel called "Ark the Legend", which currently has 23 volumes published.
Ark series is also available in the following languages:
Story Synopsis
Kim Hyun Woo lived the life of the wealthy thanks to his parents. But one day, he received a phone call informing him of a traffic accident which involved them. His father had died and his mother was hospitalized in critical condition. The normal life he once knew collapsed...
They sold their house, canceled various insurance plans, and moved to a one room apartment. And after a few years, Hyun Woo was spending four to six hours tending to his mother and worked to pay for her medical bills.
One day, one of his instructors recommended him for position in a company called Global Exos, which made an announcement of making history with its newest technological invention.
Translation & Registration
Format Standards
Every chapter (after editing) must conform to the general format guidelines.
Translators are asked to register which chapters they're working on.
Translation
This novel is in need of Korean Translators. Those who wish to contribute with the main translation group, please visit:
Info
This is a hosted project. Original translations belong to Japtem
Updates
December 2014
10: Volume 4 Chapter 4 completed.
November 2014
02: Volume 4 Chapter 3 completed.
October 2014
05: Volume 4 Chapter 1 completed.
19: Volume 4 Chapter 2 completed.
September 2014
06: Volume 3 Chapter 8 completed.
20: Volume 3 Chapter 9 completed.
Discussion and Feedback
If you want to give your thanks to the translators and/or discuss the chapter, please leave a message via comment section. Thank you.
Ark novel by Yoo Seong
Volume 4
Volume 5
ACT 1 :
ACT 2 :
ACT 3 :
ACT 4 :
ACT 5 :
ACT 6 :
ACT 7 :
ACT 8 :
ACT 9 :
Volume 6
ACT 1 :
ACT 2 :
ACT 3 :
ACT 4 :
ACT 5 :
ACT 6 :
ACT 7 :
ACT 8 :
ACT 9 :
Volume 7
ACT 1 :
ACT 2 :
ACT 3 :
ACT 4 :
ACT 5 :
ACT 6 :
ACT 7 :
ACT 8 :
ACT 9 :
Volume 8
ACT 1 :
ACT 2 :
ACT 3 :
ACT 4 :
ACT 5 :
ACT 6 :
ACT 7 :
ACT 8 :
ACT 9 :
Volume 9
ACT 1 :
ACT 2 :
ACT 3 :
ACT 4 :
ACT 5 :
ACT 6 :
ACT 7 :
ACT 8 :
ACT 9 :
Volume 10
ACT 1 :
ACT 2 :
ACT 3 :
ACT 4 :
ACT 5 :
ACT 6 :
ACT 7 :
ACT 8 :
ACT 9 :
Volume 11
ACT 1 :
ACT 2 :
ACT 3 :
ACT 4 :
ACT 5 :
ACT 6 :
ACT 7 :
ACT 8 :
ACT 9 :
Volume 12
ACT 1 :
ACT 2 :
ACT 3 :
ACT 4 :
ACT 5 :
ACT 6 :
ACT 7 :
ACT 8 :
ACT 9 :
Volume 13
ACT 1 :
ACT 2 :
ACT 3 :
ACT 4 :
ACT 5 :
ACT 6 :
ACT 7 :
ACT 8 :
ACT 9 :
Volume 14
ACT 1 :
ACT 2 :
ACT 3 :
ACT 4 :
ACT 5 :
ACT 6 :
ACT 7 :
ACT 8 :
ACT 9 :
Volume 15
ACT 1 :
ACT 2 :
ACT 3 :
ACT 4 :
ACT 5 :
ACT 6 :
ACT 7 :
ACT 8 :
ACT 9 :
Volume 16
ACT 1 :
ACT 2 :
ACT 3 :
ACT 4 :
ACT 5 :
ACT 6 :
ACT 7 :
ACT 8 :
ACT 9 :
Volume 17
ACT 1 :
ACT 2 :
ACT 3 :
ACT 4 :
ACT 5 :
ACT 6 :
ACT 7 :
ACT 8 :
ACT 9 :
Volume 18
ACT 1 :
ACT 2 :
ACT 3 :
ACT 4 :
ACT 5 :
ACT 6 :
ACT 7 :
ACT 8 :
ACT 9 :
Volume 19
ACT 1 :
ACT 2 :
ACT 3 :
ACT 4 :
ACT 6 :
ACT 7 :
ACT 8 :
ACT 9 :
Volume 20
ACT 1 :
ACT 2 :
ACT 3 :
ACT 4 :
ACT 5 :
ACT 6 :
ACT 7 :
ACT 8 :
ACT 9 :
Volume 21
ACT 1 :
ACT 2 :
ACT 3 :
ACT 4 :
ACT 5 :
ACT 6 :
ACT 7 :
ACT 8 :
ACT 9 :
Volume 22
ACT 1 :
ACT 2 :
ACT 3 :
ACT 4 :
ACT 5 :
ACT 6 :
ACT 7 :
ACT 8 :
ACT 9 :
Volume 23
ACT 1 :
ACT 2 :
ACT 3 :
ACT 4 :
ACT 5 :
ACT 6 :
ACT 7 :
ACT 8 :
ACT 9 :
Volume 24
ACT 1 :
ACT 2 :
ACT 3 :
ACT 4 :
ACT 5 :
ACT 6 :
ACT 7 :
ACT 8 :
Epilogue
Ark The Legend novel by Yoo Seong (Sequel)
Volume 1
Prologue
Space 1:
Space 2 :
Space 3 :
Space 4 :
Space 5 :
Space 6 :
Space 7 :
Space 8 :
Space 9 :
Volume 2
Space 1:
Space 2:
Space 3:
Space 4:
Space 5:
Space 6:
Space 7:
Space 8:
Space 9:
Volume 3
Space 1:
Space 2:
Space 3:
Space 4:
Space 5:
Space 6:
Space 7:
Space 8:
Space 9:
Volume 4
Space 1:
Space 2:
Space 3:
Space 4:
Space 5:
Space 6:
Space 7:
Space 8:
Space 9:
Volume 5
Space 1:
Space 2:
Space 3:
Space 4:
Space 5:
Space 6:
Space 7:
Space 8:
Space 9:
Volume 6
Space 1:
Space 2:
Space 3:
Space 4:
Space 5:
Space 6:
Space 7:
Space 8:
Space 9:
Volume 7
Space 1:
Space 2:
Space 3:
Space 4:
Space 5:
Space 6:
Space 7:
Space 8:
Space 9:
Volume 8
Space 1:
Space 2:
Space 3:
Space 4:
Space 5:
Space 6:
Space 7:
Space 8:
Space 9:
Volume 9
Space 1:
Space 2:
Space 3:
Space 4:
Space 5:
Space 6:
Space 7:
Space 8:
Space 9:
Volume 10
Space 1:
Space 2:
Space 3:
Space 4:
Space 5:
Space 6:
Space 7:
Space 8:
Space 9:
Volume 11
Space 1:
Space 2:
Space 3:
Space 4:
Space 5:
Space 6:
Space 7:
Space 8:
Space 9:
Volume 12
Space 1:
Space 2:
Space 3:
Space 4:
Space 5:
Space 6:
Space 7:
Space 8:
Space 9:
Volume 13
Space 1:
Space 2:
Space 3:
Space 4:
Space 5:
Space 6:
Space 7:
Space 8:
Space 9:
Volume 14
Space 1:
Space 2:
Space 3:
Space 4:
Space 5:
Space 6:
Space 7:
Space 8:
Space 9:
Volume 15
Space 1:
Space 2:
Space 3:
Space 4:
Space 5:
Space 6:
Space 7:
Space 8:
Space 9:
Volume 16
Space 1:
Space 2:
Space 3:
Space 4:
Space 5:
Space 6:
Space 7:
Space 8:
Space 9:
Volume 17
Space 1:
Space 2:
Space 3:
Space 4:
Space 5:
Space 6:
Space 7:
Space 8:
Space 9:
Volume 18
Space 1:
Space 2:
Space 3:
Space 4:
Space 5:
Space 6:
Space 7:
Space 8:
Space 9:
Volume 19
Space 1:
Space 2:
Space 3:
Space 4:
Space 5:
Space 6:
Space 7:
Space 8:
Space 9:
Volume 20
Space 1:
Space 2:
Space 3:
Space 4:
Space 5:
Space 6:
Space 7:
Space 8:
Space 9:
Volume 21
Space 1:
Space 2:
Space 3:
Space 4:
Space 5:
Space 6:
Space 7:
Space 8:
Space 9:
Volume 22
Space 1:
Space 2:
Space 3:
Space 4:
Space 5:
Space 6:
Space 7:
Space 8:
Space 9:
Volume 23
Space 1:
Space 2:
Space 3:
Space 4:
Space 5:
Space 6:
Space 7:
Space 8:
Space 9:
Project Staff
Supervisor:
Project Manager:
Translators
More Information
Wikipedia Articles
Series Overview
Ark
아크. 1 (July 14, 2008 ISBN 9788925706160)
아크. 2 (July 14, 2008 ISBN 9788925706177)
아크. 3 (August 14, 2008 ISBN 9788925706184)
아크. 4 (September 10, 2008 ISBN 9788925706191)
아크. 5 (October 11, 2008 ISBN 9788925706207)
아크. 6 (November 6, 2008 ISBN 9788925707396)
아크. 7 (December 1, 2008 ISBN 9788925707402)
아크. 8 (January 2, 2009 ISBN 9788925707419)
아크. 9 (February 26, 2009 ISBN 9788925707433)
아크. 10 (February 26, 2009 ISBN 9788925707433)
아크. 11 (March 30, 2009 ISBN 9788925709178)
아크. 12 (April 30, 2009 ISBN 9788925709185)
아크. 13 (June 1, 2009 ISBN 9788925709192)
아크. 14 (June 30, 2009 ISBN 9788925709208)
아크. 15 (July 28, 2009 ISBN 9788925709215)
아크. 16 (September 1, 2009 ISBN 9788925711591)
아크. 17 (September 30, 2009 ISBN 9788925711607)
아크. 18 (October 10, 2009 ISBN 9788925711614)
아크. 19 (December 1, 2009 ISBN 9788925712628)
아크. 20 (January 6, 2010 ISBN 9788925712635)
아크. 21 (February 1, 2010 ISBN 9788925712642)
아크. 22 (March 2, 2010 ISBN 9788925714240)
아크. 23 (May 3, 2010 ISBN 9788925714257)
아크. 24(Complete)(June 25, 2010 ISBN 9788925715162)
Ark the Legend
아크 더 레전드. 1 (January 14, 2014 ISBN 9788925798813)
아크 더 레전드. 2 (January 14, 2014 ISBN 9788925798820)
아크 더 레전드. 3 (February 24, 2014 ISBN 9788925798837)
아크 더 레전드. 4 (March 24, 2014 ISBN 9788925798844)
아크 더 레전드. 5 (April 28, 2014 ISBN 9788925706207)