Date A Live
Jump to navigation
Jump to search
Note: This Project has been declared as Abandoned!
and was taken down.




Please see Template:Abandoned for further information about this classification.
This project has been removed in response to a DMCA notice from its publisher, Kadokawa.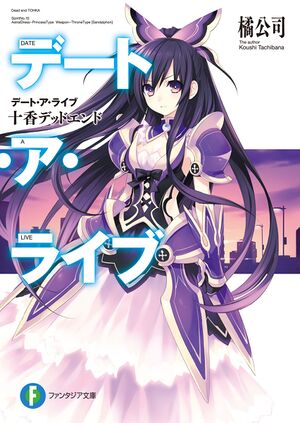 Date A Live (デート・ア・ライブ), is a Japanese light novel series written by Tachibana Koushi (橘公司), with illustrations by Tsunako (つなこ), published by Fujimi Shobo under their Fujimi Fantasia Bunko label. The novel was first published in March 2011 and has 16 volumes currently. In April 2013 an anime adaptation began which covered the events of volumes 1-4 of the light novel which ended in June 2013. A dub of season 1 was released on 10th June 2014 by FUNimation. A second season aired on 11th April, 2014 to 13th June, 2014 which covers the events from volumes 5-7. A movie Date A Live : Mayuri Judgment was released on 22nd August 2015. A third season has been announced in october 2017.

The Date A Live series is also available in the following languages:
The Table of Contents may not redirect you unless you expand its section by clicking one of the boxes below.
Click here to OPEN or CLOSE all sections
Date A Live - Side stories
Story Synopsis
April 10th. Today was the first school day morning after the end of Spring vacation. After being woken up by his cute little sister, Itsuka Shidou believed that it would be the start of another normal day. As for predicting the chance meeting with the girl who called herself a Spirit......
Along with a sudden shockwave, the townscape vanished without a trace. In a corner of the street which had now become a crater, the girl was there.
"—You, have you come to kill me too?"
She is the disaster that will destroy humanity, a monster of unknown origin, and a being rejected by the world. There are only two ways to stop this girl: annihilation, or conversation. His little sister Kotori, wrapped in a military uniform, thus said to Shidou: "Since it's like this, just go date her, and make the Spirit fall for you!" "Wh.. whaaaaaaaat!?" Enter a new age of boy meets girl!!
Translation
Translators are asked to register for chapters they want to work on
Format Standards
Every Chapter (after editing) must conform to the general format guidelines.
Feedback
If you enjoyed the series, why don't you tell us in the Feedback Thread
The Date A Live series by Tachibana Koushi
You can find the PDF, EPUB and MOBI files in the Date A Live forum here.

Date A Live - Main story
---
Volume 1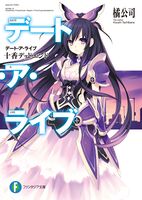 Volume 1 - Tohka Dead End
Novel Illustrations
Prologue: Chance Meeting -restart-
Chapter 1: The Nameless Girl
Chapter 2:

Game

Training

Start
Chapter 3: Your Name Is......
Chapter 4: Surprise Date
Chapter 5: Ruthless

Sandalphon

Slaughterer

Epilogue: Life With a Spirit
Afterword
Volume 2
Volume 2 - Yoshino Puppet
Novel Illustrations
Prologue: New Daily Life
Chapter 1: Mission: Under One Roof
Chapter 2: Rainy Girl
Chapter 3: Excessively Distorted Compassion
Chapter 4: Multiple requests at Tobiichi's House
Chapter 5: Frozen Earth
Epilogue: The Past that Starts to take Action
Afterword
Volumes 3 and 4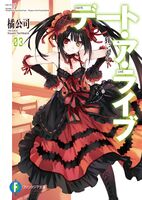 Volume 3 - Kurumi Killer
Novel Illustrations
Prologue: The Black Visitor
Chapter 1: Second Transfer Student
Chapter 2: A Spirit's Invitation
Chapter 3: Sister Wars
Chapter 4: Triple Date
Chapter 5: Imitation Nightmare
Afterword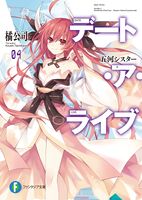 Volume 4 - Itsuka Sister
Novel Illustrations
Chapter 6: Time Penetrating Flame
Chapter 7: Kotori's Conference
Chapter 8: Swimwear Battle
Chapter 9: Last Date
Chapter 10: Avenger from Five Years Ago
Epilogue: Encounter of Darkness
Afterword
Volume 5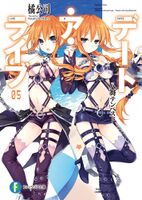 Volume 5 - Yamai Tempest
Novel Illustrations
Prologue: Reverse Conquest
Chapter 1: DEM's Plans
Chapter 2: Cyclone Girls
Chapter 3: Double Approach
Chapter 4: Cross-Counter Heart
Chapter 5: The Light that Splits the Wind
Epilogue: Shidou, I—
Afterword
Volumes 6 and 7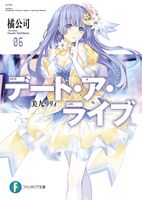 Volume 6 - Miku Lily
Novel Illustrations
Prologue: The Girls' Tryst
Chapter 1: Incomprehensible Spirit
Chapter 2: Male/Female
Chapter 3: Edit Time
Chapter 4: Music
Chapter 5: Azure Flash
Afterword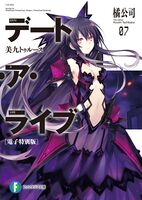 Volume 7 - Miku Truth
Novel Illustrations
Chapter 6: Nightmare, Reappear
Chapter 7: The Battlefield of Only Two People
Chapter 8: Streets Engulfed in Fire and Shadow
Chapter 9: Demon King
Chapter 10: Slaughtering Tyrant
Epilogue: After the Festival
Afterword
Volumes 8 and 9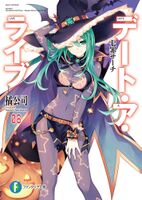 Volume 8 - Natsumi Search
Novel Illustrations
Prologue:

Doppelganger

Another Shidou

Chapter 1:

Halloween

Witch of October

Chapter 2:

Suspect

Twelve Photos

Chapter 3:

Delete

Morning Twelve O'clock

Chapter 4:

High risk

Suspect Designation

Chapter 5:

Witchcraft

Witch's Work

Afterword
Volume 9 - Natsumi Change
Novel Illustrations
Chapter 6:

Little Monsters

The Children

Chapter 7:

Head Hunting

Beckoning From The Darkness

Chapter 8:

Makeup

Transform

Chapter 9:

I'd Like To Believe

It's Definitely A Lie

Chapter 10:

Fall down

Despair Is Falling

Epilogue:

Friend Or Enemy

DEM's Wizard

Afterword
Volumes 10 and 11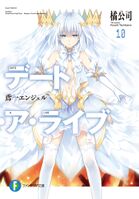 Volume 10 - Tobiichi Angel
Novel Illustrations
Prologue: Tobiichi Origami
Chapter 1: The Targeted Shidou
Chapter 2: The Radiant Goetia
Chapter 3: Angel
Chapter 4: Truth
Chapter 5: The Descending Of The Devil King To Darkness
Afterword
Volume 11 - Tobiichi Devil
Novel Illustrations
Chapter 6: The One Struggling
Chapter 7: Illusion
Chapter 8: <Devil>
Chapter 9: Instinct
Chapter 10: The Angel Of The Night With Falling Stars
Epilogue: Tobiichi Origami
Afterword
Volume 12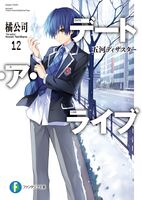 Volume 12 - Itsuka Disaster
Novel Illustrations
Prologue: The Beast of Demise
Chapter 1: An Invading Unordinary
Chapter 2: King's March
Chapter 3: Vacation Time
Chapter 4: Party Time
Chapter 5: Spirit's Dance
Epilogue: "The Second" Who Has Been Released
Afterword
Volume 13
Volume 13 - Nia Creation
Novel Illustrations
Prologue: And More Importantly—The Time Is Not Enough
Chapter 1: Don't Panic, This Is Spirit's Trap
Chapter 2: Akiba, I Have Returned!
Chapter 3: Very Well, Then 2D Is What You Shall Have
Chapter 4: If You Give Up, The Deadline Is Already Over
Chapter 5: What's Yours Is Mine
Epilogue: You Know That Nia?!
Afterword
Volumes 14 and 15
Volume 14 - Mukuro Planet
Novel Illustrations
Prologue: Awakening of the Stars
Chapter 1: First Shrine Visit of the Year
Chapter 2: The Spirit from Space
Chapter 3: New Wings
Chapter 4: Fairy Tale
Chapter 5: Hero
Afterword
Volume 15 - Mukuro Family
Novel Illustrations
Chapter 6: Battle of Cosmos
Chapter 7: The Unlocked Heart
Chapter 8: The Locked Memories
Chapter 9: Oblivion of the Outside
Chapter 10: The Key and The Sword
Epilogue: Reunion Time
Afterword
Volume 16
Volume 16 - Kurumi Refrain
Novel Illustrations
Prologue: Ally of Justice
Chapter 1: Nightmare's Temptation
Chapter 2: Tide of Battle
Chapter 3: A Maiden's Time
Chapter 4: The Recent Sin
Chapter 5: Samsara of Salvation
Afterword
Volume 17
Volume 17 - Kurumi Ragnarok
Novel Illustrations
Fragment Chapter: The Birth of Spirits
Chapter 1: The Signal Outbreak of War
Chapter 2: Nightmare's Secret Maneuvers
Chapter 3: The Final Rest
Chapter 4: Footsteps of Demise
Chapter 5: Revival of Spirit
Afterword
The Date A Live side stories by Tachibana Koushi

Date A Live - Side stories
---
Date A Akihabara
Date A Akihabara
Illustrations
Tohka
Yoshino
Kurumi
Kotori
Date A Live Encore
Date A Live Encore
Novel Illustrations
Dating Preparations Case 1: Yoshino
Dating Preparations Case 2: Itsuka Kotori
Dating Preparations Case 3: Tobiichi Origami
Tohka Game Center
Origami Impossible
Yoshino Fireworks
Kotori Birthday
Yamai Lunchtime
Kurumi Star Festival
Afterword
Date A Live Encore 2
Novel Illustrations
Date A If Case 1: What If Tohka And The Others Did A Gravure Shooting
Date A If Case 2: What If Kurumi Blends Into Daily Life
Date A If Case 3: What If Origami And Mana Are Blood Related Sisters
Shidou Hunters
Unidentified Summer Vacation
Unidentified Brother
Spirit King Game
Tenou Festival Contest
Ellen Mathers' Strongest Day
Afterword
Date A Live Encore 3
Novel Illustrations
Dress A Live Case 1: Astral Dress
Dress A Live Case 2: Swimsuit
Dress A Live Case 3: Santa
Miku On-Stage
Shiori Penalty
Natsumi Teaching
Mana Research
Cat Cafe A Live
Spirit Merry Christmas
Kurumi Santa Claus
Afterword
Date A Live Encore 4
Novel Illustrations
Date A Job Case 1: Student
Date A Job Case 2: Maid
Date A Job Case 3: Little Sister
Tohka Working
Yoshino Highschool
Origami Normalize
Kurumi Cat
Mana Mission
Kotori Mystery
Tohka Reverse
Afterword
PS3 Special
Rinne Utopia
Novel Illustrations
Rinne Bathtime
Afterword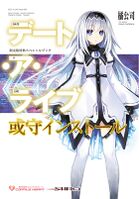 Arusu Install
Novel Illustrations
Arusu Quest
Afterword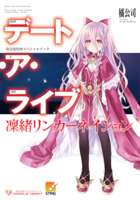 Rio Reincarnation
Novel Illustrations
Rio Reunion
Afterword
Blu-ray Specials
Blu-ray Specials
Illustrations
Spirit Treasure Hunt
Short Stories
Short Stories
Illustrations
Web Chapter (Tohka and Shidou)
Tohka Fearful (from Fantasia Bunko's 25th Anniversary Book)
Date A Quest
Fantasy April
Origami Deceive
Itsuka Shidou's Ordinary Day
Origami Counseling
Reine Holiday
Silver Astray
Spirit Baseball
Silver Murderer
Spirit Snow Wars
Nia Galge
Mayuri Judgement Popularity Poll Results Announcement
Web Chapter (Mayuri and Shidou)
Web Chapter (Kurumi and Shidou)
<Ratatoskr>'s Daily Observations
Volume 0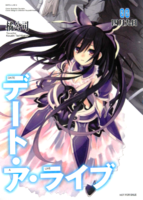 Volume 0 - April 9
Illustrations
April 9
Nurse A Live
Popularity Poll Results Announcement
Tohka Prison
Tohka Miss fantasia
Kurumi Neighbor
Spirit Akihabara
25th Anniversary
Date A Live Material
Project Staff
Supervisor:
Project Manager:
Translators
| | |
| --- | --- |
| ACTIVE | INACTIVE |
Editors
Series Overview
デート・ア・ライブ 十香デッドエンド (March 19, 2011 ISBN 978-4-8291-3623-2)
デート・ア・ライブ2 四糸乃パペット (August 20, 2011 ISBN 978-4-8291-3672-0)
デート・ア・ライブ3 狂三キラー (November 19, 2011 ISBN 978-4-8291-3704-8)
デート・ア・ライブ4 五河シスター (March 17, 2012 ISBN 978-4-8291-3744-4)
デート・ア・ライブ5 八舞テンペスト (August 18, 2012 ISBN 978-4-8291-3795-6)
デート・ア・ライブ6 美九リリィ (December 20, 2012 ISBN 978-4-8291-3835-9)
デート・ア・ライブ7 美九トゥルース (March 19, 2013 ISBN 978-4-8291-3871-7)
デート・ア・ライブ アンコール (May 18, 2013 ISBN 978-4-8291-3892-2)
デート・ア・ライブ8 七罪サーチ (September 20, 2013 ISBN 978-4-8291-3938-7)
デート・ア・ライブ9 七罪チェンジ (December 20, 2013 ISBN 978-4-04-712974-0)
デート・ア・ライブ10 鳶一エンジェル (March 20, 2014 ISBN 978-4-04-070066-3)
デート・ア・ライブ11 鳶一デビル (September 20, 2014 ISBN 978-4-04-070143-1)
デート・ア・ライブ12 五河ディザスター (June 20, 2015 ISBN 978-4-04-070151-6)
デート・ア・ライブ13 二亜クリエイション (October 20, 2015 ISBN 978-4-04-070694-8)
デート・ア・ライブ14 六喰プラネット (March 20, 2016 ISBN 978-4-04-070695-5)
デート・ア・ライブ15 六喰ファミリー (September 16, 2016 ISBN 978-4-04-070927-7)
デート・ア・ライブ16 狂三リフレイン (March 18, 2017 ISBN 978-4-04-070928-4)