Fate/Apocrypha ~ (Italiano)
From Baka-Tsuki
Project Status: IDLE

This project has not been updated in the past 3 months.
Help revive this project by joining the translation team! — Learn more about Baka-Tsuki activity status.
| | |
| --- | --- |
| | This Teaser Project has not yet reached Full Project status requirements. |
Help this project out by joining the translation team! — Learn more about Full Project Approval Requirements
Fate/Apocrypha (フェイト/アポクリファ) è una novel basata sul popolare franchise Fate/stay night, scritta da Yuichiro Higashide e illustrata da Ototsugu Konoe. Il primo capitolo è stato pubblicato il 15 dicembre 2011, nel settimo volume della rivista Type-Moon Ace. Il 15 aprile 2016 è stato rilasciato il primo volume di un adattamento manga disegnato da Akira Ishida.
La serie "Fate/Apocrypha" è disponibile nelle seguenti lingue:
La storia si svolge in un mondo parallelo a Fate/stay night dove il Graal è stato rimosso dalla città di Fuyuki dopo la Terza Guerra e dove gli eventi di Fate/stay night e Fate/Zero non sono mai accaduti. La storia si concentra sul conflitto tra due fazioni opposte. Red e Black, ognuna delle quali ha evocato sette Servant, e il Graal stesso ha evocato un Servant di una classe speciale, Ruler, come mediatore per la Guerra del Santo Graal. I membri della fazione Rossa sono stati inviati dall'Associazione dei Maghi, la Torre dell'Orologio, mentre i membri della fazione Nera fanno parte di un clan Rumeno chiamato Yggdmillennia.
Iscrizione
[
edit
]
Gli interessati contattino Lumina
Traduzione
[
edit
]
I traduttori devono registrare i capitoli che intendono tradurre.
Convenzioni adottate nella traduzione
[
edit
]
Progressi
[
edit
]
Fate/Apocrypha:Unbirth by Higashide Yuichiro
[
edit
]
Fate/Apocrypha by Higashide Yuichiro
[
edit
]
Volume 1
[
edit
]
Volume 2
[
edit
]
Volume 3
[
edit
]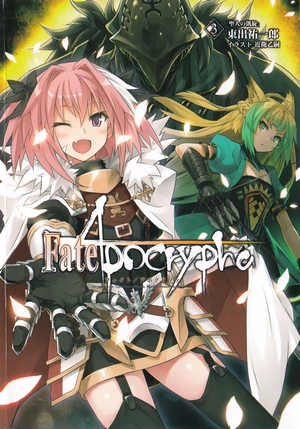 Volume 4
[
edit
]
Volume 5
[
edit
]
Traduttori e Supervisori Testi
[
edit
]
Volumi Pubblicati
[
edit
]
フェイト/アポクリファ 1 「外典:聖杯大戦」 (29 dicembre 2012) - ISBN 4944445015549
フェイト/アポクリファ 2 「黒の輪舞/赤の祭典」 (16 agosto 2013) - ISBN 4944445017550
フェイト/アポクリファ 3 「聖人の凱旋」 (29 dicembre 2013) - ISBN 4944445018861
フェイト/アポクリファ 4 「熾天の杯」 (30 maggio 2014) - ISBN 4944445021823
フェイト/アポクリファ 5 「邪竜と聖女」(30 dicembre 2014) - ISBN 4944445023681