File:BTS vol 10.5 050.jpg
Jump to navigation
Jump to search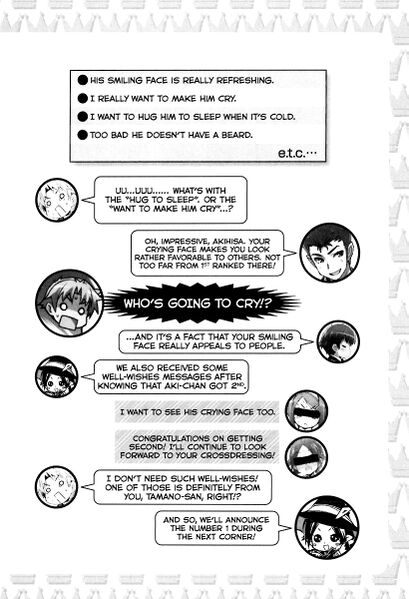 Original file ‎(819 × 1,200 pixels, file size: 372 KB, MIME type: image/jpeg)
His smiling face is really refreshing.
I really want to make him cry
I want to hug him to sleep when it's cold.
Too bad he doesn't have a beard.
Akihisa: Uu...uuu......
What's with the 'hug to sleep'.
Or the 'want to make him cry'...?
Yuuji: Oh, impressive, Akihisa.
Your crying face makes you look rather favorable to others.
Not too far from 1st ranked there!
Akihisa: WHO'S GOING TO CRY!?
Muttsurini:...And it's a fact that your smiling face really appeals to people.
Miki: We also received some well-wishes messages after knowing that Aki-chan got 2nd.
Anonymous(Hideyoshi in playboy bunny): I want to see his crying face too.
Anonymous(Miki): Congratulations on getting second! I'll continue to look forward to your crossdressing!
Akihisa: I don't need such well-wishes! One of those is definitely from you, Tamano-san, right!?
Miki: And so, we'll announce the number 1 during the next corner!
File history
Click on a date/time to view the file as it appeared at that time.
You cannot overwrite this file.
File usage
The following 4 pages use this file:
Metadata