Glau Standear Empire Story
Jump to navigation
Jump to search
Glau Standear Empire Story (グラウスタンディア皇国物語, Glau Standear Koukoku Monogatari) is a light novel series written by Uchibori Yuuichi (内堀優一) and illustrated by Ukai Saki (鵜飼沙樹). The series is serialized in HJ Bunko with 8 volumes published so far.
Other series illustrated by Ukai Saki include Black Bullet (ブラック・ブレット), Wednesday in Chat Noir (黒猫の水曜日), Tobenai Chou to Sora no Shachi (飛べない蝶と空の鯱), Next Life (ネクストライフ) and Fremd Torturchen (異世界拷問姫).
Story Synopsis
[
edit
]
Five years ago, seven heroes—known as the "Seven Saints of the Empire" ever since—took action and ended the great war against the neighboring country of Regia. One of the Seven Saints was a young man named Chrom Jarrett, the dual-wielding swordsman and strategist. To fulfill his promise to his liege, Princess Eustina, he returned to the front lines as the Empire's trump card with war looming on the horizon. Featuring a heroic strategist in a spectacular display of his outstanding martial and intellectual prowess to cleverly reverse hopeless battle situations, a fantasy war story officially begins!!
Translation
[
edit
]
Translators are asked to register for chapters they want to work on.
Format Standards
[
edit
]
Every Chapter (after editing) must conform to the general format guidelines.
Feedback
[
edit
]
If you enjoyed the translation, why don't you tell us in the Feedback forum?
Updates
[
edit
]
2015-09-17 - Teaser created
Glau Standear Empire Story by Uchibori Yuuichi

[

edit

]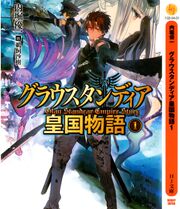 Volume 1
[
edit
]
Project Staff
[
edit
]
Project Administrator:
Project Manager:
Translators
[
edit
]
Editors
[
edit
]
Series Overview
[
edit
]
Volume 1 - グラウスタンディア皇国物語1 (November 1 2013, ISBN 9784798606927)
Volume 2 - グラウスタンディア皇国物語2 (April 1 2014, ISBN 9784798607689)
Volume 3 - グラウスタンディア皇国物語3 (October 1 2014, ISBN 9784798608389)
Volume 4 - グラウスタンディア皇国物語4 (December 1 2014, ISBN 9784798609256)
Volume 5 - グラウスタンディア皇国物語5 (February 28 2015, ISBN 9784798609751)
Volume 6 - グラウスタンディア皇国物語6 (July 1 2015, ISBN 9784798610450)
Volume 0 - グラウスタンディア皇国物語0 (October 1 2015, ISBN 9784798610962)
Volume 7 - グラウスタンディア皇国物語7 (February 1 2016, ISBN 978-4798611648)