Hai to Gensou no Grimgar
Jump to navigation
Jump to search
Note: This Project has been declared as Abandoned!
and was taken down.




Please see Template:Abandoned for further information about this classification.
This series has been licensed by J-Novel Club. First volume is scheduled to be published in December 16, 2016.
---
Hai to Gensou no Grimgar (灰と幻想のグリムガル) is an action and fantasy novel written by Ao Jyumonji and illustrated by Eiri Shirai. The series is currently ongoing with nine volumes released. The series has an anime, published by 'FUNimation' and produced by 'A-1 Pictures' & 'Toho Company'. Hai to Gensou no Grimgar is also available in the following languages:
Novel Summary
[
edit
]
Before Haruhiro had realized what happened, he was surrounded by darkness. Why was he here? Where was here? Even now, he still didn't know. Those around him were the same as him, no one remembered anything other than their own names. And when they emerged from the darkness, the world that awaited them seemed like something out of a videogame.
In order to survive, Haruhiro forms a party with the others, learns fighting skills, and as a soldier in the reserve force, takes his first steps into the world of Grimgar. What awaits him there, he doesn't know…
This the story of an adventure born from the ashes.
Updates
[
edit
]
The Hai to Gensou no Grimgar series by Ao Jyumonji

[

edit

]
Level 1ː A Whisper, an Aria, a Prayer, an Awakening
[
edit
]
Level 2: Everything is Precious, Nothing is Replaceable
[
edit
]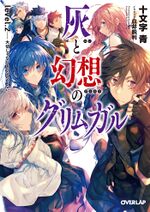 Level 3: Even the Best Laid Plans go Awry, but Such is This World
[
edit
]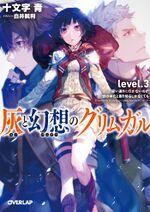 Level 4: Chapters of the Chosen and Choosers
[
edit
]
Level 5: You Won't Hear Me Laughing
[
edit
]
Level 6: Towards an Inconsequential Glory
[
edit
]
Level 7: The Other Side of the Rainbow
[
edit
]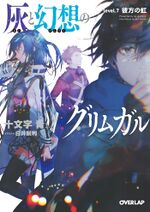 Level 8: And So, We Will Wait for Tomorrow
[
edit
]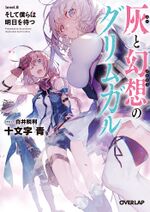 Level 9
[
edit
]
Japanese Releases
[
edit
]
灰と幻想のグリムガル level.1 ささやき、詠唱、祈り、目覚めよ (22 JUN 2013, ISBN 978-4-90-686622-9)
灰と幻想のグリムガル level.2 大切じゃないものなんか、ない。 (22 NOV 2013, ISBN 978-4-90-686647-2)
灰と幻想のグリムガル level.3 思い通りに行かないのが世の中だと割り切るしかなくても (22 MAR 2014, ISBN 978-4-90-686669-4)
灰と幻想のグリムガル level.4 導き導かれし者たち (24 JULY 2014, ISBN 978-4-90-686691-5)
灰と幻想のグリムガル level.5 笑わないで聞いておくれよ (24 FEB 2015, ISBN 978-4-86-554026-0)
灰と幻想のグリムガル level.6 とるにたらない栄光に向かって (25 OCT 2015, ISBN 978-4-86554-072-7)
灰と幻想のグリムガル level.7 彼方の虹 (23 DEC 2015, ISBN 978-4-86-554086-4)
灰と幻想のグリムガル level.8 そして僕らは明日を待つ (24 MAR 2016, ISBN 978-4-86-554114-4)
灰と幻想のグリムガル level.9 ここにいる今、遥か遠くへ (25 AUG 2016, ISBN 978-4-86-554149-6)
English Releases
[
edit
]
Grimgar of Fantasy and Ash, Vol. 1 ---(December 16, 2016)
Grimgar of Fantasy and Ash, Vol. 2 ---(February 24, 2017)