Hibike! Euphonium
From Baka-Tsuki
Note: This Project has been declared as Abandoned!
and was taken down.




Please see Template:Abandoned for further information about this classification.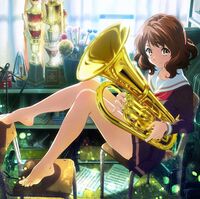 This project has been licensed by Yen Press. The first volume is scheduled to be published in June 2017.

Hibike! Euphonium (響け! ユーフォニアム) is a Japanese novel series written by Takeda Ayano.
With cover illustrations by Asada Nikki (アサダニッキ), Hibike! Euphonium is published by Takarajimasha under their Takarajimasha Bunko label.
Story Synopsis
Kitauji High School Concert Band used to be a strong band and had even made it to the Nationals, but since the change in adviser, they had not even advanced to the Kansai Regionals. However, under the strict instruction of the newly appointed Taki Noboru, the students acquired strength steadily. Faced with daily ups and downs, with students competing for the solo spots or students quitting to prioritize studies over club activities, the day for the Prefectures has finally arrived ---. An entertainment novel that depicts the growth in emotional and mental states of young maidens.
It's okay to get serious right.
A touching story of 'sound' that depicts concert band girls' growth in emotional and mental states, which could not be acquired from classes alone! Let all the sounds become one now ---.
You can tell us what you think of the series by polling and discussing it here.
Updates
Mar-2017

Project abandoned for upcoming official release
12-Jul-2015

Volume 1 Chapter 1 completed
23-Jun-2015

Teaser started
Volume 1 Prologue completed
Volume 1 - Welcome to Kitauji High Concert Band
Prologue
Chapter 1 - Hello Euphonium
Chapter 2 - I'm Back Festival
Chapter 3 - Welcome Back Audition]]
Chapter 4 - Goodbye Prefectures
Epilogue
Volume 2 - Kitauji High Concert Band's Hottest Summer
Prologue
Chapter 1 - Attack of the Flute
Chapter 2 - True Feelings of the Trumpet
Chapter 3 - Awakening of the Oboe
Epilogue
Volume 3 - Kitauji High Concert Band's Greatest Crisis
Prologue
Chapter 1 - Howl! Trumpet
Chapter 2 - Roar! Trombone
Chapter 3 - Sound! Euphonium
Epilogue
Project Staff
Project Administrator:
Project Manager: larethian
Translators
Editors
Series Overview
Japanese
Hibike! Euphonium 1 - Welcome to Kitauji High Concert Band (December 5, 2013 ISBN 978-4-8002-1747-9)
Hibike! Euphonium 2 - Kitauji High Concert Band's Hottest Summer (March 5, 2015 ISBN 978-4-8002-3906-8)
Hibike! Euphonium 3 - Kitauji High Concert Band's Greatest Crisis (April 4, 2015 ISBN 978-4-8002-3982-2)
Hibike! Euphonium - Kitauji High Concert Band's Undisclosed Stories (May 25, 2015 ISBN 978-4-8002-4119-1)
English
Sound! Euphonium 1 (June 20, 2017 ISBN 9780316558594)